Tag Archives:
Chinese Communist Party
Censorship today looks like my three-day stint in the Facebook pokey over Thanksgiving weekend during which my mad keyboarding fingers were (almost) crushed in tiny Facebook thumbscrews engraved with a photo of Lord Zuckerberg. The reason for my imprisonment by Facebook Overlords in one of their many Cells of Iniquity beggars belief.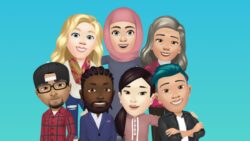 It all started when I posted about the image Facebook created to advertise their new avatars. As you can see, this image doesn't include any white male avatars.
I wrote:
I totally get why there are no white, male avatars here. White males are so creepy. In all
…
Posted in
Media Watch
Tagged

Ads Delivery team, Animal Farm, Chinese Communist Party, Facebook, George Orwell, Jack Dorsey, Jeff Bezos, Jeffery Javed, Kellyanne Conway, Mark Zuckerberg, Ministry of Truth, Sundar Pichai, The New York Times, Twitter, Washington Post, Yoel Roth
Comments Off

on Censorship of Wrongthink = Loss of Freedom