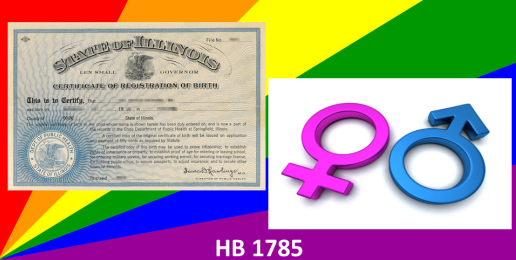 Corrupt, Nonsensical Legislation Reintroduced

Equality Illinois, Illinois' most prominent cheerleader for all things sexually deviant—especially doctrinaire and destructive legislation—is cheering the reintroduction of a bill that would make it even easier for gender-dysphoric persons to have their birth certificates legally falsified.
House Bill 1785, the "Birth Certificate Designation Act," introduced by State Representative Greg Harris and co-sponsored by the usual suspects, like Kelly Cassidy (D-Chicago), Robyn Gabel (D-Evanston), and Sara Feigenholtz (D-Chicago), would amend the Vital Records Act to allow those Illinoisans who wish they were the opposite sex to enlist the government in their effort to deceive.
Take ACTION:  Click HERE to send an email message to your state representative to ask him/her to reject HB 1785 and uphold birth certificates as legal documents.  The state of Illinois has no duty or right to make it easier for men and women who wish they were the opposite sex to falsify their birth certificates.

Background
Currently, a sex-rejecting Illinoisan who seeks a falsified birth certificate must present an affidavit from a physician certifying that he or she has performed surgery on the sex-rejecting person. Harris and his accomplices seek to make this process easier by allowing doctors, advanced practice nurses, physician assistants, and licensed mental health professionals from any state provide "declarations" that the patient has "undergone treatment…for the purpose of gender transition." In an attempt to conceal that this effort enlists government to participate in fraud, the bill's sponsors change the wording from "sex change" to "change of sex designation," thereby implicitly acknowledging the science-denying nature of their quest: No one's sex can change.
For those who are unclear about what this change would mean, we have the confused attorney for the ACLU of Illinois, John Knight (who is suing District 211 on behalf of a boy who wants to be a girl) to offer clarity:
House Bill 1785 protects Illinoisans facing the unnecessary choice between living without a birth certificate that conforms with [sic] who they are and undergoing surgery they may not want or need. The scientific and medical community agrees that surgery is not necessary medical treatment for transgender people and shouldn't be required to obtain an accurate birth certificate.
It is decidedly not accurate for a birth certificate to state that a person who is objectively male and was identified at birth as such to be changed to state that this person was identified at birth as female.
Many may not know that it can take as little as two visits and filling out some questionnaires for a certified mental health professional to declare that a sex-rejecting 18-year-old has undergone treatment for the purpose of gender transition.
Obama's Department of Education provides clear evidence of where Leftist thinking is going. His Education Department mandated that schools treat students in every way as if they are the sex they want to be. According to his diktat, no cross-dressing, hormone-doping, or surgical mutilations are needed for students to be treated as if they are the sex they are not. No affidavit from a medical professional certifying that the student is undergoing treatment for gender dysphoria is needed. Not even parental permission can be required in order for a student to access opposite-sex restrooms, locker rooms, and hotel rooms on school-sponsored overnight trips. All that's required is a student's declaration that he or she "identifies" as the opposite sex.
That said, it's critical to remember that cross-dressing, hormone-doping, and surgical mutilations do not turn males into females or vice versa. Compassion and a commitment to truth dictate that we must not treat students who take cross-sex hormones as if they are in reality the sex they are not.
And the government should never be required to participate in a science-denying fiction.
It is staggering to see a modern civilization snookered into accepting (or pretending to accept) the science-denying superstition that surgical tinkering and hormone-doping can turn a man into a woman or vice versa. The ordinary men and women behind the curtain promoting this superstition know full well that no human's sex can change, so they had to invent new language to confuse and deceive. Thus, we hear the terms "transgender," "transman," "transwoman," "cisgender," "cisman," and "cisgender."
These terms are intended to conceal that humans have an objective, immutable biological sex that cannot change. And these terms are intended to create the illusion that the disordered desire to be the opposite sex (i.e., "transgender") is ontologically equivalent to being that sex, hence the invention of the term "cisgender." "Cisgender" refers to people whose "gender identity" (i.e., their subjective feelings about their sex) aligns with their objective, immutable sex. By creating a word that emphasizes subjective feelings about one's sex rather than one's sex, Leftists have managed to distract and delude otherwise science-respecting people.
There's another new word concocted to normalize disordered feelings about one's sex. That word is "gender marker." This was invented to smooth passage of laws that permit gender-dysphoric men and women to have their birth certificates legally falsified, thus Equality Illinois' press release states that current laws allow a person to "correct" the "gender marker" on his or her birth certificate only "if they have undergone a surgical procedure."
A formerly rational society understood that birth certificates record the sex of a child as identified by a doctor at birth. In a convoluted rhetorical scheme, the Left now says that birth certificates record the "gender marker" that doctors "assign" babies at birth. The ability to get purportedly rational, science-respecting lawmakers to pass laws mandating that government commit fraud depends on the acceptance of this rhetorical non-sense.
What Illinois actually needs is a law prohibiting persons from having the sex designation on their birth certificates changed unless they produce an affidavit from a medical doctor certifying that they have an intersex condition, which are objective diagnosable disorders—wholly distinct from "transgenderism"—that result in "a discrepancy between the external genitals and the internal genitals (the testes and ovaries)." The Left likes to conflate "transgenderism" with intersex disorders in order to muddy the ontological, moral, and political waters.
Anti-nature superstitions cannot endure, so this one will eventually be tossed into the dustbin of history that holds in it scores of other abandoned superstitions. Tragically, countless men, women, and children will suffer before that happens. When that day comes, every activist, school employee, politician, and ordinary citizen who promoted lies or cowardly acquiesced to them will have to confront his or her own culpability for the incalculable damage that will have been done to so many. Don't be one of those people. Speak truth persistently and courageously.
---
Read more recent articles from Laurie:
The Radical "Trans"-Formation of America
New Trier High School Avoids Diversity Like the Plague
Highlights Magazine for Children Affirms Homoeroticism
---
Join IFI at our Feb. 18th Worldview Conference
We are excited about our third annual Worldview Conference featuring world-renowned theologian Dr. Frank Turek on Sat., Feb. 18, 2017 in Barrington. Dr. Turek is s a dynamic speaker and the award-winning author of "I Don't Have Enough Faith to be an Atheist"
Join us for a wonderful opportunity to take enhance your biblical worldview and equip you to more effectively engage the culture:
Click HERE to learn more or to register!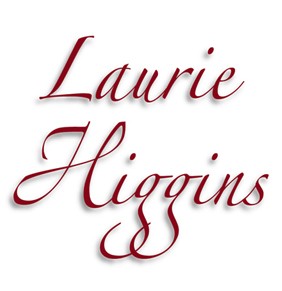 Related Articles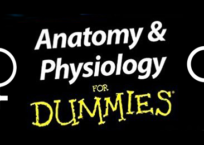 You Can Help Governor Bruce Rauner Pass an Elementary Science Test!