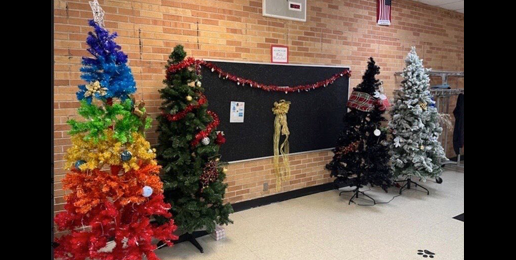 Wheaton, Illinois Middle School's Offensive "Gay" Christmas Display
In a brazen act of anti-Christian disrespect and cultural appropriation, Edison Middle School (CUSD 200) in the formerly conservative town of Wheaton, Illinois has chosen to mock a Christian symbol that celebrates the birth of Christ.
The DuPage Policy Journal reported that Edison is prominently displaying a full-size rainbow-colored, "gay pride" Christmas tree during the Christmas season in honor of homoeroticism. Originally, the tree also included handmade pink ornaments with the messages "Be Gay Be Slay" and *Gay Panic*.
For those not up to date on the sloganeering of the cult of homoeroticism, "Gay panic" refers to a legal defense in which a man claims a kind of temporary insanity for an act of violence committed against another man due to allegedly unwanted homoerotic advances. A Christmas ornament with that slogan is mocking such a legal defense.
Both the principal, Rachel Bednar, and superintendent, Jeff Schuler, approve of this offense against Christians.
This display raises the question, what do these ornaments and this inappropriate, culturally insensitive tree have to do with the birth of Christ? And if they have nothing to do with Christmas, why a Christmas tree and why now during the Christmas season?
Edison Middle School—an arm of the government—has given its stamp of approval to the cultural appropriation of not one, but two Christian symbols: the Christian symbol of the rainbow and the Christian symbol of the Christmas tree.
While leftists strain to argue that the Christmas tree is not a religious symbol, honest people acknowledge that for hundreds of years, it has been associated with one religion—Christianity—and one holiday—Christmas.
Here's a thought experiment: During Ramadan, will Bednar and Schuler prominently display a rainbow-colored, "gay pride" 8-pointed star—a common Islamic symbol? What about a rainbow-colored, "gay pride" prayer rug with an image of the mihrab arch? If Edison had Orthodox Jewish students, staff, and faculty, would Bednar permit a rainbow-colored, "gay pride" menorah during Chanukah?
A community member offended by the display spoke with Schuler who reportedly asserted that the Christmas tree is not a religious symbol despite being called a Christmas tree and displayed only during the Christmas season.
Further, Schuler refuses to have the offensive display removed. The administration did, however, offer this paltry sop to Christians: They removed the offensive ornaments.
This is not the first time a CUSD 200 school has demonstrated its ardent support for all things sexually deviant and disdain for Christians in its community.
In 2018, Monroe Middle School permitted the walls to be defaced with offensive drawings that children as young as 11 had to see.
In 2019, Longfellow Elementary School invited lesbian author and activist Robin Stevenson, who promotes cultural approval of both the "LGBT" ideology and the legalized slaughter of the unborn, to speak to 8-11-year-olds.
In August 2022, the CUSD 200 Board of Education voted to keep the egregiously obscene, sexually graphic comic book Gender Queer: A Memoir by Maia Kobabe on district high school library shelves.
Public schools have no respect for the religious beliefs, values, and moral convictions of conservative parents. Rather, public schools are downright hostile to conservative beliefs, especially Christian beliefs. Public schools don't care if conservative students feel "safe." Public schools don't care about preserving the modesty and innocence of children. And public schools don't care if they create division between conservative parents and their own children.
Illinois now has multiple laws mandating that public schools introduce, promote, and affirm leftist views on "identity" and sexuality to children starting in kindergarten. There is no way for parents to escape having their children's innocence stolen and their minds and hearts corrupted in and by public schools. Conservative parents must get their children out of public schools, and churches must help make that happen.
---