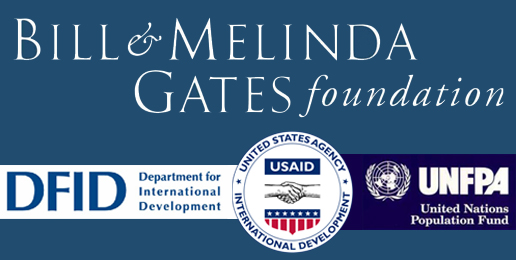 The Gates Foundation: Philanthropy Cloaked Abortion
When William "Bill" Henry Gates III was born to William Henry Gates II and Mary Maxwell Gates, in Seattle in 1955, little did they know he would grow up to be (reportedly) the world's wealthiest man.
Bill III and Paul Allen co-founded Microsoft on April 4, 1975, and grew the fledgling company into an $85 billion multi-national computer software business. Bill transitioned from CEO to CSA (Chief Software Architect) in 2000, the year he and wife, Melinda, established the Bill & Melinda Gates Foundation (BMGF). Then in 2006 Bill backed off, becoming part-time at Microsoft and full-time at BMGF.
Three trustees shepard BMGF, commonly called The Gates Foundation: Bill Gates III, Melinda Gates, and Warren Buffett. Buffett (Chairman/President/CEO of $65B Berkshire Hathaway Inc.) is ranked as one of the world's wealthiest men (net worth of about $66 billion) and has vowed to disburse 99% of his fortune to charities and causes mostly via the Gates Foundation. One Buffett pet cause being the Democratic party; he endorsed Hillary Clinton in her run for president.
The Gates Foundation, by all appearances is a humanitarian endeavor, seeking to help the least of these throughout the world, and especially in Africa. As written on the opening page of the BMGF website:
WE BELIEVE

That by giving people the tools to lead healthy, productive lives, we can help them lift themselves out of poverty.

Every year, millions of people find ways to transition out of poverty—by adopting new farming technologies, investing in new business opportunities, or finding new jobs. We know women and girls have a unique power to reshape societies. When you invest in a woman's health and empowerment, it has a ripple effect, helping families, communities, and countries achieve long-lasting benefits.
A "woman's health and empowerment" — now that's an interesting phrase. Just what might that mean?
Click on the link under A CLOSER LOOK Help women make informed family-planning decisions and more of the BMGF agenda is revealed:
The Challenge

Voluntary family planning is one of the great public health advances of the past century. Enabling women to make informed decisions about whether and when to have children reduces unintended pregnancies as well as maternal and newborn deaths. It also increases educational and economic opportunities for women and leads to healthier families and communities. Family planning is a smart, sensible, and vital component of global health and development.

However, more than 220 million women in developing countries who don't want to get pregnant lack access to contraceptives and voluntary family planning information and services. Less than 20 percent of women in Sub-Saharan Africa and barely one-third of women in South Asia use modern contraceptives. In 2012, an estimated 80 million women in developing countries had an unintended pregnancy; of those women, at least one in four resorted to an unsafe abortion.

Significant challenges stand in the way of making contraceptives more widely available and accessible, including insufficient donor and developing country funding, lack of appropriate products that meet users' needs, weak distribution systems, lack of reliable monitoring and data collection mechanisms, and cultural and knowledge barriers.
Farther down The Foundation Strategy is defined:
Our Strategy

The Bill & Melinda Gates Foundation's Family Planning program is working to bring access to high-quality contraceptive information, services, and supplies to an additional 120 million women and girls in the poorest countries by 2020 without coercion or discrimination, with the longer-term goal of universal access to voluntary family planning.

With our partners, we support national governments that have committed to the goals of FP2020 and are leading the development and implementation of their own country-specific plans.

Foundation support includes assessing family planning needs, particularly among the poorest and most vulnerable populations; identifying access barriers and funding gaps; developing and testing interventions; sharing evidence-based practices; promoting accountability through real-time performance monitoring and data collection; and fostering coordination among governments, partners, and donors.
The verbiage repeatedly refers to "contraceptive information" and "contraceptives and voluntary family planning" and then, tucked away, "at least one in four resorted to an unsafe abortion."
So, a whole lot of talk about women and contraception information and worries about unsafe abortions. What is starkly missing from the page is any mention of "life" or "babies."
Also of note, The Gates Foundation operates with entities aligned with FP2020: Family Planning 2020. What is the goal of that initiative?
FP2020 is an outcome of the 2012 London Summit on Family Planning where more than 20 governments made commitments to address the policy, financing, delivery and socio-cultural barriers to women accessing contraceptive information, services and supplies and donors pledged an additional US$2.6 billion in funding. Since then, the number of countries with FP2020 commitments has grown to 36 and, in 2014 alone, donors provided US $1.4 billion in bilateral funding for family planning—32 percent more than in 2012.

Led by an 18-member Reference Group, operated daily by a Secretariat, and hosted by the United Nations Foundation, FP2020 is based on the principle that all women, no matter where they live should have access to lifesaving contraceptives.
One of the FP2020 guiding principles:
Universal access to voluntary contraceptive information, services and supplies, within the context of integrated programs to achieve sexual and reproductive health and rights and the health-related MDGs.
The website, like its partner the Gates Foundation, is full of mentions of contraceptive information and "sexual and reproductive health and rights." And even more telling, the list of "Core Partners":
The Bill & Melinda Gates Foundation
The Department for International Development (DFID)
UNFPA, the United Nations Population Fund
USAID (The United States Agency for International Development)
Much has been made of The Bill & Melinda Gates Foundation's investment in African charities, but a closer inspection yields something less of a true philanthropic effort to save lives, and more of an effort to advance family planning and abortion. And this pro-abortion, utilitarian worldview was cultivated in Bill Gates III from a young age.
In a 2003 interview, Bill Moyers questioned Gates about his interest in advancing "family planning":
MOYER: But did you come to reproductive issues as an intellectual, philosophical pursuit? Or was there something that happened? Did you come upon… was there a revelation?

GATES: When I was growing up, my parents were always involved in various volunteer things. My dad was head of Planned Parenthood. And it was very controversial to be involved with that. And so it's fascinating. At the dinner table my parents are very good at sharing the things that they were doing. And almost treating us like adults, talking about that.

My mom was on the United Way group that decides how to allocate the money and looks at all the different charities and makes the very hard decisions about where that pool of funds is going to go. So I always knew there was something about really educating people and giving them choices in terms of family size.
Indeed, Bill Gates II, a prominent Seattle lawyer, also served on the board of Planned Parenthood. His wife, Mary, Bill III's mother, was the first female president of King County's United Way. The United Way shunts a portion of all donations, unless earmarked otherwise, to Planned Parenthood.
Gates Sr. is Co-Chair of the Board of the Bill & Melinda Gates Foundation.
All of these connections explain Bill Gates' implicit pro-abortion biases, they all add up. And The Foundation doesn't dicker, it contributes major bucks to abortion providers. Live Action News' Josh Craddock wrote in June 2014:
Fr. Boquet notes that, "The Gates Foundation has in the past and will continue to give tens of millions of dollars to the largest abortion providers in the world, including International Planned Parenthood Federation and Marie Stopes International. These large sums of money will undoubtedly expand the reach and influence of the abortion industry."

According to the Gates Foundation grant database, the Foundation gave Planned Parenthood of America, the International Planned Parenthood Federation, and Planned Parenthood of Western Washington about $71 million from before 2009 through 2013. Additionally, the Gates Foundation gave $46.1 million to Marie Stopes International in 2012 alone.
A year later, Micaiah Bilger writes for Life News:
The Gates Foundation promised to give an additional $120 million to Family Planning 2020 programs that support "the rights of women and girls to decide when and how many children they want to have," the news website All Africa reported today.

. . .

Both Planned Parenthood and Marie Stopes International, two of the largest abortion businesses in the world, are partners in the global Family Planning 2020 initiative, according to a press release from the initiative.
Now factor in BMGF Trustee Warren Buffett, Hillary Clinton's BFF. Remember that Planned Parenthood awarded Hillary the Margaret Sanger Award in 2009 and the Democratic Presidential candidate has pledged to have "Planned Parenthood's back if elected president." In fact, not only is Mrs. Clinton pals with Planned Parenthood CEO Cecile Richards, she was also good friends with Cecile's mother, Ann Richards.
The mafia had a term to describe who they were, "cosa nostra," translated that means "our thing." And "our thing" to Bill and Melinda Gates, Bill Gates Sr., Mary Gates, Warren Buffett, Hillary Clinton, Cecile Richards, Planned Parenthood, United Way, Marie Stopes International, and FP2020 is a desire to advance an abortion agenda around the globe.
And at its heart, abortion countermands the culture of life admonished in Deuteronomy:
I call heaven and earth to record this day against you, that I have set before you life and death, blessing and cursing: therefore choose life, that both thou and thy seed may live.
Yes indeed. Mainstream Media adores The Bill & Melinda Gates Foundation and touts their Progressive "Alliance for a Green Revolution in Africa (AGRA)," but that's just one small endeavor and not the heart of what the Microsoft billionaire really does with his fortune.
The word Philanthropy comes from the Greek: philos loving + anthrōpos man. Alas, Philanthropy, Gates-style, has absolutely nothing to do with real love of human life.
---
---
Our get-out-the-vote campaign is up and running. We are distributing the IFI Voter Guide to hundreds of churches, civic groups and tea party organizations. Will you financially support our endeavor to educate Illinois voters and promote Judeo-Christian values?  Donate today.
P.S. Listen to recent IFA podcast episodes at : illinoisfamilyaction.org/podcast