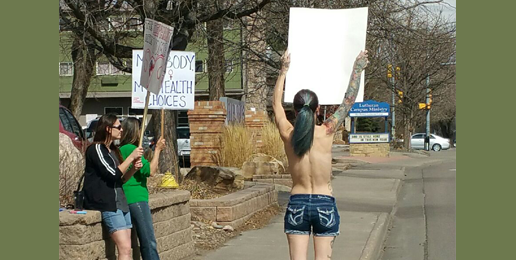 Topless Activist in front of Planned Parenthood (Fort Collins, CO)
Public Nudity and Other Assaults on Decency
Attacks on the virtue of modesty are everywhere and include the easy availability of porn; plays, movies, network television shows, and streaming shows; fashion magazines; and advertising. Too often overlooked are the in-your-face assaults on public decency in our communities. Today, in ascending order of offensiveness and importance we'll look at five attacks on public decency that receive too little attention: 1. The annual No Pants Subway Ride, 2. The annual World Naked Bike Ride, 3. Shame parades, 4. The promotion of female toplessness, and 5. The "trans"-cultic revolution.
Annual No Pants Subway Ride (which includes Chicago's CTA): This event asks passengers to ride subways pantless. While this event, which takes place every January, doesn't involve nudity, it does, nonetheless, constitute an assault on modesty and decency. It began in New York City in 2002 as a comedy stunt by an improv collective, and has metastasized to cities around the world, including Chicago; Dallas; Hartford; Los Angeles; Phoenix; Portland; San Diego; San Francisco; Seattle; and our nation's swampy capital, Washington D.C.
Click here to see photos. WARNING: Offensive photos.
World Naked Bike Ride: This obscene event began in 2003 to "celebrate freedom from oil and the beauty of people." It takes place around the world during high tourist season. In Chicago, it takes place in June. The event begins at 6:00 p.m. at a public location revealed several days before the event. Creepy people, many fully naked, bike 14 miles around the city (including in the past, the Mag Mile), exposing unsuspecting Chicagoans and visitors, including families with young children, to gross displays of public indecency committed by hundreds and hundreds of exhibitionists (WARNING: Obscene photos. Don't complain to IFI about making these images available with more than ample warnings. Complain to city officials who permit this event.) The police do nothing.
"LGBTQQAP" celebration parades: Shameful "pride" events pollute the streets of cities around the United States every June. Thousands of people attend, including children who both attend and march in these celebrations of sexual perversion.
Go Topless Day/Free-the-Nipple Movement: Both efforts promote the false idea that commitments to Equal Protection and equality demand that neither society nor law recognize that men's bodies and women's bodies are different. While leftists argue that treating men's and women's bodies as identical makes women safer, it, in fact, makes women less safe and less respected.
Most men and women know intuitively that women's breasts are different from men's breasts. It is not cultural indoctrination that creates that understanding. Rather, it's cultural indoctrination with doctrinaire feminist theory that undermines it. Cultural regressives presume that all ideas with which they disagree are "socially constructed" from the detritus of an antiquated, puritanical society, whereas their beliefs emerge from some wellspring of pure truth, untainted by forces of "social construction."
Yeah, riiight, no social conditioning (or legal oppression) required to get people to believe (or pretend to believe) that men get pregnant and women have penises.
If it were true that women's breasts are no different from men's chests, then it wouldn't matter if teenage daughters walked around their homes topless in the presence of their fathers, their fathers' friends, their brothers, or their brothers' friends. And it would make no difference if high school girls played "shirts" and "skins" in co-ed P.E. classes.
In an article published in the University of California, Irvine Law Review in 2017 titled "Female Toplessness: Gender Equality's Next Frontier," then-law student Nassim Alisobhani (female, of course) made the intellectual argument in favor of the legalization of female toplessness. In addition to arguing that both male and female breasts are "erogenous zones" and that men too can lactate if exposed to the "right hormonal cocktail of progesterone, estrogen, oxytocin, and prolactin," Alisobhani argues this:
Female topless prohibitions are the embodiment of gender discrimination. It is one of the remaining laws that blatantly treat men and women differently on the basis of how society views their bodies and the biological differences between the sexes…. It is a modern example that a woman's body is deemed lesser than a man's. [Actually, these laws embody the idea that women's bodies are deeply valued]…. Just as the Defense of Marriage Act and state prohibitions of sodomy and same-sex marriage demeaned, degraded, and humiliated our fellow human beings who are homosexual, prohibitions of female toplessness demean women and degrade men. These laws humiliate men and women. They strip every person of his or her humanity. These laws tell women that their bodies are obscene, while at the same time telling men that they are unable to trust their ability to control themselves around persons of the opposite sex…. A woman's body is her vessel, just like a man's is his. If the law cannot treat this fundamental part of her as equal to her male counterparts, she will not be able to expect the law to treat her equally in other ways. This is the first step in the long fight for true equity.
The first step in the fight for true equity for women is legal toplessness? Seriously?
Alisobhani refers to a (successful) legal challenge to a Fort Collins, Colorado ordinance banning female toplessness—an ordinance about which Kristen Waggoner of the Alliance Defending Freedom also wrote:
The 10th Circuit's ruling assumes that perceptions of and sexual responses to particular body parts are socially constructed, and when anti-nudity laws differentiate between men's and women's bodies, it is solely because of social stereotypes.

Under the 10th Circuit's opinion, girls just emerging into womanhood can now walk around in Fort Collins topless. Allowing a 10-, 12-, or 14-year-old girl to walk to school topless tells her a lie about her own body. It tells her that her breasts are no different than a man's—and, therefore, that she shouldn't feel any more delicacy about exposing her breasts than a boy would. That puts her in grave danger both physically and emotionally…. It also means that women who experience trauma from harassment targeting their breasts are just buying into harmful, regressive stereotypes about their own bodies….

No one has even considered the possibility that there is something different—fundamentally, biologically, essentially different—about women's bodies that merits protection…. Women's breasts are not the same as men's. Women have the unique, inimitable ability to create and nurture life with our own bodies. Our breasts are a vital part of that work—a work that is intimately connected with sexuality. Men's breasts, on the other hand, aren't involved in creating or sustaining life. In that sense, they are not special.
The photo featured above is visual evidence of what the circuit court's decision has wrought.
"Trans"-cultic revolution: The "trans" revolution posits that biological sex has no intrinsic meaning relative to sexual activity, marriage, childbirth, parenting, modesty, or the desire for privacy. To "trans"-cultists, maleness and femaleness have nothing to do with biological sex, and body parts are interchangeable. Those who care about the body parts of their romantic/sexual partners or who don't want to share privates spaces with opposite-sex persons are deemed hateful, bigoted "transphobes."
If this ideology becomes deeply rooted in American culture, there remains no way to retain laws that recognize women's bodies as different from men's, that protect women's privacy and modesty, and that preserve the public good by prohibiting female toplessness. How would such laws be applied to biological women who pretend to be men, are viewed as men by the law, but choose not to have "top" surgery?
Despite what "progressive" libertines allege, modesty in dress is wholly unrelated to hatred of the body, or to puritanical shame of the body, fear of sex, or the radical Muslim requirement that the entire female body be enveloped in a tent. Such claims are manipulative tools to shame those who view modesty as a virtue that contributes to human flourishing and the public good. When our children are little, we tell them that certain parts of their bodies are private and that no one should view or touch them. Either that is a lie or we're violating in practice a fundamental truth about humans, which is that parts of our anatomy are, indeed, private. The thousand and one ways bodily decency is daily assaulted and the assaults ignored and tolerated are a thousand and one ways our children and grandchildren are harmed.
Listen to this article read by Laurie:
---
---
IFI Fall Banquet with Franklin Graham!


We are excited to announce that at this year's IFI banquet, our keynote speaker will be none other than Rev. Franklin Graham, President & CEO of the Billy Graham Evangelistic Association and Christian evangelist & missionary. This year's event will be at the Tinley Park Convention Center on Nov. 1st.