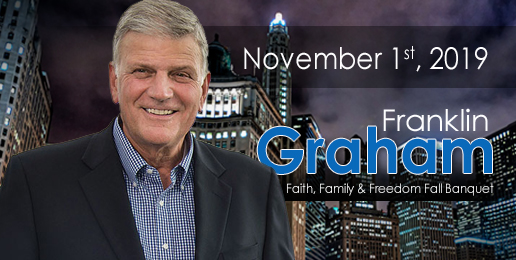 IFI Fall Banquet with Franklin Graham
November 1, 2019 @ 7:00 PM
-
9:30 PM
Illinois Family Institute is excited to announce our annual Faith, Family and Freedom Fall Banquet with special guest, The Rev. Franklin Graham!
Franklin Graham has devoted his life to meeting the needs of people around the world and proclaiming the Gospel of Jesus Christ. The eldest son of Billy and Ruth Bell Graham, he serves as President and CEO of Samaritan's Purse and the Billy Graham Evangelistic Association. Under his leadership, Samaritan's Purse has met the needs of poor, sick, and suffering people in more than 100 countries. As an evangelist for the Billy Graham Evangelistic Association, he has led crusades around the world.
Sponsorship packages and program advertisements for this great evening are available. I hope you'll reserve this date on your calendar. If you have any questions, please call us at (708) 781-9328.
To become a Benefactor by helping to underwrite the cost of the banquet, please click HERE.
To place an ad in the program booklet, please click HERE.