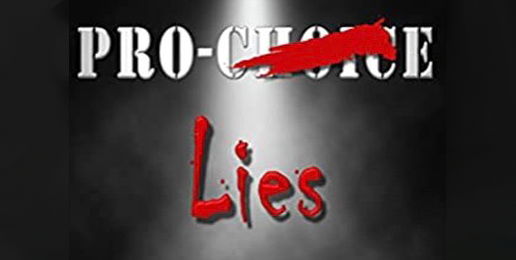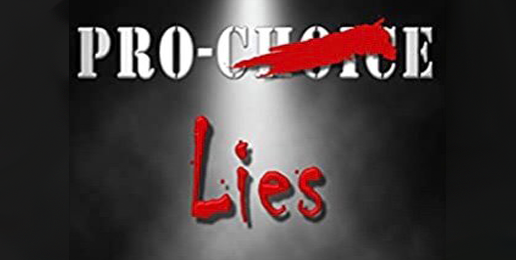 The Schemes of Fallen Humans to Destroy Life
Following the unprecedented leak of the entire U.S. Supreme Court draft opinion on the controversial abortion case Dobbs v. Jackson Women's Health, morally and emotionally unhinged, pro-human slaughter women and their collaborators became apoplectic. Next, U.S. Senate leftists terrified at the possibility that diverse citizens in diverse states will pass diverse laws to protect prenatal humans began clamoring for the elimination of the filibuster, so they—Senate leftists—can codify human slaughter in federal law. So much for diversity and federalism.
The self-identifying Catholic Joe Biden said, "If the Court does overturn Roe, it will fall on our nation's elected officials at all levels of government to protect a woman's right to choose [to have her offspring offed]. And it will fall on voters to elect pro-choice [i.e., pro-human slaughter] officials this November." And yet, Biden is unwilling to wait to see who voters choose or what state levels of government will do. Leftists like Biden don't care what the great unwashed masses want. Nor do they care what the Constitution says. Leftists want to impose their will, ideology, and desires by any unethical and unconstitutional means they can dream up.
Biden is justified in fearing that states may pass laws to protect incipient lives. In contrast to the leftist claim that most Americans support Roe v. Wade, recent Rasmussen polling shows that most Americans would like to see it overturned:
The latest Rasmussen Reports national telephone and online survey finds that 48% of Likely U.S. Voters would approve of a Supreme Court ruling overturning Roe v. Wade …. Forty-five percent (45%) would disapprove of overturning Roe v. Wade ….

…

In his draft opinion, Justice Alito declared that the Roe v. Wade decision "was egregiously wrong from the start. Its reasoning was exceptionally weak, and the decision has had damaging consequences." Forty-seven percent (47%) of voters agree with Justice Alito's statement…. Forty-six percent (46%) disagree with Alito.
Biden and his U.S. Senate co-conspirators want to rob citizens and states of the right to decide whether humans in the womb can be killed by more powerful humans (i.e., oppressors). According to the website "Equal Access to Abortion Everywhere," the federal law Biden frantically seeks to pass before Dobbs is decided and before Americans can exercise their right to govern themselves would,
eliminate all existing state restrictions including "six-week bans, 20-week bans, mandatory ultrasounds … counseling, waiting periods, and requirements that providers obtain admitting privileges at local hospitals.
Abortion without restrictions would be legal in every state throughout the entire nine months of pregnancy for any or no reason if the Women's Health Protection Act is passed.
In attempting to rationalize the censorship of conservative ideas, "diversity"- and "tolerance"-loving leftists have claimed society has no obligation to tolerate conservative speech on topics related to sexuality because such speech may lead to violence. This raises a thorny question for leftists: Should society tolerate bloodthirsty banshees shrieking in the streets about their right to destroy the bodies of their offspring and threatening the lives of those who oppose human slaughter? Might such banshee speech lead to violence?
U.S. Supreme Court Justices Amy Coney Barrett, Brett Kavanaugh, Clarence Thomas, Samuel Alito, John Roberts, and Neil Gorsuch have had their homes and lives targeted.
Lacie Wooten-Holway, an unneighborly neighbor of Brett Kavanaugh revealed his home address and organized a protest in front of his home, declaring that "We're about to get doomsday … so I'm not going to be civil to that man at all."
A Molotov cocktail set ablaze the office of a conservative public policy organization in Wisconsin and graffitied it with the threat, "If abortions aren't safe, then neither are you." Sounds like a threat of violence to me.
A Catholic church in Fort Collins, Colorado was spraypainted with the words "My body my choice" and the symbol for anarchism.
Three churches in Texas were vandalized.
In an interview with Salon magazine, an anonymous representative of the anti-life group Ruth Sent Us said "that some members of the network have privately discussed not just disrupting Mass but burning the Eucharist." Might that lead to violence?
Clearly banshee speech may lead to violence, and yet as of this writing, neither the Biden administration nor the DOJ has condemned the doxing of six U.S. Supreme Court Justices, the illegal efforts to influence the decision of these justices, the torching of conservative non-profit organizations, or the protests in front of Supreme Court Justices private homes.
Instead (and as usual), Biden finds this a good time to blame the "Maga crowd":
What are the next things that are going to be attacked? Because this Maga crowd is really the most extreme political organization that exists in American history.

This is about a lot more than abortion… What happens if you have a state change the law, saying that children who are LGBTQ can't be in classrooms with other children? Is that legit?
Biden's claim is either a bizarre non sequitur or a wildly fallacious slippery slope argument with no causal or logical link between a U.S. Supreme Court decision on the constitutionality of the Dobbs case and an absurd hypothetical state law banning "LGBTQ" students from the classroom.
Is the "Maga crowd" an organization? Who's in it? Everyone who voted for Trump? Are all the Americans who voted for Trump members of a political organization more extreme than BLM, Antifa, the Weather Underground, the Symbionese Liberation Army, Black Panthers, or eco-terrorist organizations?
Perhaps the cognitively impaired Biden isn't aware that many liberal legal scholars who support abortion argue that nowhere in the text or history of the Constitution can a right to abortion be found, and hence, Roe v. Wade was an atrocious decision.
U.S. Senator Amy Klobuchar (D-MN) made an equally bizarre statement:
This is 50 years of rights in a leaked opinion where Justice Alito is literally not just taking us back to the 1950s, he's taking us back to 1850s. He actually cites the fact that abortion was criminalized back when the 14th Amendment was adopted.
If Klobuchar thinks 49 years imparts immunity from being overturned to a lousy U.S. Supreme Court decision, then she must still be enraged about the de facto overturning of Plessy v. Ferguson, which stood legally unmolested for 58 years.
Klobuchar's disdain for Alito "taking us back to the 1850s" is perplexing. One would expect a member of the U.S. Senate to have deep respect for much that was written in the 1800s and even the 1700s.
California Governor Gavin Newsom tripped all over leftist "logic" when talking about the draft opinion:
If men could get pregnant, this wouldn't even be a conversation.
That's both embarrassingly cliché and politically un-woke. Surely, the good leftist Newsom has heard the news from the world of pseudo-science: Men can get pregnant. Or maybe he has heard the news, but he's caught in the sticky, tangled web of ideological mayhem that leftists have woven to deceive.
For decades, unhinged women committed to child sacrifice have tried to claim that humans in the womb were just clumps of cells or tumor-like masses. When that nonsensical claim failed, they admitted that, sure, the product of conception between two humans is a human but it's not fully developed, or it's imperfect, or it will suffer, or it's parasitic, or it's father is a criminal, or it's mother is poor, or it's mother doesn't want it, or it's mother is not ready to care for it. If those arguments were applied consistently to all humans, we would have a murderous society unsafe for every human.
So, then came the next lie: Morally unhinged women proclaimed that sure, womb-dwellers are human, but they're not persons. But why, inquiring minds wanted to know, are these humans with human DNA, many of whose human body parts are sold to scientists to find cures for human diseases, not persons?
Philosopher Francis Beckwith offers a definition of personhood that abortion cheerleaders will definitely not like:
[W]hat is crucial morally is the being of a person, not his or her functioning. A human person does not come into existence when human function arises, but rather, a human person is an entity who has the natural inherent capacity to give rise to human functions, whether or not those functions are ever attained. And since the unborn human being has this natural inherent capacity from the moment it comes into existence, she is a person as long as she exists.

…

A human person who lacks the ability to think rationally (either because she is too young or she suffers from a disability) is still a human person because of her nature. Consequently, it makes sense to speak of a human being's lack if and only if she is an actual person.
Questions of personhood and unalienable rights are metaphysical questions on which there will never be agreement. Rational, reasonable, compassionate people argue that if we can't agree on something as momentous as when life begins or when a human becomes a person deserving of the right not to be murdered, the prudent and ethical response would be to err on the side of not killing humans that may, indeed, be persons.
But liberals are not concerned about the injustice of killing human fetuses. Liberal concerns are directed toward the self.
Nathanael Blake, Postdoctoral Fellow at the Ethics and Public Policy Center, illuminates the self-serving political philosophy of the secular left:
The liberal project seeks to provide, to the extent possible, freedom from unchosen constraints, duties, and loyalties in life.

This is why liberalism naturally favors a broad welfare state. The purpose of this welfare state is both to protect those who are dependent, and to protect those who do not want to be depended on.

Thus, liberalism professionalizes care from childhood to old age. The animating vision is a society in which everyone is taken care of, but no one has a private obligation to care for anyone else; no one has to sacrifice ambition, career, or personal freedom to care for children or parents or a sick relative.

But this liberal ideal is unrealizable with children, especially those in utero. …

This is why liberals are complaining about "forced birth" — they really are horrified at the idea of an unchosen obligation to care for another person. … Liberalism cannot tolerate that sort of involuntary duty, and so it requires the opt-out of abortion on demand.

Thus, a political philosophy that begins by claiming to protect the weak and dependent, and to liberate us from the unfairness of the givenness of life, ends by asserting an absolute right to take the lives of the weak and dependent — precisely because they are dependent.

Human life developing in the womb can offer nothing but need; to respond to that need with violence is to assail human dependence in its purest form. This bloodshed lays bare how liberalism has become a revolt against our humanity.
It's also a revolt against God, which explains why leftists who want the freedom to sacrifice their children target Christianity. Jesus teaches us to deny ourselves and take up our crosses daily. He teaches that "Greater love has no one than this, that someone lay down his life for his friends." He teaches that God is the Author of life who creates the inmost being of children in their mothers' wombs. And he teaches that every life unjustly snuffed out by fallen humans was fearfully and wonderfully made by God.
Take ACTION: Sponsored by left-wing U.S. Senator Richard Blumenthal [D-CT], the Women's Health Protection Act (S. 4132) would nullify any existing state pro-life laws protecting the life of the unborn, if signed into law. Both U.S. Senators Dick Durbin and Tammy Duckworth are co-sponsors of this radical bill which would also force doctors and healthcare workers to violate their consciences. Click HERE to let them know that this legislation is absolutely unacceptable and offensive to you. Urge them to protect innocent pre-born human life.
Listen to this article read by Laurie:
Read more:
Fact Sheet by the U.S. Conference of Catholic Bishops
Democrats' National Abortion Bill Replaces Word 'Woman' With 'Person' (The Daily Signal)
---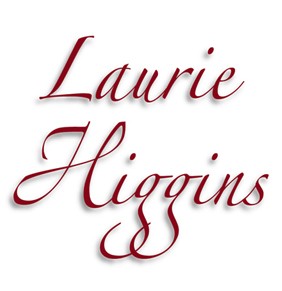 Related Articles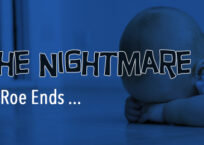 The Nightmare of Roe Ends, But Undoing the Damage Continues
IFI Prayer Team: Abortion, Justice, Life and Peace