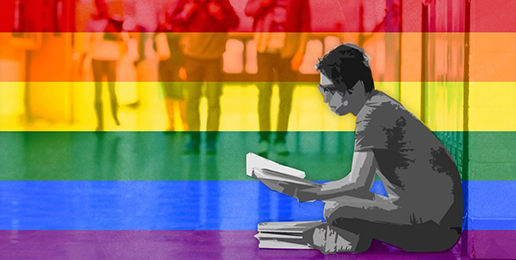 Look What's in Store for Public School Students in Illinois–YIKES!
Illinoisans shouldn't need a reminder of how committed Illinois politicians are to using tax dollars and government schools to indoctrinate other people's children, but Governor J.B. Pritzker just gave them one last Friday when he signed the "LGBTQ" school indoctrination bill into law. This law, which takes effect in July 2020, requires that all children ages 5-18 in public schools be taught about the deviant sexual proclivities of men and women who have made some significant cultural contributions. Well, not all deviant sexual proclivities are included. Only the deviant sexual proclivities currently and publicly approved by homosexuals and cross-sex pretenders will be included—for now.
When the time is right, those who identify as polyamorous—er, I mean, "sexually non-monogamous"—or as hebephiles, ephebophiles, kinksters, zoophiles, or infantilists will claim their proclivities constitute a "sexual orientation" and will demand to have the "roles and contributions" of fellow deviants be included in curricula. They will one day rise up against the intolerant, ignorant, hateful bigotry that has resulted in their exclusion and oppression. And then those with other disordered identities—not necessarily sexual in nature—like "amputee-wannabes" (i.e., Body Integrity Identity Disorder) will plead for inclusion.
The reason all these groups will battle for the "roles and contributions" of people like themselves to be taught to our young, impressionable, and vulnerable children is that the central reason for teaching children about the disordered desires and deviant acts of cultural contributors is to normalize deviance. It happens in three ways:
1.) Exposing children repeatedly to a set of beliefs about, for example, homosexuality and cross-sex impersonation from age 5 on up desensitizes children to deviance.
2.) Positive portrayals of deviance from age 5 on up from teachers who are role models shape children's moral views of deviance.
3.) When, for example, homosexuality or opposite-sex impersonation are associated with admirable qualities like achievement, creativity, intelligence, or bravery, the good feelings children have for these admirable qualities are transferred to homosexuality or opposite-sex impersonation. And that's exactly what "progressives" seek.
Of course throughout human history there have been cultural contributors who experienced all manner of perverse and sinful desires and engaged in all manner of perverse and sinful acts, but historically teachers discussed only their contributions—not their perverse and sinful desires and acts. Now, however, a segment of the population has concluded that two forms of sexual activity are neither perverse nor sinful and are using government schools, tax money, and captive audiences to eradicate all dissenting beliefs.
Equality Illinois, Illinois' foremost organization for promoting perversion, said this about Pritzker's most recent offense against decency:
"We thank Gov. Pritzker for signing the Inclusive Curriculum Law and ensuring that LGBTQ youth will now see themselves in the history they are taught…." An inclusive curriculum can have positive, affirming benefits.
Since when is it the role of taxpayer-funded government schools to provide "affirming benefits" to children, and what specifically constitutes an "affirming benefit"? Before concluding that affirmation of homosexuality and opposite-sex impersonation is a benefit, lawmakers and government-employed "educators" had to have concluded those phenomena are morally good, which is decidedly not their right to do in their professional roles when it comes to highly arguable moral issues.
Moreover, when teachers affirm the unproven, non-factual, subjective beliefs of the "LGBTQ" community, they are implicitly (and sometimes explicitly) condemning the beliefs of many people of faith.
Another of Illinois' sexual deviance cheerleaders, Mary F. Morten, board chair of the deceptively named Illinois Safe Schools Alliance, said this about the "LGBT" indoctrination law:
Gaining a greater knowledge and understanding of the contributions of various underrepresented communities benefits all of us. 
Does inclusion require affirmation of all beliefs, ideas, feelings, and volitional acts? Are those who identify as polyamorists, ephebophiles, zoophiles, and kinksters part of the "underrepresented communities"? Why should homosexuals and biological sex-rejectors be the only sexually deviant groups to "see themselves in the history they are taught"?
Equality Illinois claims it "builds a better Illinois…. where everyone is treated with dignity and respect." Don't believe them. They want to ride roughshod over people of faith and deride them as hatemongers.
Remember too that this brazen effort to use government schools to promote "progressive" sexuality assumptions and eradicate the beliefs of countless people of diverse faith traditions is bolstered by the efforts of not only Equality Illinois and the Illinois Safe Schools Alliance but also by the Human Rights Campaign; the Illinois Human Rights Commission; the Gay, Lesbian & Straight Education Network, the National Education Association; and Pritzker's recently appointed "trans" task force.
Conservatives, if you don't have a plan to exit the state of Illinois, you've got 11 months to come up with a plan to exit Illinois public schools. The inept and corrupt miscreants who run the state want you to stay put for two reasons: 1. They want your money, and 2. If they weren't able to kill your children in the womb, they want to corrupt their hearts and minds via government schools and your money.
Listen to this article read by Laurie:
---
---
IFI depends on the support of concerned-citizens like you. Donate now
-and, please-