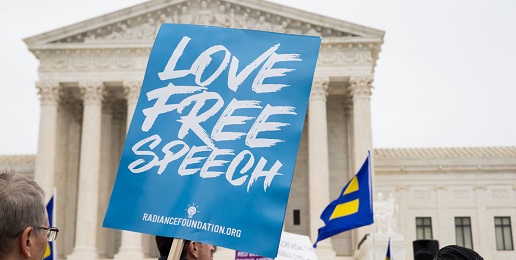 U.S. Supreme Court Recap for First Amendment Cases
It has been an eventful term for the U.S. Supreme Court, which has provided many closely decided cases and ended with the retirement of Justice Anthony Kennedy. For those interested in free speech and religious liberty, there have been plenty of decisions to keep track of and digest. Here is what you need to know.
Masterpiece Cakeshop v. Colorado Civil Rights Commission
The story is well-known. Jack Phillips, a Christian cake shop owner from Colorado, refused to create a cake for the same-sex "wedding" of two men. They filed a complaint with the Colorado Civil Rights Commission, which held that Mr. Phillips violated the state's public accommodation laws. Much of the litigation centered around whether creating a wedding cake fell under the free expression protections of the First Amendment, but the Court punted on this argument, leaving it for a future case. Instead, the Court ruled for Mr. Phillips on two separate grounds.
First, the Commission did not employ religiously neutral standards when deciding Mr. Phillips case, and instead showed unwarranted hostility towards his Christian faith. One official on the Commission even referred to Mr. Phillips' faith as "one of the most despicable pieces of rhetoric that people can use."
Second, the Court found that the Commission had used different standards for different bakery owners. An individual named Bill Jack (no relation to Jack Phillips) went to several bakeries asking them to create a cake with a message critical of homosexuality derived from the Bible and was—unsurprisingly—refused service. When complaints were filed, the Commission found that bakeries can refuse to make a cake with a message they deem to be derogatory.
The popular narrative is that this case was decided on narrow grounds and sets little precedent for future cases. However, Masterpiece has already proven to be more influential than that narrative suggests. Anti-religious animus by government officials is common in religious liberty cases, and there's no better example than Arlene's Flowers.
Arlene's Flowers Inc. v. Washington
Similar to Jack Phillips, Barronelle Stutzman, a Washington florist, refused to offer her services for a same-sex wedding. However, in this case, when she refused to create a floral arrangement for a same-sex couple, it was not the couple who took action. Rather, the state's attorney general, on his own initiative, filed a complaint against Ms. Stutzman, showing unusual hostility towards her religious beliefs. This led to the Washington Supreme Court holding that Ms. Stutzman engaged in unlawful discrimination. However, the U.S. Supreme Court vacated the decision and remanded it back to the state supreme court to consider the decision in light of Masterpiece.
National Institute of Family and Life Advocates v. Becerra
This case had less headline appeal than Masterpiece but will likely end up being the more influential in First Amendment jurisprudence. The Court found that California's Reproductive FACT Act, which forced pro-life pregnancy centers to post disclosures about the state's abortion services, to be a violation of the pregnancy centers' free speech rights. The decision was important on several fronts. Most notably, the Court refused to create a lesser standard of First Amendment protection for "professional speech." The argument was that the state should be given greater power to prevent and compel the speech of professionals (like doctors, lawyers, and mental health counselors) than the usual First Amendment protections would allow. But Justice Clarence Thomas, writing for the majority, criticized such "professional speech" doctrine as being a tool to suppress unpopular ideas or information. The decision may open possible litigation on the issue of so-called reparative therapy bans, which ban professional counselors from talking with minors about their unwanted same-sex sexual attraction.
In his concurrence, Justice Kennedy came down particularly hard on California for its intolerance of the pro-life viewpoint:
The California Legislature included in its official history the congratulatory statement that the Act was part of California's legacy of "forward thinking." But it is not forward thinking to force individuals to "be an instrument for fostering public adherence to an ideological point of view [they] fin[d] unacceptable." It is forward thinking to begin by reading the First Amendment as ratified in 1791; to understand the history of authoritarian government as the Founders then knew it; to confirm that history since then shows how relentless authoritarian regimes are in their attempts to stifle free speech; and to carry those lessons onward as we seek to preserve and teach the necessity of freedom of speech for the generations to come.
This case stems from then-presidential candidate Donald Trump's promise of a "Muslim ban" during the 2016 presidential campaign. Initially, President Trump signed an order that banned entry in the U.S. from seven predominantly Muslim countries regardless of visa status. However, after getting blocked by the lower courts because of its disproportionate effect on Muslims and because of several anti-Muslim statements from the Trump administration, the president issued a moderated version of the order. This time, the order did not outright ban travel from the seven countries but it did add extra scrutiny before people were allowed to enter the U.S. The final order was also backed by evidence that the nations with restricted access posed legitimate national security risks and were not just chosen based on anti-Muslim animus.
Chief Justice John Roberts pointed out that although five of the seven countries with restricted access were predominantly Muslim, the countries made up only 8% of the world's Muslim population and were previously designated as posing national security risks. The decision continues the longstanding judicial deference to the Executive Branch on decisions affecting national security. The High Court also renounced the infamous Korematsu v. United States decision, which allowed the executive branch to establish internment camps for Japanese Americans during World War II.
This case is not just of interest for its First Amendment jurisprudence but also its close connection to Illinois politics. Illinois was one of the 22 states that allowed unions to charge nonmembers fees for the costs of collective bargaining with employers. Mark Janus, a government social worker from Springfield, filed suit against Illinois arguing that the government requiring him to pay a private organization like a union violated his First Amendment right to free speech and association. By subsidizing the union's administrative costs, Janus argued that he was being forced by the government to support the union's political activism. The U.S. Supreme Court agreed in a 5-4 decision. Justice Samuel Alito wrote that the law "violates the free speech rights of nonmembers by compelling them to subsidize private speech on matters of substantial public concern" like tax increases or collective bargaining rights. One important distinction is that this ruling only applies to public sector unions, not to any in the private sector.
One notable case that did not get the U.S. Supreme Court review comes from Rowan County, North Carolina, where the Fourth Circuit Court of Appeal barred the opening prayer at county board meetings. The prayer was led by the elected commissioners, who took turns leading at each meeting. Three residents were offended by the prayers and sued the county. The Fourth Circuit Court of Appeals struck down the prayer policy as violating the Establishment Clause despite clear precedent from the U.S. Supreme Court allowing public prayers in Town of Greece v. Galloway. Unfortunately, the High Court denied cert (i.e., declined to review the lower court decision) on the county's appeal, and the Fourth Circuit's decision stands.
---
---
IFI depends on the support of Christians like you. Donate now
-and, please-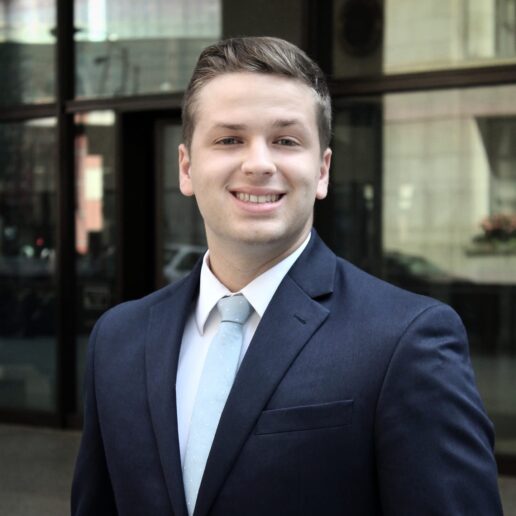 Related Articles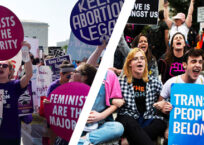 Yes, Abortion and Transgenderism are Two Sides of the Same Coin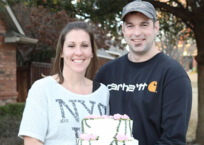 U.S. Supreme Court Hands Christian Bakers Win in Same-Sex Case, Vacates Lower Court