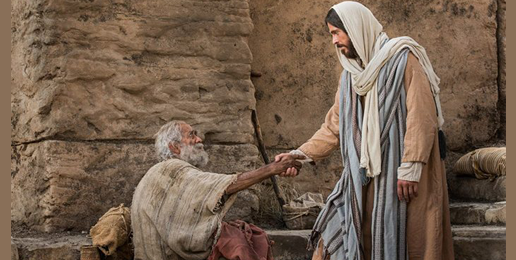 Thanksgiving, Leprosy and a Thankful Man
Written by Dr. Joey Krol
When I say the word "Thanksgiving," what comes to mind?
For most of us, it would be turkey, ham, mashed potatoes, pumpkin pie and football. If we go back in our history books, we learn that the early pilgrims celebrated the first Thanksgiving to give God thanks for His goodness. From that time forward, Thanksgiving has been celebrated as a day to give thanks to God for His gracious and sufficient provision.
In Luke Chapter 17, Jesus encountered ten men with leprosy, an infectious disease that causes severe, deforming skin sores and nerve damage to the body. According to Old Testament Law, because leprosy was contagious those  infected with it were to be sent outside of the community away from their loved ones. Therefore, leprosy affected sufferers both physically and emotionally.
We read this in Luke 17:12:
And as He entered a village, He was met by ten lepers, who stood at a distance and lifted up their voices, saying, "Jesus, Master, have mercy on us." When He saw them He said to them, "Go and show yourselves to the priests." And as they went they were cleansed. Then one of them, when he saw that he was healed, turned back, praising God with a loud voice; and he fell on his face at Jesus' feet, giving Him thanks. Now he was a Samaritan. Then Jesus answered, "Were not ten cleansed? Where are the nine? Was no one found to return and give praise to God except this foreigner?"
Ten men had a need and asked Jesus to be cured. All were healed, but only one returned to thank the Lord? These men had deformities healed. They had their status in the community reinstated. They were cleansed by Jesus Christ.  And yet only one went back to thank the one who healed them and restored them to fellowship with loved ones.
Jesus was no longer important to them. They got what they wanted. They had no desire to worship Him, no interest in remembering Him, and no longer a need for Him.
Don't we do the same thing today? How often do we go back and thank Him? How often do we live our lives without any acknowledgement of God? How often do we breathe God's air, eat God's food and walk in His blessings, yet completely forget about Him? We are so caught up in the blessings that we have forgotten the One who blesses.
As we gather around the table this Thanksgiving, let's remember what this day is really about: thanking God for His goodness and blessings upon our lives.
---
Dr. Joey Krol is the Senior Pastor of Galilee Baptist Church in Decatur, IL. He is also the author of "Common Misunderstandings about God, Jesus and the Bible." (Available on Amazon) He lives with his wife, Aubrey, and their two kids, Timothy and Hannah.