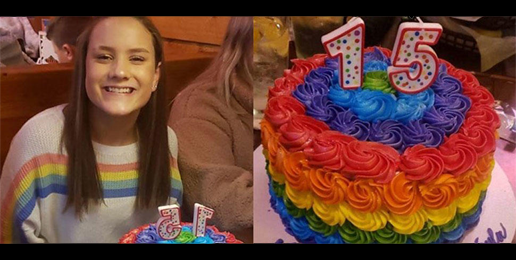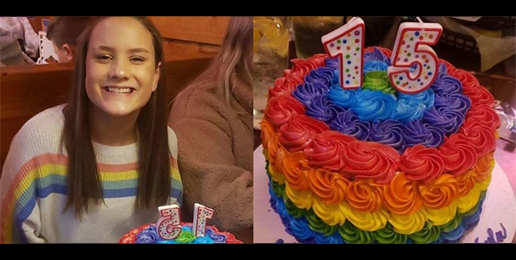 Media Misrepresents the Story of Christian School That Expelled Student
The story of an innocent birthday cake that wasn't and the expulsion of 15-year-old Kayla Kenney from Whitefield Academy, a private Christian school in Louisville, Kentucky, has been covered in multiple news outlets. Kenney's mother, Kimberly Alford, took a photo of her daughter sitting in front of a specially designed rainbow-colored birthday cake, wearing a sweater adorned with rainbow stripes, and then posted it on Facebook. Shortly after the Facebook posting, the theologically orthodox Christian school notified the family that Kayla was expelled.
Here's an excerpt from the Washington Post story:
Alford instructed a bakery to decorate a cake with colors that "pop," [Alford] recalled. It just so happened that the cake's rainbow motif mirrored the design on her daughter's sweater. … Alford said she is aware that the rainbow-striped flag is a symbol of the LGBTQ community, but emphasized that her daughter's matching rainbow cake and sweater were simply a coincidental aesthetic and not intended to mean anything more. … "Rainbows don't mean you're a certain gender or certain sex or sexuality," Alford told The Washington Post, adding that she provided the school a receipt from the bakery listing the cake's design as "assorted colors."
"It just so happened" that the rainbow cake mirrored her daughter's rainbow sweater as well as the symbol of the "LGBTQ" community? The rainbow cake and sweater "were simply a coincidental aesthetic and not intended to mean anything more"? A receipt from a bakery that identifies only what the cake decorator needed to know about decorating the cake provides proof of the motives of Kayla?
Someone really thinks Christians just fell off their proverbial turnip trucks while clinging with white knuckles to their guns and religion.
Louisville Courier Journal writer, Billy Kobin, who broke the incredible news story of a Christian school implementing its code of conduct policy, reported that Kenney's mother "said her daughter is not gay and the cake was simply a fun treat."
Well, that's strange because, as author Rod Dreher reports on The American Conservative website, Kayla's father Mark Kenney wrote this on his Facebook page, "My daughter got expelled from her church for being gay."
The school responded to the secular press' incomplete accounts:
Inaccurate media reports are circling stating that the student in question was expelled …  solely for a social media post. In fact, she has unfortunately violated our student code of conduct numerous times over the past two years. In the fall, we met with the student to give her a final chance to begin to adhere to our code of conduct. Unfortunately, she did not live up to the agreement, and therefore, has been expelled.

… All parents who enroll their children in our private school know up front that we ask the students to adhere to a lifestyle informed by our Christian beliefs.
The beliefs on which Whitefield's code of conduct is based include explicit affirmation of theologically orthodox views of sexuality. Kayla and her parents knew the beliefs of the school and signed the code of conduct.
Dreher also reposted photos from Kayla's Instagram account of Kayla dressed as a boy, taking a girl to a dance; a post from Oct. 16, 2019 in which Kayla announces, "Me coming out"; a post from months before her expulsion in which Kayla announces, "Me finally getting a GF [girlfriend]"; a photo of Kayla and a girl with the words, "But I was the one in her bed…."; and another photo of Kayla throwing her Bible in the clothes dryer.
While Kayla's mom acknowledges that Kayla has had disciplinary issues, she misrepresented the nature and extent of those issues, and the mainstream press has been (not surprisingly) incurious about those issues. But Dreher reports the following:
When Alford says her daughter "is no angel," and confirms that she has had "disciplinary issues," she's understating matters. My understanding is that Kayla Kenney had a long, specific list of repeated infractions — bullying, disrespecting teachers, vaping in school (as Alford acknowledges), and so forth. Part of what she has allegedly done is promoting LGBT consciousness in the school, including aggression on that front. I'm trying to be delicate here, but I can tell you that she has transgressed against other students on this front, to promote bisexuality. For example, she allegedly drew rainbows and wrote slogans like "bi pride" on other kids' papers, and gave at least two different girls the impression that she was sexually harassing them.
The Chicago Tribune's lifestyle expert and armchair theologian Heidi Stevens assures America "loudly and clearly," that
If you identify as a Christian and you identify as gay, you don't have to cleave off one part of yourself to remain true to the other.
How does she know this? She knows it because she consulted heretic John Pavlovitz whom she has long admired (not surprising) and about whom Stevens claims there is no one "better" to explain this heresy. Here's Pavlovitz's superior defense of heresy as cited by Stevens:
It's ironic that someone would see the rainbow, which in the story of Noah was a symbol of God's expansive love, and have that symbol become something they would weaponize. It just shows our complete lack of understanding of the heart of Jesus and what his teachings and what his life were trying to create in the world. A move like that gets cheap applause from others who want that same kind of vengeful religion. It's the sort of easy win that people get when they exclude people, when they can try to claim some sort of moral high ground. It's intoxicating. It makes people feel more spiritual. It's short-hand religion without a deeper theology. If you don't have a theology of empathy, there is not Jesus there. Even if you look at someone who is gay and you believe that's not what God wants for people, Jesus encountered people throughout his ministry that would be doing things God wouldn't want for them. And he always leaves them with more dignity than he found them."
So many errors, so little time.
God's rainbow has not been weaponized—well, at least not by Christians. Homosexuals have appropriated it, perverted it, and weaponized it against Christians.
The rainbow symbolized God's promise not to again destroy the earth by a flood, which he had just done because of the sinfulness of man. It's a reminder of God's covenant with man and of his grace and mercy. God loves his creation and at the same time detests much that fallen humans feel, desire, believe, think, and do. God is loving, merciful, holy, and just. And Judgment Day is coming. He has told us in his Word that he will one day judge the world—not by water but by fire—and those whose names are not written in the Book of Life, will be cast into the "lake of fire" for eternity.
Those aren't my words. They're the words of the loving, empathetic, holy, and just God who Pavlovitz falsely claims to serve. (Stevens made clear that Pavlovitz doesn't serve God: "Pavlovitz doesn't believe being gay is a sin. He believes in and preaches radical inclusivity and believes Jesus did the same.") God's Word tells us what acts we must turn from or risk eternal separation from him. Homosexuality is one of those, so, no, you can't be a Christ-follower and affirm homosexuality.
If Pavlovitz believes that theologically orthodox Christians applaud the expulsion of a troubled teen from a Christian school, desire vengeance against her, or feel "intoxicated" by such an expulsion, then he doesn't know any theologically orthodox Christians. It appears the Whitefield Academy Administration tried for two years to avoid expulsion.
Why, when theologically orthodox Christians affirm the clear words of Scripture on homosexuality or marriage, are they guilty of "claiming the moral high ground," but when Pavlovitz cites Scripture to condemn them, he's not guilty of "claiming the moral high ground"?
I wonder if Pavlovitz believes those who affirm biblical prohibitions of consensual adult incest, polygamy, or bestiality are guilty of "claiming the moral high ground" and of "completely lacking understanding of the empathetic heart of Jesus"?
I wonder too what radical inclusivist Pavlovitz makes of this command from Jesus pertaining to exclusion:
If your brother sins against you, go and tell him his fault, between you and him alone. If he listens to you, you have gained your brother. But if he does not listen, take one or two others along with you, that every charge may be established by the evidence of two or three witnesses. If he refuses to listen to them, tell it to the church. And if he refuses to listen even to the church, let him be to you as a Gentile and a tax collector. (Matthew 18:15-17)
Or this:
Enter by the narrow gate. For the gate is wide and the way is easy that leads to destruction, and those who enter by it are many. For the gate is narrow and the way is hard that leads to life, and those who find it are few. (Matthew 7:13-14)
Or this:
"Not everyone who says to me, 'Lord, Lord,' will enter the kingdom of heaven, but the one who does the will of my Father who is in heaven. On that day many will say to me, 'Lord, Lord, did we not prophesy in your name, and cast out demons in your name, and do many mighty works in your name?' And then will I declare to them, 'I never knew you; depart from me, you workers of lawlessness. (Matthew 7:21-23)
Or this:
 Jesus said to him, "I am the way, and the truth, and the life. No one comes to the Father except through me. (John 14:6)
Or this from Paul:
But now I am writing to you not to associate with anyone who bears the name of brother if he is guilty of sexual immorality or greed, or is an idolater, reviler, drunkard, or swindler—not even to eat with such a one. (1 Corinthians 5:11)
The biblical goal of excluding unrepentant sinners from the body of Christ is not to be mean but, rather, to prevent the intentional embrace of sin from infecting the body of Christ ("Do you not know that a little leaven leavens the whole lump?  Cleanse out the old leaven that you may be a new lump, as you really are unleavened.") and to have this separation result ultimately in repentance and restoration of fellowship. It's ironic that Pavlovitz would accuse others of lacking a "deeper theology" in that he rips Scripture out of context and ignores inconvenient passages.
Of course, Jesus encountered people throughout his ministry who "were doing things God didn't want for them." Those are the only kind of people who exist. I'm not sure what Pavlovitz means when he claims Jesus always left those people "with more dignity than he found them." Jesus called sinners to repent and follow him. He told the woman caught in adultery "go, and from now on sin no more." Jesus told the rich, young ruler that in order to follow him, the young ruler would have to give up all his riches and give them to the poor. Jesus said, "If anyone would come after me, let him deny himself and take up his cross and follow me." It appears that leaving sinners with "more dignity" entailed their repentance from sin. They couldn't identify as Christians and identify with sin. Leaving people to wallow in or celebrate sin is not what Jesus did.
Kimberly Alford complained to ABC News that she "feels judged" and her daughter "feels judged." Alford continued:
We teach our kids, "what would Jesus do?" What would he do here?
Christians should know the answer to that question. Christians are called to judge with righteous judgment. We are not permitted to judge the eternal status of others or to judge hypocritically. But we are to judge between right and wrong action and to express those judgments. Scripture commands Christians to "Take no part in the unfruitful works of darkness, but instead expose them." How can we avoid participating in unfruitful works of darkness if we aren't told what those are?
I doubt Alford really means Christians shouldn't judge between right and wrong. I doubt she thinks that if Christians say bestiality is wrong, they're committing an offense against God. What she's saying is that she no longer accepts biblical teaching on homosexuality, and, therefore, no one else should either.
Regressives don't object to private schools having rules of conduct that reflect moral beliefs. Nor do they object to private schools expelling students for violating rules of conduct. Regressives object to anyone holding the moral belief that homoerotic acts and relationships are immoral. Instead of trying to create the impression that this school expelled a teen for an innocently decorated cake, why don't regressive news sites just be honest and say a teen was expelled for intentionally violating rules based on Scripture that leftists abhor.
Listen to this article read by Laurie:
---
IFI is hosting our annual Worldview Conference on March 7th at the Village Church of Barrington. This year's conference is titled "Thinking Biblically About Our Corrosive Culture" and features Dr. Michael Brown and Dr. Rob Gagnon. For more information, please click HERE for a flyer or click the button below to register for the conference.