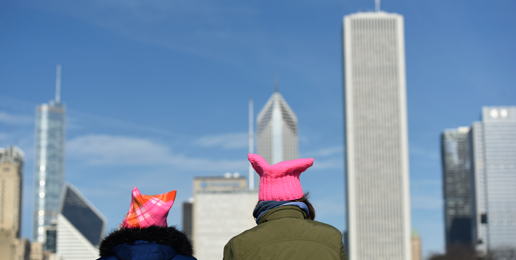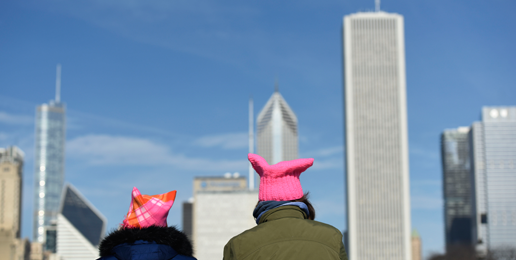 Chicago Tribune: Shill for Human Slaughter
In an 804-word news article appearing in the Chicago Tribune on Friday, Jan. 10, the day before the Chicago March for Life, "reporter" Angie Leventis Lourgos provided these scant details about the event:
What: March for Life Chicago march and rally
When: Saturday, 1-3 p.m.
Where: Daley Plaza, 50 W. Washington St. The march will head east on Washington Street, then south on Michigan Avenue and end at the Congress Plaza Hotel & Convention Center, 520 S. Michigan Ave.
For more information: www.marchforlife-chicago.org
Contrast that with Lourgos' 1070-word "news" article appearing in the Chicago Tribune on Friday, Jan. 17, the day before the Women's March, and titled "What you need to know about the Women's March"—which presumes that someone "needs" to know about the Women's March—in which Lourgos provided these details about the event:
What: Women's March Chicago 2020
When: Saturday. Grant Park opens for the event at 9 a.m. and the march begins at 11 a.m. (This year's event is a march-only format, with no formal rally or other programming preceding the march.)
Where: Main entrance at Ida B. Wells and Columbus drives. Accessible entrance at Columbus Drive and Monroe Street.
March route: The march will begin at Columbus Drive and Jackson Street, ending at Federal Plaza. The city has asked that marchers disperse immediately afterward.
Social media: #WomensMarchChicago2020, #WomensMarchChi2020, #MakeItCount
March route [online version]: Participants will gather on Jackson Street at Columbus Drive. They will march west on Jackson to Michigan Avenue, then north to Adams Street and then west on Adams to Federal Plaza. Organizers expect marchers to disband at Federal Plaza.
Street closures: Columbus Drive from Monroe Street to Ida B. Wells Drive, and Columbus to Lake Shore Drive will be closed from 5 a.m. to 2 p.m. Saturday, according to the city. Once the march begins, rolling closures will be implemented along Michigan Avenue from Randolph Street to Van Buren Street, and closures on Jackson Street are expected to be implemented as far west as LaSalle Street. Additional street closures might be implemented to ensure public safety.
Public transportation: Metra isn't adding any service but conductors have been notified that more patrons with disabilities might be traveling. The Chicago Transit Authority will have longer trains on the Brown, Blue, Orange, Green and Purple lines, as well as more frequent service on the Red Line. There will be additional bus service on the 147 Outer Drive Express route.
ADA Paratransit drop-off/pick-up: The location for participants with disabilities is on Monroe Street, east of Columbus Drive.
Ride services: Drop-offs and pickups are prohibited on Lake Shore Drive, and the city says this will be strictly enforced. Ride-share vehicles can't stop, stand or park in bus or bike lanes, sidewalk crossings, bridges or any other areas.
Weather: Forecasts say several inches of snow accumulation is possible Friday. On Saturday, the high temperature is expected to be 37 degrees, with rain possibly mixed with snow showers before 2 p.m., according to the National Weather Service. The city's Office of Emergency Management and Communications has arranged for four CTA warming buses to be available at the event if conditions warrant.
Security: The Chicago Police Department will have uniformed and plainclothes officers at the event to ensure the safety of participants, pedestrians and motorists. The Office of Emergency Management and Communications will also be monitoring the event.
For more information: www.womensmarchchicago.org
Wowzer. Lourgos evidently thinks readers need to know a boatload of details about the Women's Strut for Slaughter. Point of clarification, the word counts I provided do not include the details for each event.
Ironically, the Women's March this year will "honor marchers with disabilities"—you know, those with the kind of imperfections that pro-feticide marchers use to justify killings in the womb.
Another irony: Lourgos begins with a quote from a man—you know, the humans who are told by feticide-celebrants that they have no right to an opinion on the legalized slaughter of the unborn. I guess if men are all warm and tingly on the inside and spout creepy, unmanly stuff about celebrating human slaughter like Eric Tenfelde does, they have permission to speak. Here's how he describes his first Women's March:
Being outside in January and feeling warm on the inside from energy and people around me expressing their American freedom. Expressing myself with costume and signage and celebrating everyone else's expressions. Praising others and being praised. Leading chants and shouting the chants of others."
Andrew Clancey, another marching man like Tenfelde, demonstrated his unmanliness when recalling his first Women's March three years ago at which he held a sign that said, "I [heart] Nasty Women." He told Lourgos that "one of his favorite march memories was taking a picture with a woman wearing a shirt that said 'Nasty Woman' on it."
Word to Tenfelde and Clancey, men are supposed to protect children—not celebrate the right to have them killed. And men are supposed to honor the dignity of women—not celebrate their "nastiness" or their slaughter of their own children—children who have fathers too.
Lourgos reports that "the march will also be led by many elected female politicians," including lesbian Mayor Lori Lightfoot; eager recreational pot-purchaser Lt. Gov. Juliana Stratton; and hate-crime hoax ally Cook County State's Attorney Kim Foxx.
Well, at least no one can say our unscrupulous Chicago leaders lack diversity.
Lourgos included this tweet from Lightfoot—not in the article about the Women's March—no, not there. There were no quotes from anyone critical of the Women's March or its destructive goals. Lourgos included this quote from Lightfoot in her article about the March for Life:
I support a big tent but there's no room under the flaps for anyone who is actively seeking to deny women control over our bodies."
Lightfoot conveniently omitted mention of the other bodies—the tiny bodies of vulnerable innocents in the womb. Lightfoot's tent is so small and so exclusive that only those who shout and celebrate the dismemberment of humans in the womb are allowed in. Do civilized people really want to set foot in a tent drenched in the blood of those deemed unwanted, inconvenient, or unworthy of life?
And Lightfoot pretends to support the marginalized among us. Yeah, right.
Listen to this article read by Laurie:
---
---
Subscribe to the IFI YouTube channel
and never miss a video report or special program!