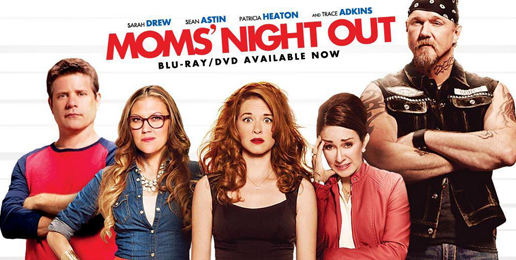 Moms' Night Out: Another Must See Movie by the Erwin Brothers
It's that most wonderful time of the year: time to celebrate the birth of Jesus, Emmanuel, God with us.
Unfortunately, too many folks succumb to the hustle and bustle of the season, scraping frantically for presents, decrying the traffic and long lines, and wondering why it's so wrong to wish someone "Merry Christmas."
All the more reason to grab a video, a worthwhile movie, gather the family with some popcorn, and escape all of the shopping madness.
And of late, two brothers, Jon and Andrew Erwin, have made a name for themselves and stunned Tinseltown as their worthwhile movies — artistically told, brilliantly acted stories undergirded by faith — reaped millions.
As I wrote in the review of I Can Only Imagine:
Jon and Andrew Erwin started their unlikely careers as sports camera men working for the likes of ESPN and Fox NFL. They started their own production company in 2002, producing music videos, garnering Music Video of the Year at the GMA Dove Awards for three years running.

Next the Erwins moved to documentaries before finally, in 2010, changing course to produce feature length films. Their second feature film, Moms' Night Out, a comedic romp infused with faith, starring Patricia Heaton, Sean Astin, and Trace Adkins, earned a decent box office and tremendous DVD/Blu-Ray sales. Jon and Andrew's third offering, Woodlawn, based on the true story of God's love overcoming the racist climate of early 1970's Alabama football, starring Sean Astin and Jon Voight, racked up over $14 million at the box office and another $9+ million in video sales.

With I Can Only Image, Jon and Andrew Erwin raked in $17 million, coming in a very respectable third in the opening weekend box office.
Those of you who saw I Can Only Imagine (and if you haven't, you should rent or buy it) witnessed the talent and conviction of Jon and Andrew Erwin. The Brothers Erwin raised the bar for movies with a faith theme.
For decades Christian moviegoers had to choose between content or artistic value. People of faith were Johnny-come-latelys to the movie game, often with small capital and smaller pools of producers, directors and actors willing to invest time and effort in films that resonated with regular Americans.
But that is all changing, and Jon and Andrew are front and center leading the effort.
Moms' Night Out (MNO) stands in sharp contrast to I Can Only Imagine: Imagine being a powerful and moving drama, Moms' Night Out a comedic romp that's fun for the whole family.
There are a some very familiar faces in MNO. Sean Astin starred in the beloved football movie, Rudy, and in the Erwins' third film, Woodlawn, among others. Country music star, Trace Adkins, also starred in Imagine. "Everybody Loves Raymond" star Patricia Heaton does double duty as the pastor's wife and as executive producer. Robert Amaya starred in Courageous. Kevin Downes, another double threat as producer and actor, will be familiar from Courageous. And of course people will know Alex Kendrick, of the Kendrick brothers (who produced Flywheel, Facing the Giants, Fireproof, Courageous, and War Room).
The movie begins as housewife and mom, Allyson (Sarah Drew, who recently played an Army Chaplain's wife in the fine film, Indivisible [review forthcoming]), a self-confessed germaphobe and "mommy blogger," panics and nearly hyperventilates over household chaos and clutter. She blanks out on anything to write in her blog. Nada. Zip.
Allyson confesses to her husband, Sean (Sean Astin), that she is a failure and tired. Soon she and her best friend, Izzy (Andrea Logan White), devise a plan and invite their pastor's wife, Sondra (Patricia Heaton), to a Moms' Night Out to recharge.
But the night unravels as an eatery notes their reservation on the wrong date. And that's just the beginning!
The ladies lock up their smartphones in an effort to really unplug and head for a bowling alley. The night goes downhill from there, but the hilarity goes up!
Trace Adkins, playing another lovable curmudgeon, Bones the biker and tattoo artist, comes to the rescue and even offers a few words of great wisdom.
Moms' Night Out is serious fun — a comedy of the best caliber — and yet, the Erwin brothers manage to weave a theme of faith throughout.
Sondra tells the distraught and over-tired Allyson, "Life is about finding the meaning and the joy and the purpose in all of the chaos."
Sean lovingly tells his wife, "Hon, your job [being a wife and mom] is…important."
And in perfect symmetry, the movie ends with Allyson posting (yes, she does have something to say!) in her blog:
I'm not smiling all the time, but I am smiling more. Smiling at the little things. At my crazy, stressful, over-the-top kind of beautiful life.

False…I am a failure. Yes. Very, very false.

I'm not perfect. I make plenty of mistakes. But I am right where God wants me to be and He has given me everything I need to be a mom.

I'm a mess. But I'm a beautiful mess. I'm His masterpiece. And that's enough.
Bravo Jon and Andrew! Once again you've given us a movie that both entertains and uplifts, that makes us laugh and gives up, very subtly, bits of Biblically sound truth.
So reclaim the joy of the season! Watch Moms' Night Out and have some serious fun…after all, "A merry heart does good, like medicine…" [Proverbs 17:22a]
Moms' Night Out available on DVD, Blu-ray, and streaming.
---
Help us meet our end-of-year matching challenge goal!
Dollar for dollar match through December 31st.
Your $25 becomes $50, $100 is $200, and $250 becomes $500.