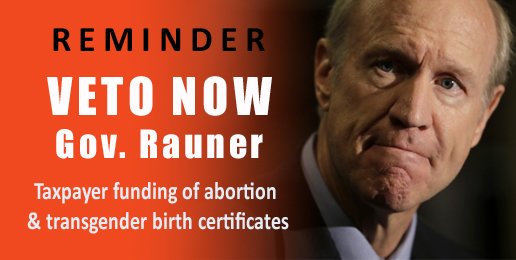 Time is Short: Governor Rauner Needs to Hear From You About Two Terrible Bills

We recently alerted you to two pending pieces of legislation that Governor Bruce Rauner will soon have to grapple with. If you have not yet responded to this call-to-action, or even if you have, it is imperative that his office hears from us emphatically and frequently.
1.)  This is our top priority during the summer: HB 1785 must be vetoed!  This careless legislation would allow gender-dysphoric persons to falsify their birth certificates, which are both legal and historical documents. This will have consequences with regard to the relentless cultural assault on physical privacy through the sexual integration of previously sex-segregated spaces.
Governor Rauner must act to veto this nonsense
by August 28, 2017 or it will automatically become law.
2.)  The other item of great concern remains to be HB 40, a bill that would remove all restrictions on taxpayer funding of abortion. A procedural motion has delayed it from being sent to the Governor's desk, but he needs to continue to hear from pro-life and responsible taxpayers.
Take ACTION:  Click Here to send an email or a fax to Governor Rauner's office to urge him to veto both HB 1785 and HB 40.  Ask him to reject transgender birth certificates and taxpayer funding for abortion.
ALSO: please call the public comment lines in the Governor's office in Springfield: (217) 782-0244 and Chicago (312) 814-2121.
No to taxpayer funding of abortion!
No to fraudulent birth certificates!
---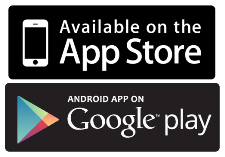 Download the IFI App!
We now have an IFI mobile app that enables us to deliver great content based on the "Tracks" you choose, including timely legislative alerts, cultural commentaries, upcoming event notifications, links to our podcasts, video reports, and even daily Bible verses to encourage you. This great app is available for Android and iPhones.
Key Features:
It's FREE!
Specific content for serious Christians
Performs a spiritual assessment
Sends you daily Scriptures to encourage and equip you
You determine when and how much content you get
Click HERE to donate to IFI's mission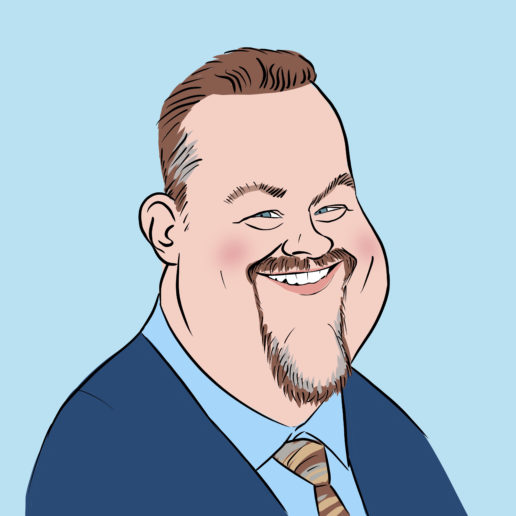 Illinois Family Action
(501c4). David has 25-plus-years of experience in public policy and grass-roots activism that includes countless interviews for numerous radio, television, cable programs and newspaper articles on topics such as the sanctity of life, natural marriage, broadcast decency, sex education, marijuana, gambling, abortion, homosexuality, tax policy, drug decriminalization and pornography. He and his wife of 26 years are blessed to be the parents of eight children. He also serves as a Republican Precinct Committeeman in his community and as an ordained minister and elder in his...