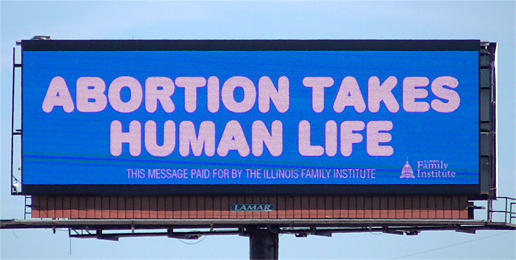 Pro-Life Message Reaches 50% of Cook County
IFI has partnered with pro-life Illinoians to reach over 26 million views of the message "Abortion Takes Human Life" in the Chicagoland area from January 2016 to October 2017.  Billboards, pro-life overpasses and other efforts have spread this message throughout much of Chicago and the surrounding suburbs.
Together, we have reached half of adult residents in Cook County!
However, some areas have not been sufficiently reached with this bold pro-life message.  We need your donations to put up three billboards that will reach our neighbors in the northwest suburbs, northwest Chicago, and the southwest suburbs.  We must raise another $12,000 to reach the people in these areas.  Can you invest in saving lives and challenging the abortion culture by donating to this campaign?  Help us reach our goal.
Changing our culture requires bold and clear communication that reaches a large audience. This is an opportunity to save mothers and babies from abortion. Many who see these billboards will someday play a role in deciding whether or not they will abort an innocent baby. We can reach them before they're tempted by abortion.
Click HERE to make a donation to raise funds to place these billboards throughout the Cook County area and then throughout the state of Illinois. We need your help to reach our culture with this life-affirming message which forces readers to grappel with the truth of abortion.
---
Subscribe to the IFI YouTube channel
and never miss a video report or special program!