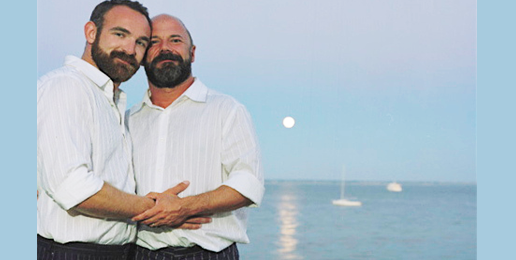 Andrew Sullivan (on right) with "husband" Aaron Tone
Homosexual "Catholic" Gets Scripture and Jack Phillips Wrong
A cursory look at recent words from prominent homosexual writer Andrew Sullivan who self-identifies as Catholic illustrates the ways homosexual Christians attempt to remake Scripture in their own image to serve their own desires.
Catholic revisionist Sullivan, a well-known cultural commentator, offered a fanciful and childish reinterpretation of Scripture when he wrote about the U.S. Supreme Court case involving Colorado baker Jack Phillips. It should be noted from the outset that Sullivan hopes Phillips wins, but also hopes he wins based on expressive speech arguments—not religious free exercise grounds.
Sullivan not-so-carefully constructed an ugly straw man that he then went about pummeling with weak, floppy punches that couldn't knock down a thin man of straw let alone God's enduring Word:
Sealing yourself off from those you consider sinners is, in my reading of the Gospels, the reverse of what Jesus taught. It was precisely this tendency of the religious to place themselves above others, to create clear boundaries to avoid 'contamination' from 'evildoers' that Jesus uniquely violated and profoundly opposed. If Jesus is your guide, why is this kind of boundary observance such an important part of your faith? Are you afraid your own faith will be weakened by decorating a cake? Would you have ever had dinner with prostitutes or imperial tax collectors as Jesus famously did? What is this Christianity you are so dedicated to? Somewhere, the fundamental Christian imperative to love others and be humble before them has been lost.
Refusing to bake a wedding cake for a type of union that is the antithesis of marriage in no way constitutes "sealing oneself off," placing oneself "above others," or avoiding "contamination" from "evil doers." Nor is such a refusal impelled by fear of having one's faith weakened. In reality, such refusal both reflects deep faith and strengthens faith through the trials (both figurative and literal) that ensue.
For Christians marriage is first and foremost a picture of Christ and the church. Its essence is complementarity. Christ the bridegroom and his bride the church are different in nature and role. Therefore, a union of two people of the same sex would suggest that there is no difference in nature and role between Christ and the church. In addition, Christ himself explicitly defined marriage as the union of one man and one woman.
Moreover, God detests homosexual activity. A ceremony that solemnizes and celebrates an intrinsically non-marital union that is "consummated" by activity that God abhors is heretical. Those, like Jack Phillips, who own businesses that serve only sinners—including homosexuals—everyday, aren't sealing themselves off by refusing to serve a heretical celebration that mocks marriage. They are serving and honoring God.
Nor is such a refusal indicative of lack of humility as Sullivan claims it is. Humility does not require Christians to refrain from making distinctions between right and wrong. And making distinctions between right and wrong actions does not constitute or reflect pride, arrogance, or a sinful sense of superiority. When Sullivan decries actions that he believes are wrong or when he refuses to be a part of some activity that he believes is wrong, is he guilty of unbiblical lack of humility?
Pastor and theologian John Piper writes this:
Humility begins with a sense of subordination to God in Christ.… Humility asserts truth not to bolster ego with control or with triumphs in debate, but as service to Christ and love to the adversary.
Truth is integral to biblical humility.
Sullivan then makes the tiresome claim that because Jesus ate with prostitutes and tax collectors, there should be no boundaries regarding the types of events that Christians serve, facilitate, or celebrate. This criticism implies that Christians who refuse to be part of homosexual faux-wedding celebrations also refuse to eat with homosexuals. Does Sullivan have any evidence for such an ugly claim?
Jesus did, indeed, eat with prostitutes and tax collectors. He did not, however, serve, facilitate, celebrate, or participate in celebrations of prostitution or of the exploitation of the poor through excessive, unjust taxation. Nor did he just hang out chewing the fat with prostitutes, tax collectors, and people who favored other forms of sin.
Rather, he told them to "go and sin no more," to repent and follow him. He told the sinners he spent time with that "If anyone would come after me, let him deny himself and take up his cross and follow me," and "whoever does not take his cross and follow me is not worthy of me."
At the feast with tax collectors, Jesus described them like this:
Those who are well have no need of a physician, but those who are sick.  I have not come to call the righteous but sinners to repentance.
Jesus broke bread with tax collectors, calling them sick and in need of healing and sinners in need of repentance. Sullivan left out those inconvenient details about the time Jesus spent with sinners.
Sullivan is wrong again. God did, indeed, establish boundaries for his followers. In Ephesians 5:11, the apostle Paul commands Christians to:
Take no part in the unfruitful works of darkness, but instead expose them.
Sullivan is right too. We should go to sinners. We should eat with them. And we should to the best of our ability and in humility emulate Christ by sharing the gospel message.
Editor's note: Laurie is the featured guest on this week's Illinois Family Spotlight podcast.  Check it out HERE.
---
End-of-Year Challenge
As you may know, IFI has a year-end matching challenge to raise $160,000. That's right, a great group of IFI supporters are colluding with us to provide an $80,000 matching challenge to help support IFI's ongoing work to educate, motivate and activate Illinois' Christian community.
Please consider helping us reach this goal!  Your donation will help us stand strong in 2018!  To make a credit card donation over the phone, please call the IFI office at (708) 781-9328.  You can also send a gift to:
Illinois Family Institute
P.O. Box 876
Tinley Park, Illinois 60477