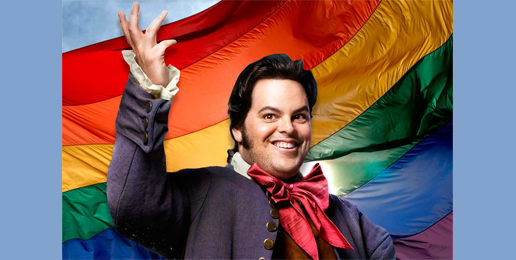 Beauty and the Beast: A "Gay" Tale for the Kiddies

One of the most tragic and unconscionable aspects of the revolutionary movement to normalize homosexuality and the "trans" cult is the grooming of children, whose hearts, souls, and minds the LGBTQQAP community and their "allies" seek to captivate and capture. In that unholy effort, the wizards and other unwitting servants of Wormwood at Disney have a new grooming gift for the world's little ones: the soon-to-be-released Beauty and the Beast starring Emma Watson (known to Harry Potter fans as "Hermione Granger") and Dan Stevens (known to Downton Abbey fans as "Matthew Crawley").
Matt Cain, the editor-in-chief of "Europe's Number 1 gay lifestyle magazine" Attitude, interviewed Beauty and the Beast's director, open homosexual Bill Condon who also directed the first two Twilight films and the pro-homosexual film Gods and Monsters. In this troubling interview, they discuss Beauty and Beast's "queer" sensibility:
So has Condon been able to make even more of the story's queer sensibility?

"The answer's yes," [Condon] replies without hesitation. He tells us he's introduced a "gay moment" to the film….a gay twist is worked into the plot through the relationship between Gaston and his sidekick LeFou, played by Josh Gad.

Condon explains: "LeFou is somebody who on one day wants to be Gaston, and on another day wants to kiss Gaston. He's confused about what he wants. He's just realising that he has these feelings. And Josh makes something really subtle and delicious out of it. And that's what has its pay-off at the end, which I don't want to give away. But it is a nice, exclusively gay moment in a Disney movie."

Off the record, he tells us what happens in that gay moment. We won't spoil it for you but we can reveal that the film introduces another minor character who's also discovering his sexuality, and, at the end, when everyone's at a lavish ball to celebrate the love between Belle and her new prince, these two characters find themselves with the chance to connect.

But will Disney duck out by de-sexing the connection between them?…Condon assures us that this isn't the case as the actor playing LeFou's potential partner is "hot". We looked him up on Google and trust us, he is. Smoking hot.

Condon admits to being encouraged by positive responses of those who've viewed the scene so far. "We test these movies with family audiences," he says, "and we did two of them and both times they broke out into applause. And that was thrilling, thrilling! And on the [feedback] cards later so many people mentioned loving the gay moment."

…

Until now, Disney has never given us a single explicitly gay character, although the studio has created several characters of ambiguous sexuality — and ones who can be read as coded gays…. So, when Condon started work on the film, was he aware that there was a glass ceiling his predecessors had never managed to break through?

"Absolutely, but I love coded characters* [see "coded" characters below], by the way."

Condon admits that as a gay filmmaker there was a political motive behind his desire to build into the new Beauty and the Beast a sub plot that wasn't in the original script…."What I love about it is it's completely woven into the fabric of what we've built." 

…

Condon stresses that the studio was supportive of his desire to add a moment of same-sex attraction. "To their credit, no one at Disney ever took any notice or gave it another thought."

He assures us that the scene will be kept in the version of the film released in all territories, even in countries where it's illegal or considered unacceptable to be gay. He might be modest, but when we think about the impact this will have on families and children in countries such as Russia or Uganda, this is a big deal. Hopefully, it will encourage Disney to go farther in the future.

For now though, Beauty and the Beast stands as the gayest film Disney has ever made, at least according to its director.
Leftists like to believe that the increasing public approval, worshipful adoration, and celebration (i.e., idolatry) of homosexuality and gender dysphoria is a natural, organic, and inevitable moral evolution. But the truth is that the cultural movement to celebrate unnatural, body-harming, sterile unions and the sterility-inducing, body-mutilating "trans" cult is informed and impelled by many diverse influences going back decades.
These influences include the embrace of the sexual revolution; abandonment of theological orthodoxy; requisitioning of government schools for disseminating pro-deviance propaganda; and wholesale, unquestioning embrace of disordered sexuality by useful idiots in advertising, music, literature, theater, and film who are our story-spinning, myth-making, tall-tale tellers. In a non-rational, touchy-feely culture, heartstring-pulling "narratives" win the day. And souls are lost.
Please do not take your loved ones to this movie.
*These are the "coded" Disney characters as identified and described in the Attitude article:
Ursula in The Little Mermaid The voluptuous sea-witch was modelled on drag queen Divine, perhaps fitting for a film based on a fairytale written by gay author Hans Christian Andersen, who saw it as a metaphor for his own love for a man beyond his reach.

Governor Ratcliffe in Pocahontas There's a tradition of effete villains in Hollywood, including in cartoons. From Shere Khan in The Jungle Book, to Scar in The Lion King, there's no saying for sure that they're gay but they do incorporate stereotypical gay mannerisms. In doubt about Ratcliffe? Get a load of his hair!

Hades in Hercules Yes, the flamehaired have him in our life. demi-god is another villain who can be read as queer but he can also been seen as a riff on the stereotype of every girl's gay best friend. He's around to offer Megara relationship advice and if he could get us closer to Hercules, we'd be happy to

Timon & Pumbaa in The Lion King The flamboyant meerkat and warthog bring up young Simba when he's separated from the pride. Their finest moment is teaching him to sing and dance in Hakuna Matata, a queer anthem about forgetting your worries. Hell, we'd like them to be our gay dads!

Oaken in Frozen In a brief scene, the friendly shopkeeper invites Anna and Kristoff to use his sauna and is seen waving at his family, another mr two children. But it's unclear whether they're his husband and kids — and blink and you really will miss it.
---
---
IFI is partnering with pro-life advocates to put up pro-life billboards throughout the Chicago metro area with the simple and bold statement "Abortion Takes Human Life," but we need your financial partnership to make this a success.  Can you help with a tax-deductible donation to this campaign?