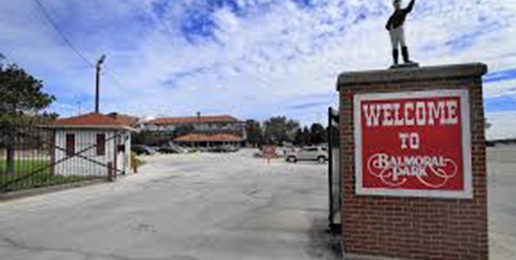 Racetracks in Illinois to Shut Down
The owners of Arlington Park closed the racetrack 18 years ago, saying that competition from casinos was killing horse racing. Two years later, under Governor George Ryan, the Horse Racing Act was amended to subsidize horse racing by reducing or eliminating taxes.  Richard Duchossois led the drive by track owners for at least $67 million in annual tax breaks and subsidies as compensation for business siphoned off by Illinois riverboats, according to the Chicago Tribune.
The racetracks have been lobbying for years for slot machines.  Now, the tracks want table games and slots to transform their facilities into full-blown casinos.  Legislators are led to believe this will "save horse racing" and agriculture jobs.  However, this is not true.  The number of "live" racing days has been reduced at all tracks and eliminated altogether at two.
Illinois Racing Board pulls plug on Balmoral and Maywood Racetracks
Balmoral had sought to race on Friday and Saturday nights from January through November and Maywood on Friday and Saturday nights from November through December.  However, Hawthorne Race Course, which had not conducted harness racing since 2008,  will get those race dates.
After unsuccessfully fighting to eliminate Hawthorne's spring thoroughbred meets for the last four years, Arlington International Racecourse formed an alliance with its former adversary and the tracks made a joint presentation to the Illinois Racing Board.
Hawthorne agreed to give Arlington a portion of the host track money it receives from out-of-state simulcasts, and Arlington supported Hawthorne's requests for the two harness meetings and its usual spring and fall thoroughbred meetings.  Read more HERE.
Transforming racetracks into land-based casinos will not "save horse racing" but it will make wealthy track owners richer and greatly expand the number of casinos in Illinois.
Take ACTION:  
Click HERE

to contact your state lawmakers to tell them NO MORE GAMBLING.
Call the Governor and tell him NO MORE GAMBLING!  (217) 782-0244 or (312) 814-2121
Share this Alert on social media
Forward to 10 others and ask them to PRAY.