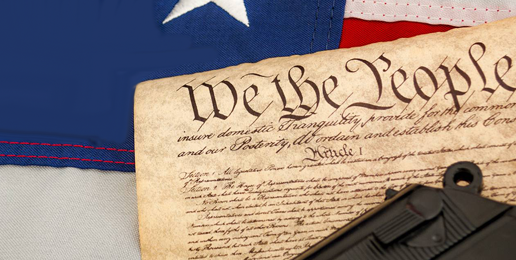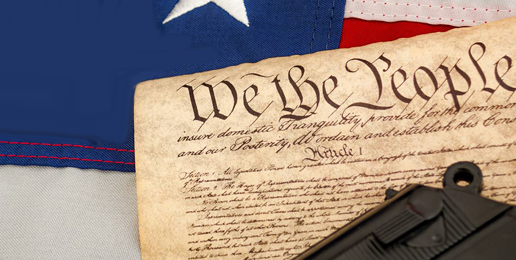 Alarming and Disarming
The Biden Administration's efforts to trample our Second Amendment rights fall into two categories: overt and covert.
In the more overt category is the game of "changing semantics"- the evolution of word usage usually to the point that the modern meaning is radically different from the original usage. This trend seems to be happening at an ever quickening pace. Even words once easily defined such as "woman" have the power to stump some of our nation's most educated–case in point– Ketanji Brown Jackson—President Joe Biden's recent nominee to the U.S. Supreme Court.
Another word not so easily defined is "terrorist." Historically considered to be "an individual and/or group committing criminal acts to further ideological goals," it now is evolving to mean "concerned parents voicing those concerns at a school board meeting." Recently, parents have had good reason for legitimate concerns. From school policies resulting from the pandemic such as shutdowns and unnecessary masking to abrupt changes in curriculum such as Critical Race Theory and "Comprehensive" Sex Education, parents were showing up at their local school board meeting and demanding to be heard and their views considered.
So last fall, the National School Board Association (NSBA) sent a letter to President Biden urging the administration to classify "these heinous actions" of concerned parents as "the equivalent to a form of domestic terrorism and hate crimes" quickly prompting U.S. Attorney General Merrick Garland to issue his own memo promising "a series of measures designed to address the rise in criminal conduct directed toward school personnel" and directing the FBI and U.S. Attorneys to coordinate with state and local authorities on the matter.
What exactly is going on here? Is the main concern behind the broadening of the term "terrorist" really the safety of school personnel? Or are there more nefarious reasons at work? Gun-control maybe? After all, a terrorist should not be sold a gun. And although Garland testified before Congress: "I do not think that parents getting angry at school boards for whatever reason constitutes domestic terrorism," FBI whistleblowers revealed that a tag has been created to track "threats specifically directed against school board administrators, board members, teachers, and staff"–effectively broadening the definition of "terrorist" to now include concerned parents.
Which seems to be a just one arm of a emerging world-wide trend. The United Kingdom just passed a bill declaring that anybody that goes against the official narrative with "propaganda" will be charged criminally even if later information reveals they were correct." This could be the direction we are headed here in the U.S.
In the more covert and disturbing method of trampling 2nd Amendment rights is a trick as old as the hills–the hiding of gun control measures within the recent $1.5 Trillion Infrastructure Bill which sends $13.6 Billion to Ukraine. The bill passed the U.S. Senate with bi-partisan support (68-31) and was signed by President Biden.
Hidden in the 2207 pages of this omnibus bill is the previously rejected Violence Against Women's Act (VAWA). While its title sounds harmless enough, it originally failed due to its gun-control provisions. The resurrected version contains a major change in current law–the NICS Denial Notification Act of 2022.
Anyone who has purchased a gun or is knowledgeable about the procedure knows that a criminal background check is conducted before someone receives a "green light" on the purchase. This system is utilized literally thousands of times a day across the country and is not without its problems. Would be gun-purchasers often face never-ending delays or, much to their surprise, flat out denials.
According to Gun Owners of America, the FBI itself admits that it's often wrong on gun-related background check denials. And when an appeal to the denial is filed,  "27.7 percent of [the denials] are overturned", and the firearm purchase is approved. Yet according to the research published by Professor John R. Lott, these denials are wrong 99 percent of the time!
Now comes the dangerous part. The NICS Denial Notification Act of 2022 passed as part of the Infrastructure Bill will NOW require the criminal investigation of all denials on the National Instant Criminal-Background-Check System (NICS). That's right. If you happen to be part of the 27.7 percent who are erroneously denied your gun purchase–even when that denial is appealed and corrected–an immediate and mandatory criminal investigation is opened into that person (you!) and sent to not only local authorities but the Bureau of Alcohol, Tobacco, and Firearms as well. This gives local authorities and lawyers the Federal authority to create a database on you and snoop into your social media posts, spending habits, etc. The time to be alert is here.
While all of our God-given, Constitutionally protected rights are precious, perhaps the most precious is the Right to Bear Arms for it is the right needed to protect all of the others.
"The beauty of the Second Amendment is
that it will not be needed until they try to take it."   
~Thomas Jefferson
---