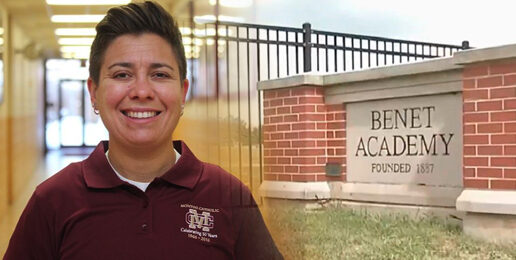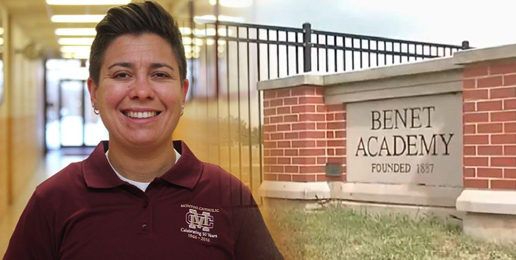 Benet Academy Losing Christian Identity
Reading Time:
6
minutes
Benet Academy, a prestigious and expensive private high school that identifies as Catholic, has just capitulated to the cacophonous voices of apostates and heretics in its midst.
The drama began several days ago when the school located in the affluent Chicago suburb of Lisle, Illinois rescinded an offer to Amanda Kammes to be the head coach of the girls' lacrosse team. They rescinded the offer after learning that Kammes, who is a 2001 graduate of Benet, is legally married to a woman, which means she flouts the beliefs of the Catholic Church.
Following a protest and petition signed by over 3,000 woke Benet "parents, students, alumni, and friends" who oppose the Catholic school's effort to uphold Catholic teaching, the spineless, principle-free board of directors offered lesbian Kammes the job and she accepted. With Catholic friends like that, Benet doesn't need atheist enemies.
True Catholics should pull their kids out of school immediately. Anyone who affirms beliefs that the Catholic Church views as false and disordered and anyone who engages in and affirms acts that God abhors should not be a staff member in a Catholic school. Same goes for Protestant private schools. Adults who affirm homoerotic acts or who believe that the union of two people of the same sex can be a marriage cannot train up children in the way they should go. At Benet, tuition and fees per student are about $14,000 per year. Parents are paying $14,000 per year per student to send their children to a Catholic school that has no respect for Catholic doctrine.
What are Christians today willing to sacrifice for Christ and his kingdom? Will they sacrifice sports or arts opportunities for their kids by sending them to Christian schools that adhere to Scripture but don't have the means to offer those opportunities? Will they sacrifice the prestige of having "Benet" on their child's college application? Will they sacrifice anything?
Assistant coach Colleen Savell was "horrified" when she learned that Benet had rescinded the offer to Kammes in order to uphold Catholic beliefs. Savell had been looking forward to a winning season under the leadership of Kammes, who just left her position at another Catholic high school–Montini Catholic High School in Lombard, Illinois–after less than a year.
Nothing more aptly demonstrates the priorities of the current Benet leadership than subordinating the clear teaching of the Bible and the Catholic Church to success on the lacrosse field.
At least as offensive and ignorant was this statement by Savell about the appearance of a rainbow during the protest:
If that's not a sign, I don't know what is.
God's sign that he would not again destroy all mankind for our wickedness is a sign to Savell that a Catholic school should affirm wickedness. Savell should be given the boot along with Kammes.
Homosexual Benet alumnus Tim Jacklich, who announced his homosexual identity during his senior year at Benet five years ago and has been an active participant in the protest against Benet's fleeting attempt to uphold Catholic orthodoxy, said this about his late grandmother Sheila Jacklich who worked as a teacher and dean at Benet for thirty years:
A number of Benet administrators have a phrase they use to guide them, where they ask, "what would Sheila do?" And we have an answer for them. She would not do this.
Jacklich doesn't even pretend that the word of God matters.
Jacklich also said,
One of our chief concerns is for the LGBT students who currently study at Benet, who, through this action by their administration, get the message that they are not valuable and not respected by their school.
Jacklich wrongly presumes that valuing and respecting humans as humans requires Christians to value, respect, and affirm all that fallen humans believe, desire, do, and identify as. Such a presumption has no basis in Catholic doctrine or Scripture. God loves us despite hating much of what we fallen humans desire, think, and do.
All humans sin and, inconveniently for Jacklich, Kammes, Savell and all their fellow non-Catholics, Jesus calls all who want to follow him to repent. To be clear, there is a distinction between sinning and affirming sin as non-sin. Kammes and Jacklich affirm that homoerotic acts are not sinful, and, therefore, they are not Catholic.
Jacklich responded to the school's initial statement explaining why Kammes' job offer was initially rescinded:
The institution released a statement that they aim to employ people who reflect their Catholic values. We were shocked that love and acceptance and inclusion were not some of those values.
Jacklich was shocked, shocked to find there was Catholicism going on there at Benet.
Inclusivity is not some sort of absolute virtue. Whether a person should be welcomed into a community or not depends on the nature of the community and the nature of the beliefs and volitional acts affirmed by the person seeking inclusion in a community.
And biblical love does not entail affirmation of sin. Quite the contrary. Biblical love requires first knowing what is true, and that is revealed in God's word—not on the Human Rights Campaign's website.
St. Paul writes to the church in Corinth about the sin being tolerated in the church at that time:
But now I am writing to you not to associate with anyone who bears the name of brother if he is guilty of sexual immorality or greed, or is an idolater, reviler, drunkard, or swindler—not even to eat with such a one. (1 Cor. 5:11)
Doesn't sound very inclusive, accepting, or loving by man's contemporary standards, now does it?
Radio host Dan Proft shared on his Facebook page this excerpt from an exceptional letter written by a Benet parent to its board of directors:
The crisis surrounding Benet's decision not to hire Amanda Kammes as the school's girls' lacrosse coach is an existential one for Benet Academy. There is no pain-free way through this crisis. If the school stands firm by its decision, there will be parents who will not send their children to Benet and donors who will not give to the school. And if Benet reverses itself there will be parents who do not send their children to Benet and donors who will not give to the school. There are costs either way.

But the crisis is more than financial. It is an existential crisis concerning Benet's identity as a Catholic and Benedictine institution. If Benet caves into the demands of those seeking to hire Ms. Kammes, Benet will have lost its Catholic identity. It will no longer be able to claim that it is authentically Catholic, that it seeks to share the truth of the faith and the joy of the Gospel in everything it does. A person who publicly lives outside the moral teaching of the Church on matters of human sexuality and marriage cannot model for students the truth and virtues that Benet seeks to instill in its students.

Moreover, if it hires Ms. Kammes there will be no limiting principle to this going forward. The school will have no basis for refusing to hire anyone in the future who dissents from the Church on grave matters of moral teaching. There will be no principled way it can refuse to hire a qualified teacher or coach who works weekends as a clinic escort for women seeking abortions at Planned Parenthood.

In addition, in the near future, Benet will hear calls for the school to instruct its students in ways of thinking about profound moral questions involving sexuality and other matters that contradict what the Church holds and has always held to be true. The same arguments now heard—about a lack of compassion, about a failure to respect the consciences of others—will be heard again, only now in demanding curricular changes. And when that happens the example of hiring Ms. Kammes will be put forward as normative— "See, we can make changes and still remain Catholic." But then the "Catholicism" that Benet portrays will be an empty shell. Benet will still have the decorative ornamentation of Catholicism, but not the substance of the faith.
Benet Academy should probably now revise this part of its mission statement:
The mission of Benet Academy, as a Catholic, Benedictine, college preparatory high school, is to provide a disciplined educational environment that fosters the on-going religious, intellectual and social development of its students.

Benet Academy will have achieved its mission if graduating seniors leave the Academy having nurtured their Catholic faith through religious instruction and opportunities for prayer and reflection [and] having learned to incorporate the principles of Christian morality into all aspects of their daily lives.
Catholic parents should remove their children pronto, and Catholic donors should fund only truly Catholic schools.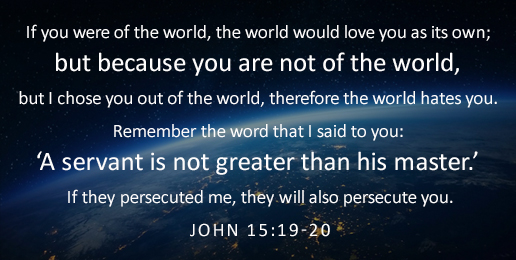 Listen to this article read by Laurie:
---