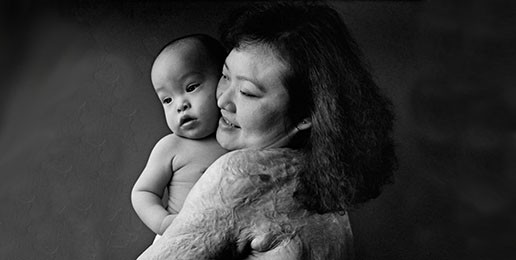 Kim Phuc and son
Affirming and Concealing Heresy, Denying Grace
~And those who belong to Christ Jesus
have crucified the flesh with its passions and desires.~
Galatians 5:24
Forty years after the end of the Vietnam War, the iconic and horrific photo of a young girl running naked down a road, screaming in pain as her skin is burned away by napalm has now become transformed into an iconic photo of unfathomable forgiveness and God's fathomless grace.
As many may know, the girl in the photo, Kim Phuc, is now a Christian. After 14 months in the hospital; 17 surgeries;  continual pain; physical scars; exploitation by the Vietnamese government, including  thwarting her plans to become a doctor; suicidal thoughts; and intense, consuming bitterness, Kim accepted Christ as her savior.  Kim attributes her freedom from bondage to bitterness to God's grace:
"I learned that the pain is my protection from being proud….Right now, the Lord has given me the opportunity to do many things. It's easy to be proud based on what I'm doing…So I thank God that he gave me that grace, that mercy—to suffer something physical."

…

"I absolutely don't want to run away from the pain….God is with me when I'm in pain. When I am in pain, I am in prayer, and the more I pray, the more peace I have."

…

Kim's heart-healing and deliverance led her to learn, by faith, how to forgive the pilot who bombed her village, and the administrators responsible for coordinating the attack. She considers this the hardest lesson of all, because she couldn't do it by herself. When she learned to "put everything upon the Lord," he began to work.

…

"Now, I'm free from hatred….Every single moment in my life is like heaven on Earth for me. I have freedom…not only physical, but also spiritual."

….She chooses to desire a relationship with God when she wakes up. She is determined to know and follow God's Word ("What he wants us to do is so clear in the Bible!"), and Kim makes it a discipline to cover every activity with prayer.

"Pray and then seek to keep the will of God. He will show it to you—every single day."
Whether our suffering derives from the evil that exists in the world or from our own dark hearts, God offers us the gracious gift of his Spirit, which can free us from bondage to feelings that work against wholeness and human flourishing.
The miracle of Kim's transformative release from bondage to consuming hatred is relevant to our most pressing cultural war—a war that daily damages bodies and imprisons spirits. That is the war against truth about sexuality.
Heresies (as opposed to doctrinal errors) about homoeroticism and marriage have for the past few decades been creeping into churches. "Progressive" theologians, unwitting servants of the father of lies, began introducing re-interpretations of Scripture that contravene both historical Christian positions, well-established hermeneutical principles, and the plain reading of Scripture. Tradition and text are now subordinated to subjective experience and desire. What should be particularly troubling, even shocking to Christians is that increasing numbers of pastors and priests are embracing darkness and calling it light.
These subversive heresies are dividing Protestant denominations, including the Episcopal, PCUSA, PCA, United Methodist, Evangelical Lutheran church in America, and Evangelical Covenant denominations. In some cases, while the denomination still affirms orthodox theological positions, particular pastors ordained by these denominations have abandoned them and yet shamefully and indefensibly conceal their embrace of heresy from those whom they are leading.
Ordination oaths do not signal merely a willingness to "articulate" particular theological commitments but, rather, constitute a willingness to affirm such commitments as true. If pastors have "evolved"—that is to say, embraced late 20th Century heterodox views of homoeroticism and marriage—they have a moral obligation to inform both their ecclesiastical superiors and those whom they are leading. Church members and regular attendees are entitled to know what their pastors (and elders) affirm as true regarding sexuality and marriage.
Theological beliefs on marriage are not peripheral or minor issues. Marriage is foundational. Jesus himself defines marriage as the union of one man and one woman. And throughout both the Old and New Testament marriage is seen as a prefigurement and symbol of the relationship between Christ and his church. Christ is the bridegroom; the church is his bride. To affirm that two men or two women may and can marry is to deny the difference in nature and role between Christ and his church.
We now have men and women who claim to be followers of Christ, teaching that sin is non-sin. An integral part of their unbiblical teaching is the belief that there are some inclinations from which God cannot provide freedom, and, therefore, these inclinations must be affirmed. But Scripture refutes such a claim: "Therefore, if anyone is in Christ, he is a new creation. The old has passed away; behold, the new has come" (2 Cor. 5:17).
Theologically conservative Christians who claim that God can, indeed, free believers from bondage to sin—including the sin of homoeroticism—are criticized for naïveté at best, deliberate deception at worst. But those who make such allegations are either theologically ignorant or deceitful themselves.
Freedom from bondage to sin may constitute eradication of a particular sinful predilection, but for most people, freedom from bondage to sin constitutes the ability to resist acting on powerful, persistent sinful impulses. Most Christians understand that in this life, some besetting sins will remain, often, however, in attenuated form. Certainly pastors know that.
The embrace of heresy by pastors has more than just intellectual/exegetical implications. When they stop preaching the whole counsel of God, they discourage those who experience unchosen same-sex attraction from daily seeking God's grace in freeing them from bondage. In so doing, these so-called shepherds embody the spirit of Lady Macbeth, who consciously desires to thwart the work of conscience informed by God:
Stop up the access and passage to remorse,
That no compunctious visitings of nature
Shake my fell purpose, nor keep peace between
The effect and it! …
Wherever in your sightless substances
You wait on nature's mischief. Come, thick night,
And pall thee in the dunnest smoke of hell,
That my keen knife see not the wound it makes,
Nor heaven peep through the blanket of the dark
To cry "Hold, hold!"
Shepherds who tell men and women that they have no need of grace because their homoerotic desires please God have become the smoke of hell that conceals deeds that wound body and soul.
Dear faithful, trusting brothers and sisters in Christ, demonstrate just a tidbit of courage: Ask your pastors and priests directly if they affirm theologically orthodox, historical beliefs on homoerotic activity and marriage. Some of you, I fear, are going to be unpleasantly surprised by the answer. I know my father was.
---