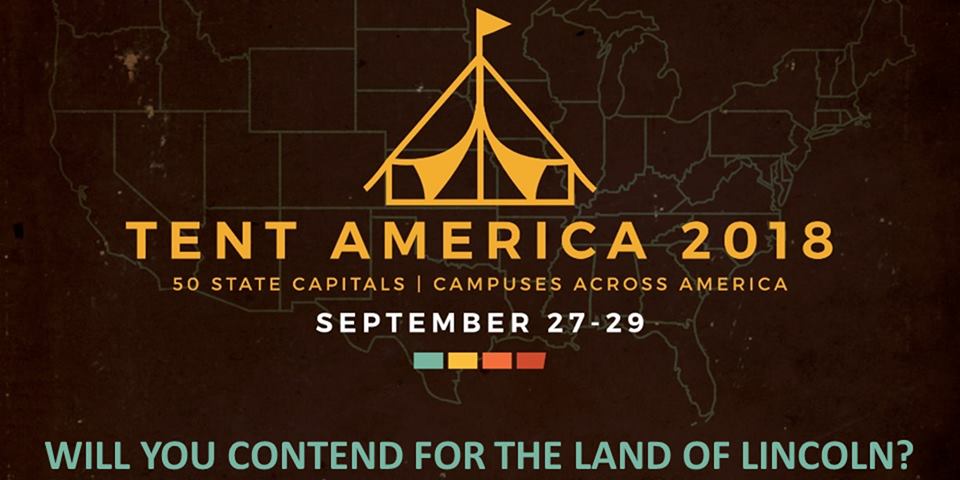 Tent America 2018
September 27, 2018 @ 9:00 AM
-
September 29, 2018 @ 9:00 PM
A beautiful thing is about to happen in Illinois from September 27th to 29th when God's people gather to pray and worship in Springfield for 60 straight hours!
Awaken the Dawn Illinois invites you join others at Tent America 2018 from Sept. 27th – 29th for 60 straight hours of prayer and worship!
Tent of America 2018 is scheduled to take place in all 50 states!
Please join others in the Heart of Illinois for this free, around the clock, Prayer, Worship, and Outreach movement at the Springfield State Fairgrounds. Come and go as you please! This event is for the Body of Christ, and everyone who has a heart for the State of Illinois. Regardless of denomination, age, race or socioeconomic background, we come together to celebrate the beauty of Jesus! Simultaneously, across the entire nation, at all state capital cities, we will join together for Tent America 2018. The Tent of Meeting represents the raw unfiltered presence of God, unrestrained by cultural norms – extending an invitation to weak men and women to cry out to meet with Jesus, face-to-face. Join us and encounter Him afresh! Let's support the movement to rescue a generation and our nation!
Springfield State Fairgrounds  – Gate 2
801 E Sangamon Avenue
Springfield, IL