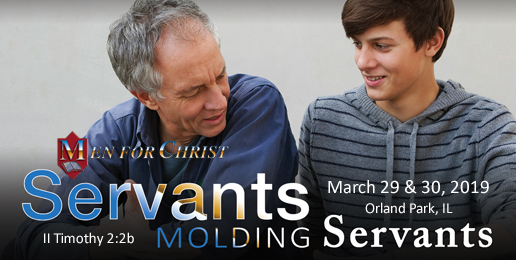 Men for Christ Rally 2019
March 29 @ 2:00 PM
-
March 30 @ 3:00 PM
This year's Men for Christ Rally will feature preaching from two men who had a teacher/student relationship. Dr. Les Ollila and Dr. Jim Tillotson will share the preaching together in the main sessions. As usual, there will also be a variety of workshops, each one fulfilling the objectives that Men For Christ seeks to fulfill.
Registration for each individual is $45 not to exceed $135 per family if postmarked before March 17, 2019. After March 17, the cost is $55 per person not to exceed $165 per family.
Download a brochure for your church HERE.
Your registration fee includes: admission to all sessions, conference notebook, and a box lunch on Saturday. Those who do not pre-register or register late are not assured of receiving a conference notebook or a box lunch on Saturday.
The Rally begins with 2 PM pre-session on Friday, March 29th. The conference ends by 3 PM on Saturday.

Recommended Dress: Business Casual (collared shirt and slacks)