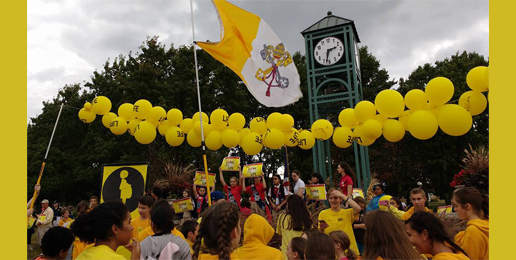 March for Life Palatine
October 19, 2019 @ 1:00 PM
-
4:00 PM
|
Free
"For where your treasure is, there also will your heart be."  Matthew 6:21
Where is your treasure?
With the passage of the Illinois Reproductive Health Law there was a blatant attempt to declare life worthless, having absolutely no value.  If life in the womb can be thrown away up until the moment of birth, then all life is made cheap, meaningless, and worthless.  Yet that same law has had an unintended effect;  we have seen an awakening of the pro-life community as never before.  We are rallying together, working to unite, combining our time, treasure, and talent for a common cause.  What about you?  If you treasure God's gift of life, put your heart into it and unite with the Greater Chicago-land pro-life community for an afternoon you won't soon forget!
Download and print a flier to share with others here.
Come get informed, get energized and bear witness that all human life from conception until natural death is a gift from God to be treasured. 
Our lineup of speakers includes:
– Serena Dyksen, Save the 1, will share her inspiring story of redemption after succumbing to pressure to abort after rape.  Her child may be one of those recently recovered from the home of abortionist Ulrich Klopfer
– Joe Scheidler, Pro Life Action League , knows the secrets of effective pro-life activism and he'll be letting us in on the secret!
– Morgan Jayne Hill, aka "Baby Mary Grace", will offer her heartwarming journey from being abandoned in a dumpster to adoption into a loving home to finding out that she was the catalyst for Illinois' Safe Haven Law – all before she turned 20 years old!
– Jeanne Ives, Former IL State Representative, will tell her beautiful story of choosing life despite her doctor's advice to abort a child with a prenatal diagnosis.
– Tom Morrison, IL State Representative, will educate us about what the disastrous "Reproductive Health Law" contains and what our next steps should be.
– Fr. Nathan Caswell, St. Peter Volo, leader of the Crusaders for Life Youth Group.
– Pastor Warren Schilf, Immanuel Lutheran in Palatine
…and MORE!
TIMELINE:
12:30 pm:  Doors open for T-shirt sales. Get one before they're gone!
1:00 pm:Gather for prayer, song, & inspirational speakers inside St. Theresa Dolan Center Gym (455 N. Benton, Palatine). Same location as last year behind the church.
1:45 pm:  Procession along Northwest Highway with Life-affirming signs to the plaza at Hicks & NW Hwy (1/2 mile) to share the love of LIFE!   The energetic teens from Crusaders for Life will be back to lead us with drumming, dancing, and cheers!
2:15 pm:  Rally at the plaza with more prayer, songs, and words of hope.
Immediately following the March:  Join us back at St. Theresa for FREE refreshments courtesy of the Knights of Columbus Ladies Auxiliary.
Bring the whole family!