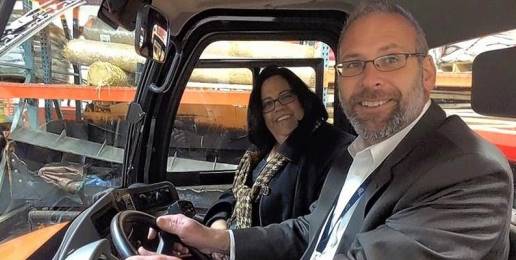 Veronica Noland and Tony Sanders
Yet Another Offense in School District U-46

Hard to believe but another offense was just exposed in Illinois School District U-46, and ironically, CEO Tony Sanders inadvertently exposed it.
Last Thursday, September 29, CEO Tony Sanders released a statement regarding the controversy over his secret decision to allow a gender-dysphoric student to use a locker room and restroom designated for persons of the opposite sex. Here is an excerpt from that statement:
Earlier this school year, I agreed to provide access to one transgender student to the locker room and restroom based on that student's gender identity….As I shared in a prior weekly message, we could have done a better job communicating the change….For the sake of transparency, I am sharing with you the guidelines  we have established to support transgender students.
The guidelines assure community members that "The District is committed to proactively address the needs and concerns of…gender expansive students." (trigger warning: sarcasm coming) It's hard to imagine that for almost 200 years public schools failed to address the concerns of "gender-expansive" students. What was wrong with those people?
On a cursory read, Sander's statement may seem innocuous, maybe even positive in that Sanders admits his prior poor communication and lack of transparency. But spend a few moments cogitating on the implications of what he has implicitly acknowledged and admitted. They ain't pretty.
In his statement Sanders shared that there is a gender-dysphoric student in the district who has been given permission to use an opposite-sex locker room and restroom, which is exactly what school board member Jeanette Ward communicated and was vilified for communicating.
Tony Sanders implicitly admitted that Jeanette Ward is the only school board member who did a good "job communicating the change." She is the only board member who was transparent.
Because Sanders chose to conceal information to which parents have a right, Mrs. Ward posted this on Facebook on September 5:
Starting tomorrow, U-46 Administration is changing its practice concerning students' access to locker rooms of the opposite sex. Students who identify as the opposite gender (regardless of biological sex) will be able to use the locker room that corresponds with the gender with which they identify, at the same time as other students. U-46 has opted not to inform parents or the community at large of this change. I am informing you. I encourage you to contact U-46 administration about this matter if you have concerns.
Mrs. Ward did not release the name of the student, the sex of the student, or the name of the school the student attends. She provided no identifying information. The only additional information she provided in a press interview was that the student attended a middle school. U-46 has eight middle schools that serve 5,827 students. Communicating that the student is one of almost 6,000 middle school students hardly constitutes identifiable information.
The day after Mrs. Ward's post, Sanders, evidently feeling some heat, posted this defensive and dissembling post: "Did we notify families? No, we did not. Why? Because it would be a violation of state and federal laws that protect students from the release of personal information."
Was Sanders intentionally trying to mislead the public by playing fast and loose with language? His statement seems to suggest without stating that the district was prohibited from sharing with the public the information contained in Mrs. Ward's post. His statement seems to suggest that Mrs. Ward violated federal and state laws with her September 5 statement—a statement which mirrors his very own statement published 3 ½ weeks later on September 29.
Surely in the past 3 ½ weeks, Sanders knew the public thought he had said that Mrs. Ward had violated state and federal laws. He must have known that because "progressives" have been accusing her on social media and at school board meetings of doing so. And in the midst of this unseemly spate of false accusations, Sanders never once stepped in—as a person of integrity would have—to correct the public. Never once did Sanders clarify that Mrs. Ward had not released any information that violated federal or state law.
Please absorb this: Sanders has now implicitly admitted there is no federal or state law prohibiting Mrs. Ward from making the statement she did on September 5. He implicitly admitted it when he said the very same thing. And every board member who claimed that it was illegal for Mrs. Ward to share the general information she—and finally Sanders—shared has been lying. Either that or they have utterly inept legal counsel (i.e., Miguel Rodriguez, you know the school attorney who "liked" board member Traci O'Neal Ellis' reference to the Republican National Convention as the "Klanvention.") Either way, Mrs. Ward is owed an apology—many apologies.
Sanders said "we could have done a better job communicating the change." Surely he jests. Does he think all of his community members just fell off the turnip truck?
Most of the board did no job "communicating the change." And the only board member who in fact did do a "better job of communicating the change" has been treated like a pariah by four board members, Tony Sanders, and many community members.
Speaking of which, every community member who insulted and attacked Mrs. Ward on the Facebook pages "Connecting the Dots in U-46" and "School District U-46 Uncensored," wrongly accusing her of violating laws and releasing private information owes her a public apology for saying what Sanders has just said.
Now that Sanders has inadvertently admitted that the board should have communicated the information Mrs. Ward communicated three weeks ago, perhaps Rebecca Vogt-Miller, Dana Michelle, and Sandy Achler Reeves who wrongly accused Mrs. Ward of violating state and federal laws will apologize to her.
Perhaps Reeves, who was not content merely to accuse Mrs. Ward of violating laws but also wanted to kick her in the gut, will apologize for this:
I want Mrs. Ward to think about this. What if this student decides to take their own life because of what YOU did? What about their family losing their child because YOU violated federal and state law?? Can YOU live with yourself? Mrs. Ward please resign because YOU don't care about these kids.
Perhaps Phil Novello who called Mrs. Ward's act of good communication and transparency "a blatant hateful act" will apologize.
And surely failed school board candidate Larry Bury will apologize for not only wrongly accusing Mrs. Ward of violating laws but also for penning this malignant accusation:
Monday evening will be the true test of character for the members of our U46 Board of Education.

…

Do they stand in support of state and federal law?
…

Or do they stand in support the ugliness being perpetrated on U46 by a certain Board member who is willing to destroy the life of a U46 student in the name of political self-promotion
A feckless CEO and four feckless board members stumble from one offense to another—all of their own making—leaving the community with more than ample justification and motivation to give the sorry four (also known as the gang who can't shoot straight) the heave ho. Two of them, Donna Smith and Veronica Noland are up for re-election this coming April.
And maybe, just maybe some of the people who have bullied Mrs. Ward for doing exactly what Sanders has finally done will have the humility and integrity to apologize to her (mark your calendars for the 12th of never).
There is another school board meeting this Monday night, October 3 at 7:00 p.m.  at 355 East Chicago Street in Elgin. Please try to attend and perhaps ask CEO Tony Sanders and board members Donna Smith, Susan Kerr, Traci O'Neal Ellis, and Veronica Noland how it is that Tony Sanders didn't violate any laws for saying virtually the same thing Jeanette Ward said.
And then there remains that pesky problem of co-ed locker rooms and restrooms in U-46. Sanders likes to emphasize that only one student is currently using an opposite-sex locker room and restroom, but someone should ask the board what they will do when more gender-dysphoric and "gender-expansive" students ask to use opposite-sex restrooms and locker rooms. And what will the board do when these students and their parents assert that privacy stalls and adult supervision are unjustly discriminatory, because that's what's a'comin'.
---
Please prayerfully consider how you can support
the work and ministry of IFI through a donation.