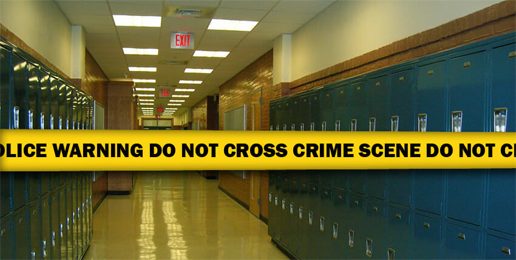 Illinois Public Schools Battle Plague of Violence, Sexual Abuse
Lawmakers and union bosses are increasingly speaking out against the violence and rampant sexual abuse that plagues children in government schools across Illinois and beyond. Laws have even been proposed and passed to supposedly deal with the escalating crisis.
However, nothing is being done to address the root causes of the problem: godlessness, hopelessness, and the lack of accountability for students and adults, all of which permeate government-controlled "education" today.
Consider the gravity of the situation. At one government school in Chicago, a dozen staff members had to be removed for what were described by the district as "inappropriate adult relationships with students," as well as for helping cover it up.
The scandal, which included adults grooming and even having sex with children, sparked national news in November. Incredibly, while the district fired most of those involved and is seeking to pull their teaching licenses, it does not appear that prosecutors were called in due to supposed loopholes in the law.
But the sexualization and abuse of children is also nothing new. According to a 2018 Chicago Tribune investigation, police investigated more than 520 juvenile sexual assault and abuse cases in the city's government schools over a 10-year period. Hundreds of students were victimized and even raped by teachers and school employees. The stories are heart-wrenching.
In response to the horror, last month, Gov. JB Pritzker signed "Faith's Law" (HB 1975) into law expanding the definition of "grooming" and adding protections for children against predators in schools. The measure was named after Faith Colson, who was sexually abused by a teacher 20 years ago in Schaumburg, Illinois.
"Students deserve to be safe in their classrooms, period," declared the far-left governor, who has been a major advocate of sexualizing children in schools. "Anything short of that is a call to action and Faith's Law is another critical step in creating and preserving safe and welcoming learning environments for all students."
But of course, with Pritzker's full support, government schools in Illinois are literally grooming and sexualizing students right now in the same way pedophiles do, as former teacher and celebrated activist Rebecca Friedrichs explained in a piece for the Washington Times.
From exposing children to graphic sex materials and perversion to breaking down taboos and modesty under the guise of "comprehensive sex education," children across the state and beyond are being put in great danger by the hyper-sexualized so-called "education" being foisted on them by government "educators."
Even two decades ago, the U.S. Department of Education reported that as many as 10 percent of children in government schools would be sexually abused by employees of the system before graduation.
"The physical sexual abuse of students in schools is likely more than 100 times the abuse by [Catholic] priests," Hofstra University researcher Charol Shakeshaft, who researched the issue, was quoted as saying by CBS about the problem.
Violence in Illinois government schools is out of control, too. It got so bad that in 2019, the legislature felt compelled to pass a law known as the School Threat Assessment Bill (HB 1561). The measure required schools to develop threat assessment teams, protocols, and more.
But it obviously has not worked, with lawmakers and union leaders demanding more action to enforce compliance and protect students from violence. State Representatives Fred Crespo (D-Streamwood) and Tony McCombie (R-Sterling) are now co-sponsoring legislation to beef up the 2019 law.
"We hear every day more stories, unfortunately, about incidences in our schools and we need to keep our kids safe, we need to keep our teachers safe, and hopefully this will be a pro-active movement that we can do just that," said Rep. McCombie about the bill.
Illinois Education Association (IEA) President Kathi Griffin, who is backing the legislative action, spoke out as well.  "Violence is increasing in our schools across the state," she said in a statement last month. "Our educators should not have to constantly worry about their safety and the safety of their students."
"This is not their problem to solve. They're under enough stress already," continued Griffin in her remarks urging school districts to obey school safety laws. "School administrators need to take immediate action to keep our students, staff and communities safe."
Meanwhile, as shown by government data highlighted by the Illinois Family Institute, government schools are destroying children academically, too. Less than a third of 8th-grade students are proficient in any core subject, the latest National Assessment of Education Progress (NAEP) revealed.
In short, countless children in government schools are being sexually abused and brutalized by adults and fellow students — even as they suffer academically — while government passes meaningless laws pretending to address the symptoms of the horrific problem.
Of course, the real reason that children in government schools are facing more and more violence, dumbing down and sexual exploitation by adults is that the environment is corrupt to the core — by design. It is the fruit of removing God and biblical morality from education as part of an evil agenda.
Once one understands that the goals of the architects of the government system were never to provide a sound education, true solutions such as an exodus from public schools and defunding the corrupt system can grow. That is already starting to happen, but much more urgency is needed.
Read more:
Educators Called Out For 'Ideological Grooming' of Student (AFR)
---