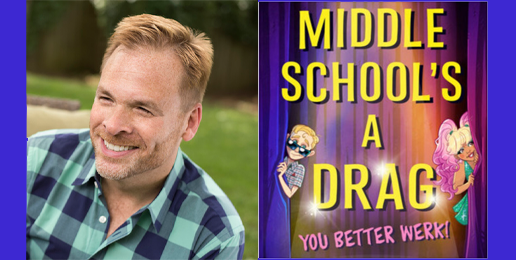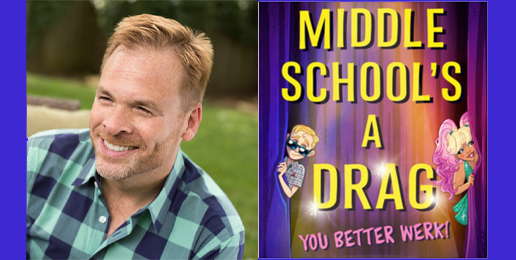 Ideologically Grooming Kids Through Storytelling
Still don't believe sexual anarchists are coming for the hearts and minds of the nation's children? Well, check out this just-released book published by G.P. Putnam's Sons Books for Young Readers, an imprint of Penguin books, and geared toward children 10 and older: Middle School's a Drag, You Better Werk Harder!, a book the publishers describe as a "hilarious, heartfelt story," "full of laughs, sass, and hijinks" that "shows that with a little effort and a lot of love, anything is possible."
Sounds amazing, doesn't it?
Well, if you caught the allusion to "twerking" in the title, you may be a little less sanguine about children reading this hilarious, heartfelt story about love and possibility. For those who don't know, "twerking"—as defined by the online Merriam-Webster Dictionary—is "sexually suggestive dancing characterized by rapid, repeated hip thrusts and shaking of the buttocks especially while squatting."
Here's more from the publisher:
In this heartfelt and hilarious new novel from Greg Howard, an enterprising boy starts his own junior talent agency and signs a thirteen-year-old aspiring drag queen as his first client.

Twelve-year-old Mikey Pruitt—president, founder, and CEO of Anything, Inc.–has always been an entrepreneur at heart. … Unfortunately, most of his ideas so far have failed. …  But Mikey is determined to keep at it.

It isn't until kid drag queen Coco Caliente, Mistress of Madness and Mayhem (aka eighth grader Julian Vasquez) walks into his office … looking for an agent that Mikey thinks he's finally found his million-dollar idea, and the Anything Talent and Pizzazz Agency is born!

Soon, Mikey has a whole roster of kid clients looking to hit it big or at least win the middle school talent show's hundred-dollar prize. As newly out Mikey prepares Julian for the gig of a lifetime, he realizes there's no rulebook for being gay—and if Julian can be openly gay at school, maybe Mikey can, too, and tell his crush, dreamy Colton Sanford, how he feels.
The author of this gut-busting novel about middle-school drag queens, Greg Howard, is a homosexual man in a pretend "marriage" to a third-grade teacher, who was inspired by the real-life child drag queen, the exploited "Desmond is Amazing" about whom I wrote over a year ago. Middle School's a Drag, You Better Werk Harder! is being adapted for television by David Heyman, producer of all the Harry Potter films and Quentin Tarantino's film Once Upon a Time … in Hollywood.
Howard's first Young Adult (YA) novel for teens, titled Social Intercourse (available free online), is a pornographic story about two 17-year-old boys, one of whom was adopted by two lesbians after his father abused him and his drug-addicted mother. The other boy's mother left him and his father after having an affair with the mayor. The adopted boy, Jax, is the handsome football star with a girlfriend with whom he regularly has sex, and the other, Beckett, is an out and proud homosexual. The book concludes with Jax and Beckett in a homoerotic relationship with the approval of all parents and most of the high school football team. The story also includes Beckett's father having a sexual relationship with one of Jax's lesbian moms; a hate-filled Christian pastor who engages in homoerotic acts with his music minister; egregiously obscene language; a description of a teen boy having his anus bleached; and references to masturbation, oral sex, anal sex, and a teen girl's vibrator.
If this book isn't obscene, then the word "obscene" is now meaningless.
The publisher of Social Intercourse, Simon & Schuster Books for Young Readers recommends this porn for kids ages 14+. Publishers Weekly, a publishing trade magazine that reviews books recommends Social Intercourse as a "funny and satisfying love story." And Booklist, a book review publication of the leftist American Library Association, says this about Social Intercourse:
The language is raunchy, the innuendo is frequent, and the energy is irrepressible. Hand this debut to readers tired of problem novels who are looking for a hilarious romp.
We now have adults recommending a hilarious pornographic romp for teens that depicts evil as good. And on the basis of these recommendations schools and public libraries make purchasing decisions with public money. Social Intercourse is available at public libraries across Illinois, including in Algonquin, Arlington Heights, Batavia, Berwyn, Chicago, Decatur, Deerfield, Des Plaines, Dolton, Downers Grove, Ela, Elgin, Elmhurst, Evanston, Frankfort, Geneva, Glencoe, Grande Prairie, Green Hills, Indian Prairie, Kewanee, La Grange, Libertyville, Marion, Mattoon, McHenry, Naperville, North Aurora, Oak Lawn, Oak Park, Orland Park, Palos Heights, Pekin, Prairie Trails, Rockford, Skokie, St. Charles, Tinley Park, Waukegan, Westchester, Winnetka, and Woodridge. (This list is not exhaustive.)
Illinoisans, librarians whose salaries you subsidize have used your hard-earned money to purchase porn that your children can now access and read without your knowledge or permission. And don't be naïve. This is not the only ugly, deviance-espousing material your taxes have purchased to ideologically groom your children.
Author Greg Howard's main characters are less like pitiable heroes who conquer evil and more like Mr. Hyde—the wicked side of Dr. Jekyll whose freely chosen actions resulted in his usurpation by Hyde:
I became, in my own person a creature eaten up and emptied by fever, languidly weak both in body and mind … a soul boiling with causeless hatreds, and a body that seemed not strong enough to contain the raging energies of life. …

The powers of Hyde seemed to have grown with the sickliness of Jekyll. … Jekyll … thought of Hyde, for all his energy of life, as of something not only hellish but inorganic. This was the shocking thing; that the slime of the pit seemed to utter cries and voices; that the amorphous dust gesticulated and sinned; that what was dead, and had no shape, should usurp the offices of life. And this again, that that insurgent horror was knit to him closer than a wife, closer than an eye; lay caged in his flesh, where he heard it mutter and felt it struggle to be born. 
If we are going to allow homoeroticism to be depicted to children, then let the depiction reflect truth. If we love children—all children—then we will fight for truth.
In How to Read a Book, former University of Chicago professor, philosopher, author, and co-founder of the Great Books Foundation, Mortimer Adler warns,
The best protection against propaganda of any sort is the recognition of it for what it is. Only hidden and undetected oratory is really insidious. What reaches the heart without going through the mind is likely to bounce back and put the mind out of business. Propaganda taken in that way is like a drug you do not know you are swallowing. The effect is mysterious; you do not know afterwards why you feel or think the way you do.
Do not underestimate the effect of stories on the hearts and minds of all humans, but especially impressionable children. Cultural regressives are fully aware that storytelling captures imaginations and through imaginations captures hearts and minds.
In describing biblically Christian art, Calvin Seerveld offers a lens through which we should view all art, including literature that we serve to children on a faux-gilded plate:
Art is Biblically Christian when the Devil cannot stand it. If the Devil can stand it or would hand out reproductions, then there is no Biblical Christian character to it. … The Devil cannot stand exposure of sin as sin, dirty, devastating misery for me; it unmasks him.
Greg Howard produces anti-art for children—anti-art that the Devil loves.
Listen to this article read by Laurie:
---
If you appreciate the work and ministry of IFI,
please consider a tax-deductible donation to sustain our endeavors.