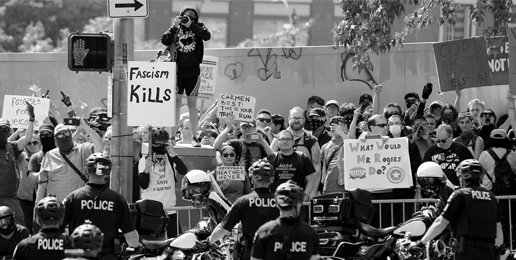 You Say You Want a Revolution…
"You Say You Want a Revolution,
Well You Know, We All Want to Change the World"
Those lyrics to the Beatles' song Revolution may invoke images of long-haired 60's hippies protesting the Viet Nam war, but interestingly, such images may be more out of date than the song.
A new poll from Gallup Polling finds that a significant number of Americans today say that they might join a protest.  A little over a third of Americans, 36%, say they have "ever felt the urge to organize or participate in a public demonstration about something."
There are significant differences in the rates of people feeling more inclined to join a political march.  The rate is much higher among Democrats, self-described liberals, college graduates, and women than their counterparts.    While only 21% of Republicans say that they have ever felt the urge to protest, a majority, 51% of Democrats express that same feeling.   Similarly, only 21% of conservatives have felt the urge to protest compared to 60% of liberals.
Interestingly, in 1965 there was little difference in response to this question, with only 9% of Democrats and 10% of Republicans saying they ever had the urge to demonstrate.
The Gallup Poll found that college graduates were more than twice as likely as high school graduates to desire to protest (46% – 21%).
When asked what kind of issue one would desire to protest, the abortion issue found a big difference.  "Women's rights/abortion" polled at 17% as the top protest issue.  "Pro-life/Planned Parenthood" issues polled at the bottom at 6%.   As I read this, it doesn't mean that more than twice as many people support abortion over life.  It means those who support abortion are more than twice as likely to protest as those who support life.  That's worth remembering the next time you see media coverage of a women's rights march.  (The media usually downplays or completely ignores pro-life marches.)
Protests grab headlines and attention. They can shape public opinion. They can also distort perceptions. They are not required to be reflective of reality.
Many people today may think that the anti-war protests of the late 60's and early 70's were a dominant part of that era based upon history books, documentaries, music and TV shows.  In 1967, Gallup asked Americans if they had ever participated in a peace rally on Vietnam; 99% said they had not. When those who had not participated were asked if they would like to participate if such a rally was organized in their area only 9% said yes.   Years later, in 1990, Gallup found that Americans were split evenly between those who had a positive view of the Viet Nam war protests (39%) and those who had a negative view of them (39%).
---
This article was originally published by AFA of Indiana.