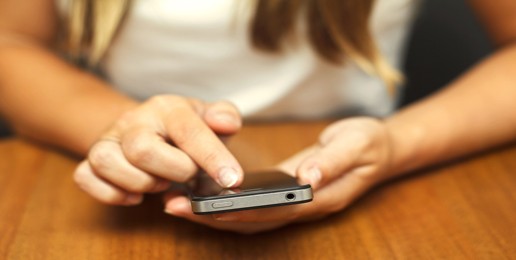 What Is My Child Doing With That App?
By Hilary Smith
As parents, we have a good understanding of how to protect our children from the dangers in the world around them. We taught them how to cross the street, wear seatbelts, and just say no. However, we may be overlooking the hidden threats our children are exposed to on social apps.
Reasons To Know Your Child's Social Media Activity
This can become overwhelming when we consider that 92 percent of teens acknowledge they are logged online everyday. As parents, we have witnessed this phenomena with our teens' love of their cell phones, handheld devices, tablets, laptops, consoles, and more. It's easy to believe that our children are harmlessly chatting with friends or downloading innocent apps, but that can be a misstep in our parenting judgment.
In a world filled with friend requests and profile grooming our sons and daughters are encountering some surprisingly real dangers. It's estimated that 67 percent of parents are concerned about the effect of media and technology on their children. The statistics and stories about cyberbullying, online predators, and sexting we hear on a daily basis has many parents wondering what our children are doing online with all those apps.
Many of us follow our children on Twitter and Facebook, but surprisingly teens are turning to sites unknown to parents. Our teens often keep "dummy" or fake accounts on traditional social media giants to keep us in the dark while they utilize disappearing or anonymous apps for more authentic communication with their friends.
Dangerous Apps And Sites Kids Embrace
Listed below are seven common dangerous apps or sites teens regularly use and their common uses:
Whisper- Users anonymously post secrets sorted within a mile of a child's location. This app has been associated with cyberbullying and pedophiles hiding behind fake profiles to lure children into meeting.
Yik Yak– This hybridization between Twitter and Whisper posts anonymous messages viewed by the closest 500 users determined by location tracking. The anonymity of Yik Yak has earned this app the reputation of being a breeding ground for sexually charged and abusive messages.
Kik Messenger- Teens send private messages to other users on this free platform. While this app has cool features to dress-up messages with doodles and videos, the setup also makes it hard to identify other Kik users. This can become a problem when teens share Id's on other sites.
Down- Simply put, this app used to be known as "Bang with Friends". It has ties to Facebook and allows users to categorize their friends into two categories: friend or a person they are "down" to hook up with sexually.
Hidden Apps- There are a variety of apps that are on the market where teens can hide downloaded applications with one tap of the screen and apps that create disguises like calculators. These are solely used to keep their activity secret from us!
Omegle- This anonymous app connects "you" with a "stranger". It aims to connect strangers with similar interests or likes. While it might be a great way for people to discuss hobbies, it is not an appropriate medium for children. This anonymous pairing often encourages sexual predators to seek victims and gain personal information.
Quotev- This site is used to share writings, engage in roleplay scenarios, and take fun quizzes. At first glance it appears to be a creative and nurturing environment, but many users report bullying and exposure to adults in chat rooms. If you have young teens, it could be a potential problem area.
Protecting Our Children Online
Ultimately, it is our job as parents to raise healthy and productive adults. If a child is exposed to harmful situations online, it can hinder their ability to flourish and thrive. Thankfully, there are many websites and mobile applications that are full or resources and strategies for parents to protect and monitor their children online.
It's easy to hide our heads in the sand and feel that our children know better or practice safe social media etiquette. Staying on top of all of the messages, images, and contacts that reach our children can be difficult, but that doesn't mean we cannot still offer guidance and support. Taking the time to be involved in a child's online activity is the loving thing to do- even if it might be unpopular with your child.