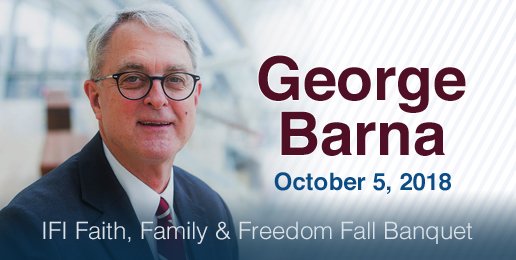 Reserve Your Banquet Seat Today!
Seating is limited! So don't delay!
Illinois Family Institute is excited to be welcoming George Barna to our fall banquet to share his faith, research, political insights and projections for our nation's future. For more than three decades now, Mr. Barna has conducted national surveys to gauge the sentiment and activity of politically conservative, spiritual active Christians in America. He has also been a pollster in three presidential campaigns.
You will not want to miss this opportunity to hear directly from what many call "the most quoted person in the Christian Church today." Barna has written more than 50 books, mostly addressing cultural trends, leadership, spiritual development, and church dynamics. He has sold more books based on survey research related to matters of faith than any author in American history.
Illinois Family Institute
Faith, Family and Freedom Banquet
Friday, October 5, 2018
Stonegate Conference Center
2401 W. Higgins Road
Hoffman Estates, IL  60169
"Keeping our eyes on the prize"
Secure your tickets or table now – click here or call (708) 781-9328.
Program advertisements & banquet sponsorships available.
->Click HERE for an event flyer<-