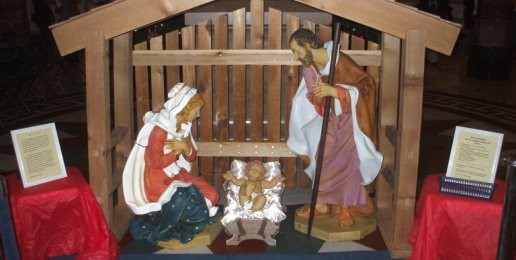 Nativity Scene Displayed at State Capitol
On Tuesday, November 27th, 2018, the Springfield Nativity Scene Committee (SNSC) will host a display depicting the birth of Jesus Christ. For the 11th year in a row, the Crèche will stand in the center of the State Capitol Rotunda Building located at South 2nd Street & East Capitol Avenue in Springfield, Illinois.
The SNSC's primary goal is to celebrate the birth of our Lord and Savior, Jesus Christ.  The secondary mission of the SNSC is to inform the public and media regarding the constitutionality of such expressions of religious faith in the public square.
In 2008, the SNSC made history when the Illinois Sec. of State's office granted a permit to the group, allowing a Nativity Scene to go on display in the Capitol for the first time in state history.  Since 2008, 13 other states have followed Illinois' lead.  The crèche will stand in the center of the Illinois Rotunda, in accordance with the U.S. Constitution which provides for such religious expression in the public square–as long as such displays are privately-funded and temporary in nature.
Join us at 12 Noon on Tuesday, November 27th, 2018, for the unveiling.  Christmas carols will be performed by John Hume, music director of Lincoln Avenue Baptist Church, Jacksonville, Illinois.  An invocation will be given by Bernie Lutchman, of Business Men In Christ (Springfield) and an SNSC member. The event will last for one hour.
Among those scheduled to say a few words are Tom Brejcha, Founder and Chief Counsel of the Thomas More Society Pro-Life Law Center * and SNSC's legal counsel; Pastor Jeremy Byrd of Lincoln Avenue Baptist Church, in Jacksonville; State Representative Brad Halbrook (102nd District); State Representative Tim Butler (87th District) and Beth Rogers of Springfield, Illinois.
Military Veteran Rosemary Connolly will represent Wreaths Across America and honor our military by placing a wreath in front of the five flags representing all branches of the U.S. Armed Forces.  This is Wreaths Across America's 7th year with the SNSC.
The Nativity scene will be on display during normal business hours from November 27th through January 2nd, 2018.
Musicians and singers are encouraged to sing Christmas carols near the Nativity scene when the Capitol is open.  A permit is required.  If interested, please contact Salli Chernis with Sec. of State Jesse White's office, Department of Physical Services / Division of Special Events at 217-782-8996.  NOTE:  Music is limited to the noon hour.
For more info, please contact Julie Zanoza at 217-605-8187 or call the Thomas More Society at 312-782-1680. The Thomas More Society is a national public interest (non-profit, pro-bono) law firm based in Chicago, with a satellite office in Omaha, NE, whose mission is to defend life, marriage and religious liberty, including the right of U.S. citizens to proclaim their religious faith and faith-based values in public squares across our nation.