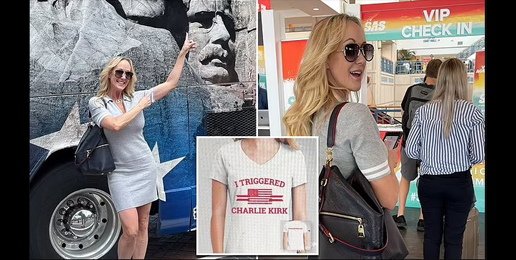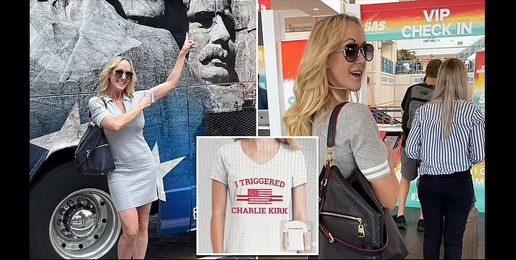 Porn Star Rightly Kicked Out of Conservative Political Event
Many self-identifying Republicans have no understanding of the term "conservatism." Case in point, the recent kerfuffle that ensued when conservative leaders of the Turning Point USA organization rightfully revoked an invitation to porn star "Brandi Love" to attend the Student Action Summit as a VIP. Love was asked to leave the event intended for high school and college students after attendees found out what she does for a living. To be clear, Love, who self-identifies as "conservative," is not a former porn star. She is a current porn star who heartily affirms pornography.
Anyone who celebrates, voluntarily performs in, and profits from pornography or any other "sex work" is, by those acts, not conservative. A conservative who engages in or approves of "sex work," porn use, legalized human slaughter, cross-sex impersonation, or homosexual acts or relationships is not conservative. The Republican big tent should no more include affirmation of pornography (or same-sex faux-marriage, abortion, or cross-sex identification) than it should include climate hysteria, China-collaboration, or open border fanaticism.
Suffering from a case of unrighteous indignation, the judgmental Love huffed and puffed that TPUSA felt "like a religious cult" because of the presence of conservative Christians. That makes three subjects about which she knows little:  religious cults, Christianity, and conservatism.
Love asked rhetorically, "How can conservatives expect to grow as a movement when they don't seem to respect professions?" Seriously? What principle demands conservatives hold "sex work" in esteem?
And if the growth of the conservative movement does require inclusion of the porn industry, then it deserves to die.
Love continued in her criticism of TPUSA's decision to disinvite her: "It's stupid to persecute people who have a different lifestyle than you." She sounds remarkably like run-of-the-mill leftists who see dissent from their moral and political views as persecution, bigotry, and hatred.
Her "lifestyle" emerges from and is justified by her moral and political beliefs—beliefs that are antithetical to conservative moral and political beliefs. Disinviting a public figure who affirms and celebrates acts that grossly violate conservative principles does not constitute persecution.
At least as troubling as Love being invited in the first place to the event at which teens as young as 15 were present are the responses from purported conservatives like Federalist co-founder Ben Domenech who tweeted, "The right has an opportunity to be the big tent party. Don't be a bunch of prudes."
Calling conservatives who oppose pornography, which degrades women and destroys families, "a bunch of prudes" exposes Domenech's ignorance and unfitness for a leadership role in any conservative movement. Sexual continence and boundaries are essential for the welfare and prosperity of any society. Reining in the prodigious and profligate sexual impulses of humans—especially male humans—is a first order, necessary business of any healthy society—far more important than business regulations or tax rates.
That Domenech sanctimoniously dismisses opposition to body-, soul-, family-, and culture-destroying pornography as prudery, designating it an obstacle to the GOP quest for power is a sure sign that the decline of America will continue. Domenech and his collaborators don't really want a big tent. They want porn stars and homosexuals in the tent and theologically orthodox Christians out, or at least silenced and neutered.
Love strained to use conservative principles to defend her position:
TPUSA literally opened the show talking about how we need to fight back against big tech censorship, cancel culture, the deterioration of our 1st Amendment. … and then they expelled me. … It's a worst case example of cancel culture.
Nope, big tech didn't censor her. Her First Amendment rights were not denied. And being asked to leave the event was not an example of cancel culture, no matter how many times she and her creepy fans assert it was.
Love's obscene twitter feed is filled with comments from supporters who self-identify as "conservative" and apparently believe that private conservative organizations that adhere to their own principles—which include opposition to sexual deviance—are card-carrying members of the cancel culture. For the woefully ill-informed, here's the difference between cancel culture and disinviting a porn star from a private conservative event:
Cancel culture seeks to ban the expression of ideas from the public square, for example, from open social media platforms, college campuses, and the opinion pages of newspapers. Cancel culture seeks to get people fired from their jobs for expressing ideas leftists hate.
TPUSA is a private organization hosting an event to promote conservative ideas. Disinviting a public figure who not only opposes some of TPUSA's beliefs—especially fundamental ideas about sexuality—but also actively works against them in ways that TPUSA views as destructive is not an act of cancellation.
A brief word about the size of government: While conservatives want smaller government—much smaller government—they do not desire the abolition of government. Conservatives want a smaller government that governs wisely and judiciously. And conservatives believe in absolute, perduring, objective moral truths upon which proper governing depends and without which governing becomes an exercise in raw power. Conservatives seek to conserve something.
Russell Kirk, author of the hugely influential book, The Conservative Mind, wrote that conservatism has some essential constituent features that should shape laws and policies, including a
Belief that a divine intent rules society as well as conscience, forging an eternal chain of right and duty which links great and obscure, living and dead. Political problems, at bottom, are religious and moral problems. … Politics is the art of apprehending and applying the Justice which is above nature. … Man must put a control upon his will and his appetite, for conservatives know man to be governed more by emotion than by reason.  Tradition and sound prejudice provide checks upon man's anarchic impulse.
These tenets are as indispensable to conservatism as respect for private property and opposition to efforts to eradicate class distinctions. These tenets are as fundamental to conservatism as is a preference for slow change over "innovation" that "is a devouring conflagration more often than it is a torch of progress."
Rather than expending so much energy trying to transform or deform the GOP's position on sexual matters—matters that are essential to a well-ordered society conducive to human flourishing—maybe Love should join the Democrat Party and try to change its position on borders, China, and tax rates.
Listen to this article read by Laurie:
---