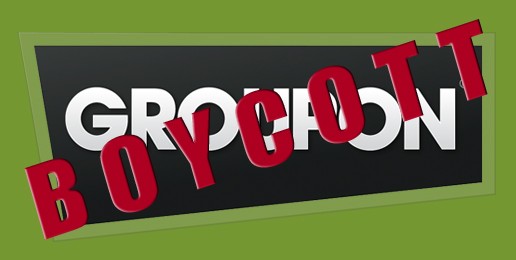 Groupon Boycott Grows, Groupon Removes Porn Ads
Morality In Media's now three week-old boycott of Groupon, the online coupon company, is growing. Seven organizations with substantial membership have joined the boycott in the last week. More than 15,000 of Morality In Media's own supporters have now contacted Groupon to cancel their memberships.  
Groupon's support of porn producers Kink and Playboy caused MIM to initiate the boycott. "Why Groupon would find Kink to be an attractive business associate is puzzling," said MIM's executive director Dawn Hawkins, "because Kink brags that its productions include, 'Girls … pulled in and out of cages, their tongues clamped, their bodies pinned, and their arms and legs strapped.'"  
Kink also claims to employ "contraptions used in countries such as China for torture" as well as "machines, water, metal, wood, electrodes, hooks, needles, and urination, all for the sexual persecution of women and 'sexy, young teens.'"  
Groupon defends Kink, saying, "We thoroughly vet the businesses we feature…Fortunately, this business has proven to be a responsible member of their community."  
"Playboy is no better than Kink," Hawkins said. "It started the porn exploitation explosion."  
Joining the boycott in the last week are Citizens for Community Values, Girls Against Porn & Human Trafficking, American Family Association of Kansas and Missouri, Louisiana Family Forum Action, Illinois Family Institute, Women for Decency, and Arizona Family Council.  
Groupon may be attempting to conceal its associations with sexually exploitative businesses, in response to the boycott. Advertisements related to Kink and Playboy have now been wiped from the company's site though expired coupons for other businesses are still on the site. You can still see them HERE.  
"Until Groupon announces that it will no more support sexually exploitive businesses, the boycott will grow," said Hawkins.  
A special "Boycott Groupon Project" page has been set up HERE.  There boycott supporters may also email all top Groupon executives, and call on them to reject partnership with businesses that glamorize the exploitation and abuse of women.  
About Morality in Media
Founded in 1962, Morality in Media, Inc. is the leading organization focused on opposing pornography and indecency through public education and the application of the law. www.PornHarms.com.