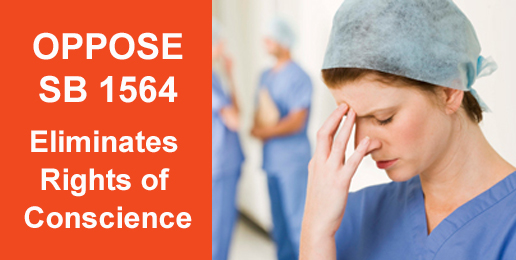 SB 1564 Is Now In Gov. Rauner's Hands
In an effort to expand abortion services in our state, Springfield lawmakers have sent Governor Bruce Rauner SB 1564. This radical proposal would coerce medical professionals to violate their consciences by forcing them to refer patients for medical procedures they find morally objectionable such as abortion, sterilization and certain end-of-life care protocols. (Read more HERE.)
Take ACTION: Governor Bruce Rauner has this legislation on his desk now, and he has sixty days to decide to reject it or sign it into law. We need your help to urge him to veto this ominous proposal. No American should be forced by the government to violate his or her deeply held convictions.
Please call Governor Rauner's office numbers and let his administrative assistants know that you want him to VETO this tyrannical bill. Encourage him to uphold conscience rights for Illinois medical personnel.  Here are the office numbers:
(217) 782-0244 — Springfield
(312) 814-2121 — Chicago
More ACTION:  
Click HERE to send an email message to Gov. Rauner to urge him to veto SB 1564.
Pray that Gov. Rauner is wise enough to protect conscience rights.
Contact like-minded family and friends and let them know that they should speak out against this radical proposal. Also, share this on Facebook and Twitter.
---
Can you support our work with
a tax-deductible donation?