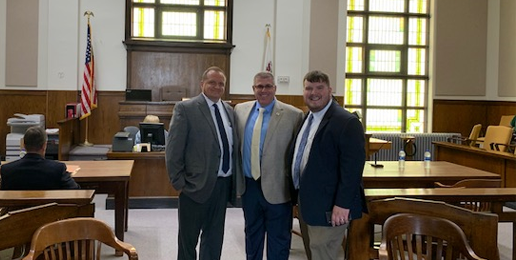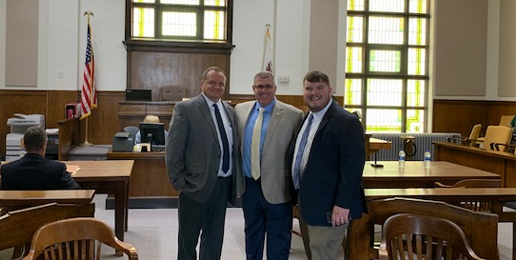 Attorney Tom DeVore, Rep. Darren Bailey, and Legislative Assistant Jose Durbin
at the Clay County Courthouse before Judge McHaney made his ruling.
Judge Rules All of Illinois Free From Gov. Pritzker's Unlawful Mandates
Written by Austin Scott Davies
Late last week, Illinois Circuit Court Judge Michael McHaney of Clay County ruled in a lawsuit that "all citizens of Illinois" are free from Governor J.B. Pritzker's tyrannical orders. This comes after arguably unethical tactics by the Illinois Attorney General to delay the case by trying to remove it to federal court, and the United States Department of Justice filing a Statement of Interest in the case in support of the lawsuit.
State Representative Darren Bailey (R-Louisville) prevailed in his Motion for Summary Judgment on Counts II and III of his lawsuit against Governor Pritzker on April 23, 2020. The judge granted the declaratory relief requested in those counts and ordered a final judgment on the merits against Pritzker.
The judge ruled that by law Gov. Pritzker's emergency powers lapsed 30 days after he declared COVID-19 a disaster and that all of his orders after April 8, 2020 that relate to the COVID-19 "disaster" are void ab initio. That's Latin for void when they were created. Pritzker had no authority to issue orders after April 8, and legally, all orders issued after that date never existed. The Emergency Management Agency Act, which Gov. Pritzker claimed gave him authority to issue perpetual decrees shuttering businesses and churches and authority to suspend countless civil liberties, states clearly that a governor only has certain emergency powers that can be exercised for no more than 30 days following the declaration of a disaster.
The court went on to rule that there is no authority in the Constitution for Pritzker to have ever ordered the restriction of people's movement or to have ever ordered the forcible closure of any business.
The judge made clear that in Illinois only the Illinois Department of Public Health (IDPH) and local health departments have the authority to restrict movement or close a business. To restrict movement or close a business, IDPH and local health departments must act within the constraints of existing law to take each individual person or business to court and overcome an incredibly high burden of proof. If the department is merely trying to prevent the spread of a virus or isolate a person that's not already sick, that burden of proof is nearly insurmountable.
Specifically, Section 2 of the IDPH Act (20 ILCS 2305) allows the IDPH and local health authorities to order quarantine and isolation and to close places to prevent the probable spread of a dangerous or infectious disease. However, these agencies cannot make such orders without a prior court order, or consent by the person or persons effected.
The only exception to this is if, in the "reasonable judgment of the agency" issuing the order, "immediate action is required to protect the public from a dangerously contagious or infectious disease." In that event, they can make such orders on a temporary basis, lasting no longer than 48 hours.
If a department of health issues such an order, they are still required to either obtain your consent or a court order within 48 hours of doing so, unless the courts are unavailable or circumstances make it impossible to obtain a court order. Then, the orders can only stay in place until the agency can obtain the court order through reasonable means.
The courts, however, are not closed, and some county courts have even made new local rules making it clear that they are open for these types of cases. To obtain an order to quarantine, isolate, or close a place or business, the health department must prove to a court "by clear and convincing evidence . . . that the public's health and welfare are significantly endangered by a person or group of persons that has, that is suspected of having, that has been exposed to, or that is reasonably believed to have been exposed to a dangerously contagious or infectious disease including non-compliant tuberculosis patients or by a place where there is a significant amount of activity likely to spread a dangerously contagious or infectious disease. The Department must also prove that all other reasonable means of correcting the problem have been exhausted and no less restrictive alternative exists."
At such hearing, you have a right to be represented by an attorney of your choosing, or if you are "indigent," the court will appoint counsel to represent you. The burden is on the government to prove why you should close, isolate, or be quarantined. You do not have to prove why you should keep your business open or move about without restrictions.
At the behest of Gov. Pritzker and prior to this ruling, the IDPH has come out with "guidelines" that are phrased as orders that require certain measures of quarantine, partial business closure, and isolation such as "social" physical distancing. None of these "guidelines" or orders are enforceable unless you consent to them, or a health department complies with the due process protections described above and obtains a court order.
Shortly after this ruling, Gov. Pritzker and mainstream "news" media led a disinformation campaign to deceive Illinoisans by suggesting that "Phase 4" is still in full effect because Gov. Pritzker prevailed in other lawsuits regarding these onerous orders. While it is true that some courts have ruled against other plaintiffs that have filed lawsuits against Gov. Pritzker that are related to his orders, none have made any ruling inconsistent with the ruling in State Rep. Darren Bailey's lawsuit. The other lawsuits referenced by Pritzker and his cohorts made different legal claims against Pritzker, were not representative actions, and in no way limit or constrain Judge McHaney's ruling that all citizens of Illinois are free from Pritzker's unlawful orders. This ruling applies to the entire state of Illinois and not just Clay County in the Circuit Court where it was made.
What is really telling is that only Pritzker and his cohorts are engaging in the campaign of disinformation, continuing to try to compel compliance to his void orders by intimidation. The Illinois Attorney General's Office will not comment or respond to questions regarding the ruling.
Since the relief granted was declaratory relief, or relief which declares the parties rights under law—the parties here being Gov. Pritzker and all citizens of Illinois—the remedy of contempt of court is not available to punish Gov. Pritzker for disregarding this ruling. Unlike an injunction, a declaratory judgment does not order a party to do something or refrain from doing something. The judgment in this case is, however, valuable, in that not only does it invalidate Gov. Pritzker's orders, but it can also be used by any citizen of Illinois to sue Pritzker and other public officials that have unlawfully deprived them of their civil rights, and any that would continue to unlawfully deprive them of their civil rights in clear violation of this judgment and under color of law.
Pritzker has even reportedly claimed that the ruling was not a final judgment on the merits, yet the Illinois Attorney General's Office, which represents Gov. Pritzker, stated their intent to file an appeal seeking to overturn the judgment. If the ruling was not a final judgment on the merits, it could not be appealed. Unless this judgment is appealed and overturned by an appellate court, any order made by Pritzker that purported to restrict people's movement, forcibly close any business, and any order related to COVID-19 that he made after April 8, has indeed been declared void and no longer exists anywhere in the State of Illinois.
More:
Click HERE to listen to a 10 minute interview of attorney Thomas DeVore by WMAY radio host Greg Bishop for a clarification on what the Judge Michael McHaney means.
---
Austin Scott Davies is an attorney and founder of Midwest Legal Care , former prosecutor, and an active member of the Winnebago County Republican Party. He is also a board member for Concerned Citizens for America, a local chapter of Illinois Family Institute.
The information contained in this article is not legal advice and is for general information purposes only. Do not act or refrain from acting on the basis of this information. Readers should contact an attorney to obtain advice with respect to any legal matter.
---
A bold voice for pro-family values in Illinois! 
Click HERE to learn about supporting IFI on a monthly basis.