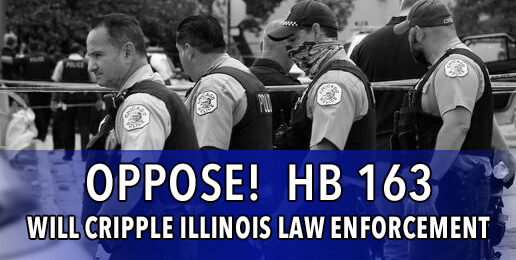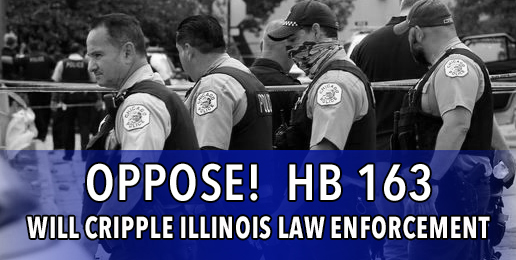 HB 163 Will Handcuff Illinois Law Enforcement
A coalition representing Illinois law enforcement leadership and rank-and-file officers has issued a statement in opposition to House Bill 163 as amended that was unveiled earlier this month, saying:
The so-called "reforms" that are part of House Bill 163 as amended would destroy law enforcement's ability to keep communities safe. The authors of this legislation are not law enforcement professionals with hundreds of years of combined experience and this bill was drafted without law enforcement input, and because of that the long-term unintended consequences of this legislation would be dire. The Illinois Law Enforcement Coalition recently enumerated its Safe Communities plan, a sensible approach to modernizing Illinois law enforcement, but House Bill 163 as amended would lead to unsafe communities in Illinois. We urge the Illinois General Assembly to avoid making a sudden, rash decision in the Lame Duck Session and instead work carefully with all stakeholders to truly examine what needs to be done regarding law enforcement in Illinois.

The Illinois Fraternal Order of Police (FOP) State Lodge, FOP Labor Council, FOP Chicago Lodge 7, Illinois Sheriffs' Association and the Illinois Association of Chiefs of Police have formed the Illinois Law Enforcement Coalition and have been working on these strategies since summer to improve community safety and enhance the trust between community members and law enforcement.
In addition to that, Illinois State Representative Darren Bailey (R-Louisville) published a video this morning detailing how this 611-page bill would "cripple law enforcement in Illinois."
The bill could be called anytime between tomorrow, January 8th and Thursday, January 14th while they are in the lame duck veto session.
According to State Representative Bailey and the Illinois Sheriffs and Police Chiefs Associations, Amendment 2 of HB 163:
Makes police officers civilly liable for anything at anytime (they currently are protected from personal civil liability).
Removes law enforcement officer's rights to collective bargaining.
Allows unrestricted and ungoverned disciplinary policies of law enforcement officers.
Prohibits departments from purchasing reduced-priced militaristic equipment from federal surplus, used to protect officers in emergency situations.
Allows for officers to be disciplined or fired based on anonymous and unsubstantiated complaints with no sworn affidavits and these complaints could be kept forever in their files.
Increases initial and ongoing education and training requirements, with no money to pay for the costs and no assurances the courses will be offered.
Mandates body cams with no money to cover the costs and punishes non-compliance.
Defunds any department that does not comply 100% with these requirements.
Removes suspension of a driver's license for ongoing traffic violations.
Enacts multiple benefits for felons including access to victim's compensation.
Prohibits use of force and makes officers criminally liable for using any type of force.
Removes prohibitions against obstructing police officers.
Eliminates felony murder.
Eliminates cash bail, allowing criminal suspects back on the streets immediately.
Take ACTION: Click HERE to send a message to your State Senator and State Representative to ask them to reject this foolish legislation which would negatively affect our families, our communities and especially the heroes that work tirelessly in law enforcement.
---
Subscribe to the IFI YouTube channel
and never miss a video report or special program!