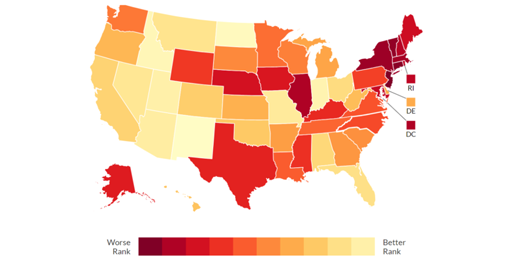 A Big and Bold Illinois Tax Reform Plan is Needed
As many readers are aware, Illinois families and jobs have been fleeing the state in record numbers in recent years due to the heavy tax burden. It's not just time for a change in Illinois tax policy, it's time for a revolution.
If conservatives ever want to win majorities in the General Assembly and elect an effective governor, they have to start thinking big and getting bold.
Should Bruce Rauner lose in November, it'll be fresh start time for the beleaguered Illinois Republican Party. That's not a bad place to be for a political party in a state that is as dysfunctional as Illinois.
Number one on almost everyone's list of complaints is the property tax system Illinoisans currently labor under. Talking about "freezes," as the Illinois Policy Institute's Austin Berg explains, is not a solution when so many homeowners are under water in their mortgages. People can't afford the taxes now. Freezing it doesn't change that.
The only real solution is for property taxes to be reduced — big time. Not a little here or a little there. And that reduction cannot happen with the current system.
You can blame your local governing bodies all you want (and they certainly deserve a lot of blame), but they all answer to Springfield. The only way for Illinois tax law to be changed is for the General Assembly to pass legislation and have the governor sign it.
Obviously, Democrats are not going to do this. They obey their biggest client, government employee unions. And those unions know the best way to fill their pots with gold is to legally shake down every homeowner in the state.
Change will only come when conservative state office holders and candidates find their courage and start selling one or more serious tax reform plans to Illinois voters.
Several questions rightfully follow.
First, where will the money come from if it's not legally swiped from property owners? The answer to that question is found on that map above — you can read about it here. States with substantially lower property taxes find a way to fund schools, police and fire departments, libraries, etc. If they can do it, Illinois can do it.
Second, can enough money be raised in alternative ways to fund so many bloated local governments or government employee pension funds? The answer to that is no. I have two simple proposals that will instantly provide plenty of revenue to fund government at all levels.
Number one is total school choice. The tax dollars follow the student to the school of the parents' choice. Illinois government-run schools have almost no competition, and until they get some, they will continue to run up costs, debt and unfunded liabilities for current and future taxpayers.
Number two is for the government employee pension systems to be separated from the taxpayers. Forget that stupid clause in the Illinois state constitution and the Illinois State Supreme Court. Neither have the power to tax, nor the ability to make the impossible possible. All those pensions will never be paid — it is mathematically impossible.
Local government consolidation should be a third step, but that's too boring of a topic to get into here. The Illinois Policy Institute has an excellent set of ideas that can be found here.
There are far more property taxpayers in Illinois than there are government employees. Conservatives can win a majority of them with a well-thought out and effectively sold plan to reform the entire Illinois tax system. There will also be plenty of over-burdened Independents and Democrats ready to support such a plan.
As I said, think big and get bold.
Up next: Illinois is Insolvent and it is Time to Admit it.
Image credit: Tax Foundation.
---
IFI depends on the support of Christians like you. Donate now
-and, please-