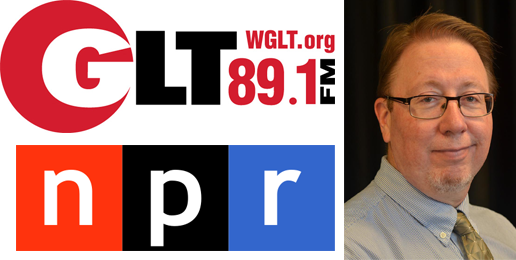 ISU's Fake News Station WGLT Calls IFI Hate Group
Look no further than Illinois State University (ISU) for evidence of the degradation of public education. In addition to hosting an annual drag queen fundraiser in the Bone Student Center, Illinois State University owns a fake news organization: WGLT. The call letters come from the school's increasingly ill-fitting motto: "Gladly we learn and teach."
WGLT, a public radio station and, therefore, an affiliate of National Public Radio (NPR), came to Illinois Family Institute's (IFI) attention when a short article about IFI's robo-calls warning Illinoisans about the campaign to resurrect the Equal Rights Amendment (ERA) decades after its expiration date began circulating on social media. The article, written by "progressive" Baylee Steelman, is titled "Hate Group Lobbies Against ERA With B-N Robocalls" (B-N refers to Bloomington-Normal).
It should be clear from the title that the article is an editorial hit-piece on IFI masquerading as a news story about the ERA—thus a fake "news" story—but for those who need proof, here is Steelman's "news" story:
The revival of a decades dormant campaign to pass the Equal Rights Amendment is drawing an opposition campaign from what some call a hate group.

The Illinois Family Institute has been placing robocalls to Bloomington-Normal area residents asking them to write state lawmakers Dan Brady and Jason Barickman.

"Don't be fooled: The Equal Rights Amendment is not about equal pay for equal work. This radical anti-woman amendment will require taxpayers to fund more abortions. It will require young women to register for the military draft. It will increase car insurance premiums for women. The ERA will force women to use coed restrooms and locker rooms. It will impact child support as well as Social Security benefits for widows. The Equal Rights Amendment is all war on women," said one recording.

Those claims are false.

The Southern Poverty Law Center lists the Illinois Family Institute as a hate group usually focusing on anti-LGBTQ issues. The SPLC says the IFI has identified headquarters in Peoria and Carol Stream.

Supporters of the ERA revival campaign are also urging their members to call lawmakers to counter the IFI robocall.

Two more states need to ratify the amendment before it could take effect.
Steelman provides no evidence for her assertion that IFI's claims are false. She did not cite another organization as the source of the assertion that IFI's "claims are false." She never contacted IFI to query us about our claims or to get a statement about them. She merely inserted her opinion that the claims are false, thereby implying that her opinion is settled, inarguable fact.
Steelman stated that the ERA has been long "dormant," but failed to include the fact that the final deadline for the passage of the ERA was 1982.
While maligning IFI with the false label assigned to us by the ethically impoverished Southern Poverty Law Center (SPLC), Steelman never bothers to mention that the SPLC and its founder Morris Dees have been widely criticized by conservatives, "progressives," and moderates, and is no longer listed as a resource in FBI materials. In other words, Steelman repeatedly cited a disreputable organization as her only source.
As a result of this poorly written, fake "news story," IFI sent this email to WGLT:
Dear WGLT,

Your article titled "Hate Group Lobbies Against ERA With B-N Robocalls," which is being promoted on social media, demonstrates why so many Americans have a dim view of the press.

We are disappointed to see WGLT and National Public Radio blindly repeating the ad hominem assault by the left-wing SPLC that falsely identifies Illinois Family Institute (IFI) as a "hate group."

The article title suggests that the "hate group" designation represents an unassailable and objective fact, whereas the designation is given to us by a dubious organization widely criticized by even progressives.

In a brief news story ostensibly about the ERA, student reporter Baylee Steelman spent an inordinate amount of time referencing the SPLC and its false characterization of IFI without once mentioning that, for example, the FBI has removed the SPLC from its resources list.

Following her transcription of our robo-call, Ms. Steelman asserts without evidence that our claims "are false." Without evidence, she inserted as fact her editorial opinion in a news story.

Even as she reported as fact that IFI is a hate group, Ms. Steelman failed to contact IFI for a statement or a response to this story. We'd be happy to defend our position on this important public debate on the ERA.

Shouldn't a reporter strive for accuracy and objectivity in reporting stories on controversial cultural issues?

Perhaps Steelman should spend some time on the American Press Institute website, which warns against some of the journalistic failings she demonstrates:

This neutral voice, without a discipline of verification, creates a veneer covering something hollow. Journalists who select sources to express what is really their own point of view, and then use the neutral voice to make it seem objective, are engaged in a form of deception. This damages the credibility of the craft by making it seem unprincipled, dishonest, and biased.

Citing David Protess, the American Press Institute recommends the following:

Assume nothing is true. Go directly to the source. Don't rely on just the authorities or officials. Touch all bases. Be systematic.

Did Ms. Steelman do those things?
IFI received this response from news director Charlie Schlenker that also went to several WGLT staffers:
We will not be responding to this hate group.

Charlie
Can readers expect fair reporting from a purported news station whose director responds like this?
Some astute readers may have noticed that the online version of the WGLT article no longer attributes it to Baylee Steelman (IFI has the original). The byline now says Charlie Schlenker wrote the article. Curiouser and curiouser.
Taxpayers might wonder, exactly what is being learned, who is teaching, and who is making administrative decisions at ISU. We already know who's making decisions at WGLT: bigoted Charlie Schlenker.
Remember friends, we the people fund this radio station.
Take ACTION: Click HERE to send an email or fax to the WGLT "news" department, urging them to report matters of public policy fairly and objectively. Please also ask them to cease using the SPLC's fake and slanderous attack on IFI and other theologically orthodox Christian organizations that express views of sexuality with which "progressives" disagree.
Listen to this article read by Laurie:
---
The Left is working overtime to silence and/or marginalize conservative voices in America
The time to support IFI is now!