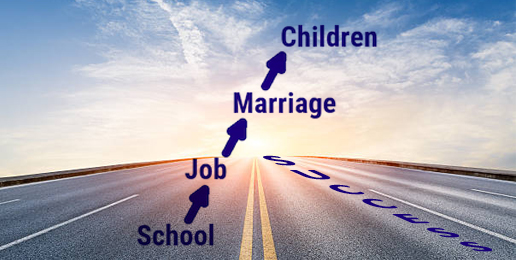 Marriage and the "Success Sequence"
We hear politicians talk a lot about pathways to success, or methods to improve economic outcomes, but one factor almost never mentioned is marriage.  In fact, traditional marriage is generally looked down upon in American culture today.
A record 55 percent of Millennial parents (ages 28-34) have put childbearing before marriage, according to an analysis of Bureau of Labor Statistics. By comparison, a majority of Baby Boomers (67 percent) had entered into family life at the same age by marrying first. A much smaller share of Boomers had children before marrying (20 percent). Compared with the path of having a baby first, marrying before children more than doubles young adults' odds of being in the middle or top income tier after adjusting for education, childhood family income, employment status, race/ethnicity and sex.
In fact, an incredible, 97 percent of Millennials who follow what has been called the "success sequence"— that is, who get at least a high school degree, work, and then marry before having any children, in that order – are not poor by the time they reach their prime young adult years.
This pattern holds true for racial and ethnic minorities, as well as young adults from lower-income families. For instance, 76 percent of African American and 81 percent of Hispanic young adults who married first are in the middle or upper third of the income distribution, as are 87 percent of whites. Likewise, 71 percent of Millennials who grew up in the bottom third of the income distribution and married before having a baby have moved up to the middle or upper third of the distribution as young adults.
In general, young people who marry first are more likely to be on track to realizing the American Dream than those who put childbearing first. To read more about research on this click HERE.
---
This article was originally published by our friends at AFA of Indiana.