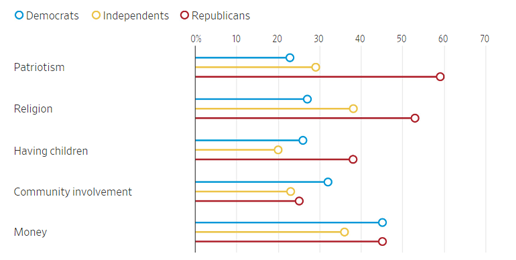 All Who Hate Me Love Death
Reading Time:
3
minutes
In Proverbs 8:36, Lady Wisdom declares that "All who hate me love death." Those who scorn wisdom, who are wise in their own eyes, are not merely prideful, they have a death wish. Wisdom comes to us in many forms — primarily through God's Word and his Church, but also through the traditions of our family, culture, and nation (Prov. 6:20, 22:28). When a nation rejects these forms of wisdom, it will be a nation soaked with blood.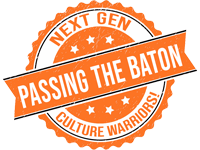 The next generation of culture warriors hope to make a difference and they are an answer to our prayers. We hope to encourage and mentor these young contributors so they can take the baton from us in the future. God's gift of liberty and self-government must be fought for and protected. The fundamental principles of faith, virtue, marriage and family must be upheld and taught. Please pray for these bold young culture warriors and extend to them some grace as they hone their skills.
A recent poll conducted by the Wall Street Journal and NORC (the "Nonpartisan and Objective Research Organization" at the University of Chicago) showed that a mere 38% of Americans surveyed said that patriotism was important to them. This was down from 70% in 1998, when the same poll was last conducted. Now, patriotism is a difficult thing to preserve in an age when abortion is available on demand (or even through the mail) and homosexual "marriage" is the law of the land. But turning against our own nation is also dangerous.
What does this have to do with wisdom? God has appointed nations and cultures as a means of passing down wisdom from generation to generation. A nation that has turned against itself, placing little value on patriotism, is a nation that has shut itself off from a vital God-given source of wisdom. The traditions of a nation and culture, insofar as they are righteous traditions, are the collected wisdom of our fathers and mothers, and to consciously disregard these traditions is to undermine the stability of the social order.
The United States of America has little love for its own traditions, supplanting its once-Christian moral foundations with openly pagan laws and customs. In a word, the United States hates wisdom.
Returning to the point made at the beginning of this article, those who hate wisdom love death. We should not be surprised, then, to see this reflected in the same WSJ-NORC poll that only 23% of adults under age 30 said that having children is very important. A culture that does not value children is a culture that is soon to die off. Failure to marry and procreate is, quite literally, cultural suicide. Already, sociologists and statisticians are warning about the impending crisis that low fertility rates will bring about.
Of course, the same demographic that is eschewing the duty to marry and rear the next generation is still engaging in promiscuous behavior. And so, hundreds of thousands of babies are slaughtered each year. All who hate wisdom love death.
What is the answer to this crisis? Real patriotism. We need a generation of American citizens who love their nation enough to speak against it, condemning the ghoulish practice of abortion and the abomination of homosexual "marriage," transgender contagion and cross-dressing. We need a generation of American citizens who will commit to abstinence until marriage and then raise children faithfully in the nurture and admonition of the Lord. We need a generation of American citizens who love God and the nation He blessed us with enough to preach the Gospel Truth, boldly calling our government and populace to repentance and righteousness.
The work of reformation will be difficult and laborious, and to those on the outside may appear decidedly un-patriotic—the proclamation of the Gospel is a proclamation of grace, but also judgment on sin. But such a message is necessary if we are to tear down our nation's unfruitful practices while preserving our most valuable traditions.
Read more:
America Pulls Back From Values That Once Defined It (WSJ)
Most Americans don't believe the US is the greatest country in the world, poll finds (Fox News)
Religion, Patriotism and Having Children Diminish in Importance for Americans (NCR)
---