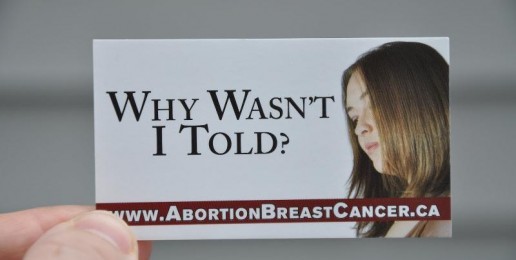 Studies from France, China Report Breast Cancer Risk Climbs With Number of Abortions
Reading Time:
< 1
minute
A French study on women with mutations in BRCA1 and BRCA2 genes, which are associated with hereditary breast and ovarian cancers, shows "the clearest dose effect of any (abortion-breast cancer) study." Professor Joel Brind (Baruch College, City University of New York)
"Communist China's one child per couple policy is at least partially responsible for its escalating breast cancer rates, according to at least two studies. Researchers expect an epidemic of 2.5 million cases of breast cancer by 2021 among women from the One Child Generation who will then be between the ages 55 and 69." (Karen Malec, president of the Coalition on Abortion/Breast Cancer).
Studies from France and China have reported that breast cancer risk climbs with number of abortions. Demonstrating a "dose effect" is considered an "important measure of credibility" for establishing a cause-effect relationship.
___________________________________________________________________________________
The Coalition on Abortion/Breast Cancer is an international women's organization founded to protect the health and save the lives of women by educating and providing information on abortion as a risk factor for breast cancer.