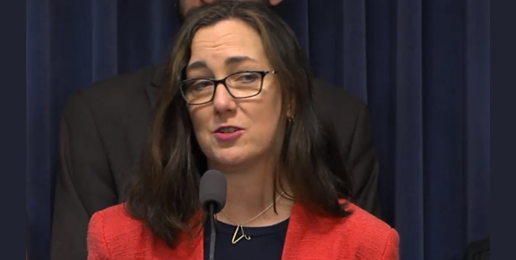 Progressives Seek to Rush Human Slaughter Bill Through House
With a cringe-worthy, faux-earnest expression, State Representative Kelly Cassidy (D-Chicago) explained at Thursday's press conference to promote her radical abortion bill the meaning of the necklace she prominently wore—a necklace adorned with a coat hanger:
My necklace is a little gold wire hanger…. It's a reminder of what can happen in a post-Roe world.
Her little gold coat hanger symbolizes the illegal abortions she fears will kill women if they are prohibited from legally offing their offspring. So, let's examine the issue of pre-Roe, voluntarily sought illegal abortions that occasionally resulted in maternal deaths—as distinct from abortions that almost always result in the deaths of human "fetuses," none of whom had a say in their mother's choice to have them killed.
As cited in an article on the website Abort73, the CDC reported that,
In 1972 (the year before abortion was federally legalized), a total of 24 women died from causes known to be associated with legal abortions, and 39 died as a result of known illegal abortions.
Here's more interesting information from the pro-human slaughter, gangrenous Guttmacher Institute:
In 1930, abortion was listed as the official cause of death for almost 2,700 women…. The death toll had declined to just under 1,700 by 1940, and to just over 300 by 1950 (most likely because of the introduction of antibiotics in the 1940s, which permitted more effective treatment of the infections that frequently developed after illegal abortion). By 1965, the number of deaths due to illegal abortion had fallen to just under 200.
Compare those numbers of tragic accidental deaths to the intentional slaughter of 61,000,000 humans in the womb in the United States since 1973 or the 368,000 humans killed in the womb so far in 2019—including 5,520 killings after 21 weeks gestation. I wonder if Cassidy and her accomplices in promoting feticide will shout that stat.
If killing humans in the womb isn't obscene enough, Springfield regressives decided to add insult to death and dismemberment by having a black woman, State Representative Carol Ammons (D-Champaign) introduce their press conference.
It was obscene—not to mention tone deaf—to have Ammons lead the feticidal charge because as most know, Planned Parenthood (PP)—like its racist, eugenicist founder Margaret Sanger—has set its sights on black babies. A study conducted by the Life Issues Institute "found that 79 percent of abortion-offering Planned Parenthood facilities are within walking distance of black or Hispanic neighborhoods. Sixty-two percent are near black neighborhoods." While blacks constituted about 13.3  percent of the population in 2014, 36 percent of all abortions were performed on black women.
The difference between Sanger's goal to rid the world of blacks and Planned Parenthood's decision to target the babies of women of color is that PP is motivated by greed rather than racism.
Yeah, that's sooo much better.
At the press conference, Cassidy, the morally vacuous lesbian, "wife" of Candace Gingrich, and sponsor of every culturally destructive legislation to come down and go up the crumbling pike from Springfield said this:
As opponents of reproductive freedom have stepped up their attacks on our access to reproductive health care, it has become very, very clear that Illinois must respond in kind with equal energy behind defending reproductive freedom…. We had a pledge from the speaker that we will be able to move the bill forward, so I am uh looking forward to advancing this bill and getting it over to the Senate. 
Slapping the words "freedom" (or "choice") on to an issue with nary a mention of the nature of the acts being freely chosen is dishonest and opaque. All decent people know that freedom is not absolute, that not all choices are moral, and that not all choices should be legal.
In the service of sorting truth from the evil Cassidy's murky euphemistic language is designed to cloak, I will translate her dishonest, opaque words into plain English:
Opponents of the legal right of mothers to hire people to kill their offspring in the womb are having some success and, therefore, Illinois regressives must attack them and their efforts. Regressives must intensify their efforts to defend a legal right to feticide and de facto infanticide. Regressives got a pledge from the thoroughly corrupt Mike Madigan, who rules Madiganistan with a blood-stained fist, to speedily advance this bill by any unethical means possible, preventing due deliberation and preventing those who defend life a chance to marshal their forces against it.
It should be very, very clear that Cassidy and her morally contemptible cronies are mustering their energy to, among other things,
Legalize the womb-killing of viable, full-term babies for any or no reason
Compel the public to subsidize human slaughter
Compel health care providers to facilitate this moral outrage even when doing so violates their consciences and their religious beliefs
Rob parents of the right to be involved in the life-changing and health-risking decisions of their daughters to have their offspring killed
I wonder what morally regressive Springfield swampsters would say to Nik Hoot whose limbs were ripped off during a botched abortion—you know, when he was a "fetus," as opposed to a human person. (It's so weird that the once-bodily-whole human person Nik has a damaged body so like the damaged body of the fetus Nik. I wonder how that happened?)
Maybe pro-life advocates everywhere should wear necklaces from which dangle tiny severed limbs and crushed skulls forged in gold to represent their intrinsic and infinite value—value that regressives in Springfield are too blind to see.
Take ACTION:  Click HERE to send a message to your state senator, state representative and to Gov. Pritzker. Urge them to stop targeting innocent pre-born children and vulnerable women in Illinois. Ask them to vote against the grotesquely misnamed "Reproductive Health Act."
Then call their offices. Click HERE to find their contact information. Your state senator and state rep. are the last two on the page. Please call today!
Listen to this article read by Laurie:
---
A bold voice for pro-family values in Illinois!