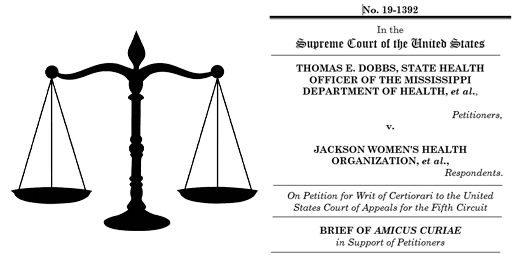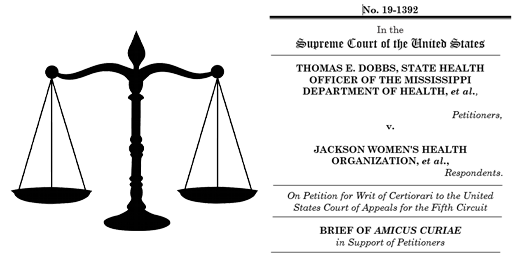 Illinois Pro-Life Lawmakers Given National Voice to Overturn Roe v. Wade
Reading Time:
4
minutes
A nationwide group of state legislators and attorneys have crafted an amicus (friend of the court) legal brief in support of the State of Mississippi in Dobbs v. Jackson Women's Health, seeking to overturn the unlawful Roe v. Wade decision.
The Mississippi law being challenged, with a few exceptions, prohibits abortions within the State, including even the first 15 weeks of pregnancy, when modern medicine is still incapable of supporting life outside the womb.
The U.S. Supreme Court, on May 17th, granted a hearing on the following question raised by Dobbs: "Whether all pre-viability prohibitions on elective abortions are unconstitutional."
Of course, we know the truth that no prohibitions on elective abortion are unconstitutional. [1]
This brief contains three great strengths:
It represents the group who has truly suffered the greatest harm: the States and the People, whose right to justly govern, reserved to them in the 10th Amendment, has been taken by the Federal Government's egregious Roe v. Wade decision,
It represents the opinion of a statistical majority of U.S. citizens and legislators, and
It affords legislators in the political minority in their own States, such as Illinois, a voice equal to, or possibly greater than, all legislators throughout the nation.
Republican lawmakers in Illinois are severely outnumbered (a "super-minority") in both the Illinois House (45/118) and Illinois Senate (18/59), and are therefore typically unable to advance (or stop) meaningful (or harmful) legislation.  As friends of the Court, they can now have the same voice as all other legislators.
There are currently 7,383 [2] state legislators in the United States, duly elected by a majority of 168.31 million U.S. voters [3], of whom 3,977 (or 54%) are members of the pro-life, Republican Party, and have been invited to join the brief.
What did Roe really do?  It announced a new right, which removed Legislators' (and thereby, the People's) ability to protect unwanted humans from being murdered.
As stated in the brief, "State legislatures exist to protect the health and welfare of their States' respective citizens.  This includes the creation of standards and regulations that protect the most vulnerable in society.  However, as demonstrated by the Fifth Circuit's decision below, flawed precedent [4] interferes with this constitutionally delegated duty."
"Substantive Due Process": The Court's Tool of Federal Tyranny Against the States.
Everyone did what was right in his own eyes. ~Judges 17:6
Substantive Due Process is the underlying legal concept used in Roe and others to justify the Court's remaking of the U.S. Constitution to its own liking.
This logically inconsistent concept was invented in law school textbooks in the 1930s and not embraced by the U.S. Supreme Court prior to 1952 [5].
Of course, ordinary citizens and their children, possessing even the most basic grasp of logic, understand by the redundant term "procedural due process," (Show me a "process" that isn't "procedural," and I'll show you a bridge that is for sale.) that "substantive due process" is merely a cleverly-worded legal oxymoron which enables judges to justify making the law themselves (i.e., Positive Law, or law made by custom or convention, which can be changed as desired by those in power).
Substantive Due Process, as demonstrated by cases such as Roe, opens a wide door for an unelected committee of nine Ivy League lawyers to selectively remove virtually any topic from the political process (i.e., the States and the People) that it, in its great moral wisdom, sees fit.
From the beginning, the Rule of Law in the United States has been "Natural Law," or existing law that applies consistently to everyone; certain unalienable rights, endowed to all mankind by their Creator (i.e., Jehovah of the Bible).
The king's heart is a stream of water in the hand of the Lord;
He turns it wherever He will. ~Proverbs 21:1
Please pray fervently that God would:
Continue to strengthen the resolve of the two Justices (Clarence Thomas and Samuel Alito) who have unwaveringly upheld their oath to support and defend the Constitutional Rule of Law,
Give great courage to four Justices (Amy Coney Barrett, Brett Kavanaugh, Neil Gorsuch and John Roberts) to understand that it is their duty to finally overturn this unlawful decision, and
Forcibly turn the hearts of the three Justices (Stephen Breyer, Elena Kagan and Sonia Sotomayor) whose previous positions have contributed to the tyrannous legalized murder of tens of millions.
---
Footnotes
[1]In the 105 years between the ratification of the 14th Amendment in 1868 and Roe's 1973 judicial fiat that it was unconstitutional, 46 states prohibited abortion, either entirely or with exceptions.  Illinois passed the 2nd such law in 1833.  During the 1866-1868 legislative sessions, several states passed criminal abortion laws while the Fourteenth Amendment to the U.S. Constitution was circulating among them.  No one doubted the constitutionality of doing so. "That resolves these cases. When it comes to determining the meaning of a vague constitutional provision—such as 'due process of law' or 'equal protection of the laws'—it is unquestionable that the People who ratified that provision did not understand it to prohibit a practice that remained both universal and uncontroversial in the years after ratification. We have no basis for striking down a practice that is not expressly prohibited by the Fourteenth Amendment's text, and that bears the endorsement of a long tradition of open, widespread, and unchallenged use dating back to the Amendment's ratification." – Antonin Scalia, dissenting from Obergefell v. Hodges (2015, creating a right to same-sex "marriage").
[2]https://www.ncsl.org/research/about-state-legislatures/partisan-composition.aspx
[3]https://www.statista.com/statistics/273743/number-of-registered-voters-in-the-united-states/
[4]I.e., Roe v. Wade.
[5]https://humandefense.com/criminal-abortion-before-the-fourteenth-amendment/
---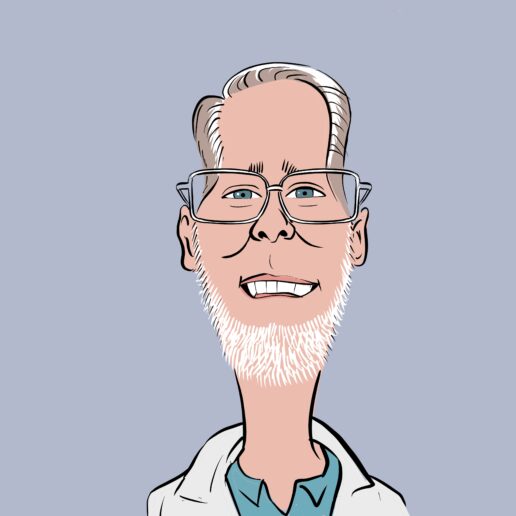 Related Articles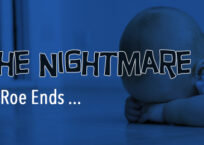 The Nightmare of Roe Ends, But Undoing the Damage Continues
IFI Prayer Team: Abortion, Justice, Life and Peace