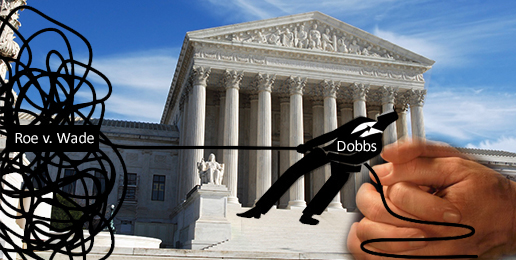 Fast and Pray That Dobbs Will Unravel Roe v. Wade
The U.S. Supreme Court heard oral arguments on the Mississippi law that bans most abortions after 15 weeks' gestation on Wednesday, December 1st. This important case is Dobbs v. Jackson Women's Center.
Mississippi Attorney General Lynne Fitch headed up the pro-life position. Attorneys had 30 minutes to argue their points. This landmark case provides an opportunity to present medical evidence on the development and viability of the unborn child that was not available in 1973 and has the potential to overturn Roe v. Wade and Planned Parenthood v. Casey.
Over 100 amicus briefs have been filed from both sides, including one on behalf of Illinois Family Institute. These briefs are read by the Justices prior to oral arguments and have the potential to touch their hearts on the importance of their decision.
In an October article for First Things, Princeton University law professor Robert P. George predicts that the U.S. Supreme Court will–and should–decide that there is no constitutional right to elective abortions:
As I write—as you read—unborn children are being slain. As a practical matter, Roe and Casey must be reversed before any of these children can enjoy the full protection of the law. Abortion will not end overnight. Some states will continue to permit the procedure until the Court ­acknowledges that the unborn possess the right to life. Even women who live in states that prohibit the procedure will be free to cross state lines. But we know that even modest obstacles save lives. The denial of federal funding for elective abortions is estimated to save some sixty thousand unborn children each year. So let us be frank. There is a cost to delay, and that cost comes in innocent lives.
PRAYER ALERT
Please pray fervently today as the nine Justices of the U.S. Supreme Court hear and consider the arguments regarding significant abortion restrictions in Mississippi. Pray that God would touch the hearts of the Justices, their clerks, and the media covering the case. As the debate rages, pray too that eyes and ears would be opened to the abortion industry's barbaric practices.
We urge you to please fast and pray today:
Pray that an honest fear of God, His justice, and Spirit of wisdom would settle upon the Justices of the U.S. Supreme Court.
Pray that God would forgive His people for allowing innocent blood to fill our land. Deuteronomy 19:10; Deuteronomy 21:8-9
Pray that God would convict us as a nation for allowing the savage practice of human abortion to continue for nearly five decades. May God fill our hearts with repentance so that we would seek His forgiveness and cry out to Him for mercy. Lamentations 3:22-23
Pray for those on the pro-life legal team and for Mississippi Attorney General Lynne Fitch. Pray that the arguments she presents will turn the hearts of the Justices and compel them to vote favorably on the case before them today. Proverbs 21:1
Pray that the Justices choose to protect the millions of innocent unborn lives that are put in jeopardy by Roe v. Wade and Planned Parenthood v. Casey.
Pray that the arguments of abortion proponents would fall flat before the Court.
Pray that God would confuse the pro-abortion side and confound their words during arguments. Psalm 55:9
Pray that the media would be honest in their reporting of the facts of this case and the science of human life.
Pray that our friends, family members, and neighbors would see through the lies and emotional rhetoric used by abortion cheerleaders.
(A decision on this case is not expect to be issued until June, 2022.)
---
Read MORE:
Three Things You Need to Know About the Dobbs Case and the Future of the Pro-Life Movement
7 Things to Know About the Dobbs Abortion Case Now Before the U.S. Supreme Court
10 Things You Can Do to Defend the Unborn Ahead of Dobbs
U.S. Supreme Court Has Its Best Chance in Decades to Overturn Roe v. Wade, Protect Unborn Children
'History Is Clearly on the Pro-Life Side': ADF Counsel Erin Hawley Breaks Down Upcoming Supreme Court Abortion Case
Roe v Wade: Unconstitutional and Unjust
---