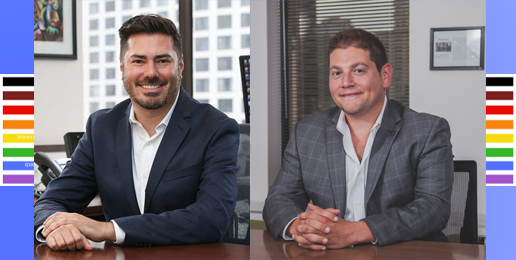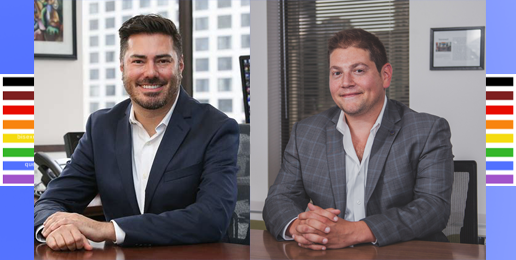 Brian Mustanski and David Moskowitz
What Our Taxes Subsidize
(Warning–It's Creepy)
Before anyone gets angry at me for the content of this article, please understand that you have paid for the research I'm about to describe, so don't shoot the messenger.
Two homosexual "researchers" managed to get tax money to survey 429 homosexual men to find out whether they like to insert their penises in other men's rectums (self-identified "tops"), or they prefer having penises inserted into their own rectums by other men (self-identified "bottoms"), or whether they are versatile (aka "versatiles"). This survey also sought to identify how "penis size, muscularity, height, hairiness, and weight" correlates with identification as "tops," "bottoms," or "versatiles." The survey revealed that "Generally, tops reported larger penises than bottoms."
What might be the academic or social value of such a survey, which was funded in part by the National Institute of Mental Health, which is part of the National Institutes of Health (NIH)?
The two homosexual "researchers" were Ryerson University professor of psychology Trevor A. Hart and New York Medical College Adjunct Associate Professor of Health Behavior and Community Health, David A. Moskowitz, who according to his academic webpage is an "active supporter of the Sex-Positive Movement."
The "Sex-Positive Movement" is sexual immorality gussied up in euphemistic language to conceal its pagan/hedonistic ickiness. Wikipedia offers a good summary of the movement:
The sex-positive movement is a social and philosophical movement that seeks to change cultural attitudes and norms around sexuality, promoting the recognition of sexuality (in the countless forms of expression) as a natural and healthy part of the human experience. … Sex-positivity is "an attitude towards human sexuality that regards all consensual sexual activities as fundamentally healthy and pleasurable, encouraging sexual pleasure and experimentation." The sex-positive movement also advocates for comprehensive sex education and safe sex as part of its campaign. The movement generally makes no moral distinctions among types of sexual activities, regarding these choices as matters of personal preference.
Bisexual Wiccan "Sexologist" Carol Queen describes "sex-positive" as a "simple yet radical affirmation that we each grow our own passions on a different medium, that instead of having two or three or even half a dozen sexual orientations, we should be thinking in terms of millions."
And this is exactly why the term "sexual orientation" should never have been added to any antidiscrimination law or policy. All that "progressives" have to do now is add the millions of types of sexual orientations to the definition of "sexual orientation" and voilà, local, state, and federal law will force everyone to treat volitional sexual perversions like polyamory, sadomasochism, infantilism, and pony play like race, sex, and nation of origin.
Moskowitz studies sex a lot. He and three collaborators—two of whom don't appear to be academics—received an NIH grant to subsidize a study titled "Physical, Behavioral, and Psychological Traits of Gay Men Identifying as Bears." For those unfamiliar with all the terminology of sexually deviant subcultures, a "bear" is an overweight, hirsute, non-effeminate homosexual man. The "two large scale studies" resulted in these conclusions:
Our studies indicated that Bears were more likely to be hairier, heavier, and shorter than mainstream gay men. They reported wanting partners who were hairier and heavier. They were less likely to reject sexual partners and the partners they did reject were more likely to be young or weigh too little (i.e., were not bearish). Bears were more likely than mainstream gay men to enact diverse sexual behaviors (e.g., fisting, voyeurism) and were comparatively more masculine. Bears had lower self-esteem but were no less (or more) hypermasculine than non-Bears. We concluded that Bears are intensely sexual.
You paid for it, folks.
Moskowitz and four collaborators used taxpayer money via the National Institute on Minority Health and Health Disparities, which is also part of the NIH, to come up with ways to help adolescent boys between the ages of 13-18 who are having sex with other boys avoid contracting HIV. In the pseudo-scientific community these boys are referred to as "Adolescent Men who have sex with Men" (AMSM).
Moskowitz was the lead author on yet another survey that received funding from the NIH, this one titled, "What If My Dad Finds Out?!: Assessing Adolescent Men Who Have Sex with Men's Perceptions About Parents as Barriers to PrEP Uptake." PrEP is short for "pre-exposure prophylaxis," and it refers to a daily oral pill that those who are HIV-negative can take to reduce the likelihood of contracting HIV when engaged in risky sexual behavior. The study surveyed 491 adolescent boys to ask how parental supportiveness for PrEP affects teen boys' attitudes toward taking it.
One of Moskowitz's co-authors on this survey was another homosexual, Brian Mustanski, Professor of Medical Social Sciences at Northwestern University and Director of Northwestern University's Institute for Sexual and Gender Minority Health and Wellbeing. Mustanksi and five other academics wrote "Age- and Race/Ethnicity-Specific Sex Partner Correlates of Condomless Sex in an Online Sample of Hispanic/Latino, Black/African-American, and White Men Who Have Sex with Men," in which they "sought to identify" the factors that correlate with the willingness of colorless and colorful men to have "condomless receptive anal intercourse with HIV-positive or unknown status partners ."
Yep, you paid for it through a CDC grant.
According to his academic profile, Mustanski,
has been a Principal Investigator of over $40 million in federal and foundation grants and. … is a frequent advisor to federal agencies and other organizations on LGBTQ health needs and research priorities.
A principal investigator of grants is "the primary individual responsible for the preparation, conduct, and administration of a research grant." A principal investigator is "responsible for directing" projects "intellectually and logistically." By his own admission, Mustanski—an academic from outside the government with no accountability to the public—has been responsible for directing millions of dollars of taxpayer money toward his goal of inculcating other people's children with his sexual assumptions.
Mustanski, who is faux-married to a man, works like the devil to use the federal government to normalize homoeroticism within the adolescent population—particularly the young male population:
I really felt like a calling to dedicating my career to focusing on young gay men and HIV.
In the service of his "calling," he has created myriad programs and materials dedicated to teenage boys who want to have sex with boys. For all those pernicious efforts, in 2017 "NBC News selected him from 1,600 nominees as one of 30 changemakers and innovators making a positive difference in the LGBTQ community."
To be clear, "positive" is based on the unproven, faith-based, and erroneous belief that homoerotic desires and volitional acts are intrinsically moral acts and that affirming an identity based on them is a positive act.
Remember when homosexual activists claimed relentlessly that all they sought was tolerance in the public square? Well, here they are today, using your money to serve their body-, soul-, and culture-destroying interests. And this is just the teeny tip of the enormous sexual anarchy-affirming iceberg paid for by but hidden from you.
Take ACTION: Click HERE to send a message to President Trump, U.S. Senators Durbin and Duckworth, and your U.S. Representative, urging them to stop using tax-dollars to fund pseudo-scientific "research" related to sexual deviance.
Listen to this article read by Laurie: 
---
Please consider making a donation to the Illinois Family Institute. 
Click HERE to learn about supporting IFI on a monthly basis.
As always, your gift to IFI is tax-deductible and greatly appreciated!