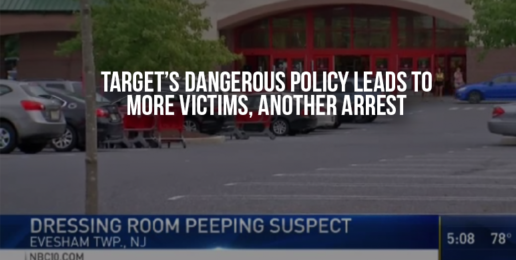 Target's Dangerous Policy Leads to More Victims, Another Arrest
Target's dangerous policy of allowing men into women's dressing rooms has claimed another innocent victim of sexual voyeurism.
According to NBC10 News, a 36-year-old man secretly filmed women trying on clothes in the dressing room of a New Jersey Target store. The news report stated that as many as 100 victims could have been spied on.
A victim told police she saw a man's hand creep under her fitting room wall inside the store. The hand was holding a cell phone, she said. The victim attempted to confront the voyeur, but he ran out of the store.
The police were able to catch him, and they also caught onto the fact that he may have been performing this crude, invasive, and illegal behavior for some time.
"It's frightening," a local Target shopper told NBC10, "when you run into a store, you don't expect to be targeted or stalked and it's frightening."
Target's policy purposely places employees in a position of allowing men to enter a dressing room when they know very well that innocent women are at risk.
In effect, Target employees who work in clothing departments (most often women) are to turn a blind eye and allow potentially illegal activity to occur in their very presence without raising any objection to stop it.
As long as Target continues to allow men free and unrestricted access into women's dressing rooms and restrooms, these sexual violations against women and little girls will continue to occur.
TAKE ACTION
There are still women who are unfamiliar with Target's dangerous policy. Will you help spread the warning and let your family and friends know about the Target boycott?
1. Forward this information to friends and family. Invite them to sign the boycott pledge at www.afa.net/target.
2. Call Target headquarters at 612-304-6073 and personally let them know you are boycotting their stores.
3. Support our ongoing efforts to promote the Target boycott. Make your tax-deductible donation today!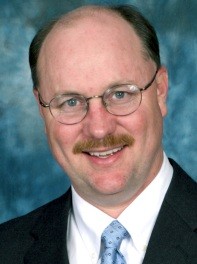 Tim Wildmon is president of American Family Association (AFA) and American Family Radio (AFR). AFA is a pro-family advocacy organization with over two million online supporters and approximately 150,000 subscribers to its monthly flagship publication the AFA Journal. In 1991 AFA started the AFR network which now consist of nearly 200 radio stations. The format is news, information, bible teaching and inspirational music. AFR is the fastest growing radio network of any kind and built more stations in a shorter period of time than any other broadcaster. Other divisions of AFA include the Center for Law & Policy, a...