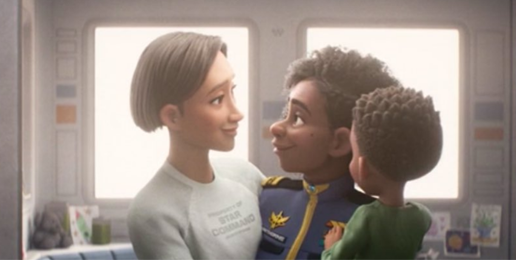 "Married" lesbian characters in new Lightyear movie
It's a Queer, Queer, Queer, Queer World
It's a queer, queer, queer, queer world, becoming systemically queerer every day that "progressives" control big government, big tech, big business, big education, big entertainment, and big medicine. As many have pointed out, the fact that we have a day to celebrate Martin Luther King Jr. but a month to celebrate sexual perversion illustrates just how queer America has already become. The aspirational, inspirational goal of judging people by the content of their character has been discarded to make a safe space for the dispiriting goal of judging people by the degree to which their sexual appetites deviate from the normal, healthy, good, and right.
So, let's take a quick spin around the anti-culture of America.
Today, the new children's Disney-Pixar movie Lightyear is being released. It includes a lesbian kiss between Buzz Lightyear's close friend Commander Alisha Hawthorne and her "wife." The kiss had been deleted, but then a group of petulant "LGBTQIAP+" activists at Disney demanded it be restored. This is the same group that stomped their feet and held their breaths after Florida Governor Ron DeSantis signed into law a bill to make pro-perversion indoctrination of elementary school children illegal. Even without the kiss, however, the inclusion of a lesbian couple—faux-married or unmarried—in a children's movie is reprehensible. Positive portrayals of egregious sin in children's entertainment are deeply sinful.
Actor Chris Evans, who voices Buzz Lightyear, calls parents who don't want their children exposed to positive portrayals of sin "idiots" who should be ignored until they "die off like dinosaurs." Filled with the hot-air and pomposity of Hollywood, Evans pontificated,
Every time there's been social advancement as we wake up, the American story, the human story is one of constant social awakening and growth and that's what makes us good.
First, widespread cultural acceptance of homoeroticism constitutes neither "advancement" nor "growth."
Second, widespread cultural acceptance of homoeroticism does not make us "good."
Third, widespread cultural acceptance of homoeroticism does not constitute a "social awakening." Rather, it constitutes a descent into cultural darkness that has recurred throughout history, including in Sodom and Gomorrah, ancient Greece, the Tokugawa period in Japan, and now in purportedly civilized societies. The human story is one of sin, sorrow, and suffering born of rebellion against God.
Evans also asserted that "There's [sic] always going to be people who are afraid and unaware and trying to hold on to what was before."
Since homoeroticism has gone before, and before, and before, perhaps it's Evans who is trying to hold on to what was before. Perhaps he's afraid of what he doesn't understand. Perhaps he's afraid of the Hollywood muckety-mucks who dole out big bucks only to ideological toadies, and Evans knows deep down he lacks the courage to stand for truth and risk losing fame and fortune.
Next on our journey to Sex-finity and beyond, we come to Bros, the first homosexual romantic comedy produced by a major Hollywood studio. Homosexual actor Billy Eichner wrote and stars in Bros, which is produced by Universal studios and will be released in theaters on September 10. All cast members are either homosexual or cross-sex impersonators. You can watch the trailer for this rip-snorting comedy about homoeroticism, which includes a family with young children dancing and singing about "bottom" sex:
As all sentient beings know, it's not just the entertainment industry that seeks to impose disordered socially constructed beliefs about sexuality on the world. Case in point: Postmates, a food delivery service akin to Doordash or UberEats. Postmates decided that what the world needs now from them is information on what to eat prior to having anal sex so that it will less "messy." What better time to celebrate "bottom" sex than "pride" month, and what better way to celebrate sodomy than have an eggplant in kink gear talk to a "taco," which is slang for a woman's vulva. Here's what "growth" and "advancement" looks like in Sex-finity and beyond:
Sex-finity—like toddler story hours—wouldn't be nearly as advanced and inclusive if any form of sexual deviance were excluded, so of course cross-sex impersonators are ubiquitous. The New York Post recently exposed that since 2018, New York City has paid an organization called Drag Story Hour NYC $207,000 to provide drag queens to enculturate children with the drag ideology:
Last month alone, Drag Story Hour NYC—a nonprofit whose outrageously cross-dressed performers interact with kids as young as 3—earned $46,000 from city contracts for appearances at public schools, street festivals, and libraries. …

Since January, the group has organized 49 drag programs in 34 public elementary, middle, and high schools, it boasted on its website, with appearances in all five boroughs.
This is why all government bureaucracies need to trimmed to the bone, first with an axe, then with a scalpel. No one who played even a small role in approving such expenditures deserves to be anywhere near public funds—or children.
Colonizing the minds of other people's children with evil ideas takes a lot of money, parental acquiescence, and institutional control. And that explains why several days ago, eleven de facto Democrats who self-identify as Republicans sent a letter to U.S. House and Senate leaders, urging them to pass legislation like the "Equality Act," which has nothing to do with equality and everything to do with sexual predilections.
The Equality Act would strip Americans of religious liberty and speech rights, essentially forcing all Americans to treat homoeroticism and cross-sex impersonation as if those conditions are akin to biological sex or race.
This effort is being spearheaded by former Florida Representative Ileana Ros-Lehtinen mother of a 36-year-old daughter—born Amanda Michelle Ros-Lehtinen—who now masquerades as a man named Roderigo. Ros-Lehtinen—a supporter of all things "LGBTQ+"—is joined by ten other pseudo-Republicans: Barbara Comstock (R-VA), Carlos Curbelo (R-FL), Susan Brooks (R-IN), Charlie Dent (R-PA), Jim Kolbe (R-AZ), Claudine Schneider (R-RI), Bob Dold (R-IL), Jim Greenwood (R-PA), Chris Shays (R-CN) and Steve Gunderson (R-WI).
This foolish group believes that the United States should "pass legislation that protects all Americans from discrimination no matter their gender identity or who they love." Translated into plain, honest language, they are saying that Americans should be prohibited from disapproving of cross-dressing, homoerotic acts, or homoerotic relationships. According to the Equality Act and its supporters, religious liberty—our first liberty—should be subordinated to disordered, subjective sexual feelings.
Ileana Ros-Lehtinen calls this push to limit religious liberty "freedom for all," saying "That's a bedrock principle of the Republican Party."
This effort also constitutes yet another power grab. These wolfish Dems in red clothing want the federal government to usurp more control from states:
The Hill reports that Ros-Lehtinen believes the "'patchwork' of state-by-state protections" is unfair to "LGBTQ+" Americans.
In other words, if leftists are not successful at the ballot box in every state, they will use federal power to impose their will on intransigent states. Ros-Lehtinen and her collaborators believe that no state should have the right to prohibit cross-dressing boys from using girls' bathrooms and locker rooms. No state should be allowed to prohibit cross-dressing boys from participating in girls' sports. And no state should be allowed to prohibit quack doctors from chemically stopping puberty or lopping off the healthy breasts of confused 14-year-old girls.
We must look at the tangled rotting trees in order to better see the tangled, rotting forest that America is becoming. No gaze-averting when so much is at stake.
Listen to this article read by Laurie:
---