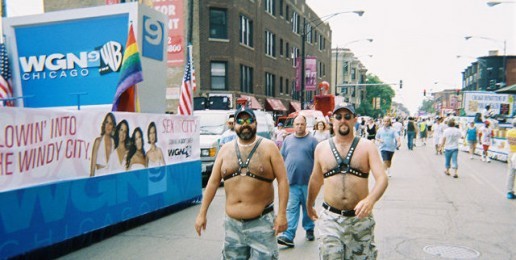 2009 Chicago Gay Pride Participants
Chicago parades include the famous St. Patrick's Day Parade in March, where the Chicago River is tinted green in honor of the Irish. The Polish American Constitution Day Parade, held May 1st, celebrates the first European democratic Constitution established in Poland in 1791. The Bud Billiken parade on the City's southside is the City's largest "back to school" celebration. The Columbus Day Parade, held in Autumn, is another ethnic celebration featuring the contributions of Italian Americans. Thousands of Chicagoans participate in these parades and support the causes they represent.
However, never within the celebration of these events would you find the flagrant and offensive violations of the Public Morals Laws of conduct as you do in what has become known as the annual Chicago Gay Pride Parade, which was held this year on Sunday, June 28th.
This lack of enforcement, it could be argued, amounts to special protection for this group of citizens who flaunt decency laws with impunity. (Doesn't our U.S. Constitution require "equal protection" under the law?)
Aside from the celebration of perverse sexual behavior and the blatant disregard for the laws, the most disturbing aspect of this yearly event is the presence of children, both as participants and bystanders.
In the past, adults have attempted to shield children from accidental exposure to immoral behavior; things their minds are too young to comprehend. State and federal laws are in place for that purpose. Protecting their innocence was always a goal worth achieving. But now adults are purposely bringing children to witness degenerate conduct. What will it take for Chicago officials to pull the plug?
And no one could reasonably argue that Chicago's media isn't biased toward the homosexual agenda — especially once you see their floats and major personlities proudly placed in the homosexual parade (ABC-7, CBS-2, NBC-5, and WGN); they've obviously given up on the idea of neutrality when it comes to issues as important as homosexuality, the meaning of family and marriage, and traditional religion! Year after year, these media participants see the violations first hand, yet they repeatedly turn a blind eye to the outrageous behavior and displays of many of the parade partakers.
While the devisive issue of homosexuality and counterfeit marriage is debated throughout the nation, the media has thrown off the mantle of impartiality, and have, in turn, become fierce advocates.
Then we have corporate America's complicity. Jewel/Osco, Harris Bank, Public Television – WTTW, Whole Foods, Starbucks, Home Depot, to name a few. (See a complete list below). Alan Sears and Craig Osten, authors of The Homosexual Agenda, give us some great insight on this issue:
Why has corporate America been such an easy target for homosexual activists to push their agenda? One of the main reasons is that the homosexual community has a much higher level of disposable income than most families, and therefore in order to tap that market, many corporations have gone overboard in their willingness to bow to the demands of radical homosexual activists. In addition, homosexual activists, with the aid of the media, have become so adept at demonizing any corporation that does not give in to their agenda that most companies quietly cower at their feet rather than face the public relations wrath of the activists.
Yet, this is no excuse for corporate and civic irresponsiblity. It is important to note those businesses who unwittingly undermine the health and values of our culture and families; we must communicate to them our strong disagreements with the agenda of homosexual extremists.
Here is the list of those participating in the 2009 Gay Pride Parade:
Politicians and Political Groups

U.S. Senator Roland Burris
U.S. Rep. Mike Quigley
U.S. Rep. Jan Schakowsky

Gov. Patrick Quinn/staff
Illinois Attorney General Lisa Madigan
Illinois Comptroller Dan Hynes
State Treasurer Alexi Giannoulias

State Sen. President John Cullerton
State Sen. Jeff Schoenberg
State Sen. Heather Steans
State Sen. Julie Hamos
State Sen. Harry Osterman

State Rep. Sara Feigenholtz
State Rep. Greg Harris
State Rep. Deborah Mell
State Rep. John Fritchey

Mayor Richard Daley's Advisory Council on LGBT Issues
Chicago Alderman Tom Tunney
Chicago Alderman Scott Waguespack
Chicago Alderman Helen Shiller
Chicago Alderman Vi Daley
Chicago Alderman Gene Schulter
Chicago Alderman Toni Preckwinkle
Chicago Alderman Joe More

Cook County President Todd Stroger
Cook County State's Attorney Anita Alvarez
Cook County Sheriff Tom Dart
Cook County Clerk Dorothy Brown
Cook County Recorder of Deeds Eugene Moore

Commissioner Deborah Shore (Water Reclamation)
Cook County Commissioner Roberto Maldonado

Alliance of Illinois Judges

Friends of Jim Madigan
43rd Ward Democrats
Candidate Justin Oberman
Candidate Dave Schroeder
Candidate Thomas Castillo

Illinois Green Party
ACLU of Illinois
Log Cabin Republicans

Government Agencies

Chicago Commission/Human Relations
Nettelhorst School (Chicago Public Elementary School)
Chicago Public Library
Chicago 2016
Gerber Hart Library (Chicago Public Library)
CTA
Chicago Dept. Public Health
Amtrak
Illinois Lottery
Anti Cruelty Society

Media

ABC7 Chicago
NBC5 Chicago
WTTW Chicago
WGN-TV
KISS-FM
WGN-AM
WXRT
JACK-FM
WCPT
WLIT-93.9
WBBM-FM/B96
Chicago Free Press
Chicago Tribune's RedEye Newspaper

Local Businesses

Leona's Restaurants
Advocate Illinois Masonic Hospital
Fleet Feet Sports Chicago
Redmoon Theater
Acme Toy Company
Holland & Knight Law Offices
Stylus Entertainment
Chicago Sailing
Attorney Brad Trowbridge
Todd Connor Consulting
Mi Tierra Mexicana
Greenhouse Theater
City Volkswagen
Yoga Now
Nuns for Fun/Late Nite Catechism
Northside Toyota
Club Escape
Sam's Wine & Spirits
Planned Property
Horizon Hospice
Tall Ship Windy
Mike Anderson Chevrolet
Campit Outdoor Resort
Chicago Apartment Finders
Brown Elephant
Chi-Town Squares
Spectrum Real Estate
Standard Bank
Tulip Toy Gallery
John Baethke Plumbing
Maneuvers
Club 1948
Molitor Financial Group
Pretty Boy Enterprises
Animal Ark Vet Clinic
DB Entertainment/Crobar
Fusion Radio Chicago
Evanston Subaru
Core Center
Broadway in Chicago
Sidetrack Nightclub
Barely Standing Rock Band
Roscoes Tavern & Cafe
Hydrate Nightclub
Baton Show Lounge
Williams Inn
Jeffrey Pub
Miss Foozie
Resnick Auto
Robert Jeffrey Hair Salon
Folia Brasil
Lakeview East Chamber of Commerce
Chicago Smelts
Chicago Lake Shore Hospital
Lakeside Pride Freedom Band
Hunters Nightclub
Club Krave

Corporations

Home Depot
Starbucks Coffee
Google
MB Financial
A&N Mortgage
Restoration Salon
BP
OfficeMax
Chase Bank
Sears Holding
Bank of America
Schaumburg Audi
I-Go Car Share
Exelon Corp.
Frito-Lay
PepsiCo
Northrup Grumman Corp.
LA Tan
Blue Cross/Blue Shield
Caribou Coffee
Sam Addams/Boston Beer
Miller Lite
Sara Lee
Harris NA
KPMG
Whole Foods
Wrigley Co.

Pro-gay Organizations

PRIDE-Sodexo LGBTA Group
Frontrunners/Frontwalkers Chicago
Cul du Sac Magazine
Pilsen Wellness Center
Pleasure Chest (porn store)
Chicago Outfit Roller Derby
Makings of MVP
Latex Ladies & Trojan Boys
Tree House Humane Society
Community Alliance & Action Network
Chicago Bisexuals & Queers
Restoring Men
Ram/Leather/Cupid/Banana
Chicago Women's Health Center
Chicago Gender Society
New Town Alano Club
Spin
Stonewall Association
Gay Liberation Network
Lambda Legal
Windy City Black LGBT Pride
Dignity Chicago
Human Rights Campaign
PFLAG
Dykes on Bikes
GLAAD
Equality Illinois
American Veterans for Equal Rights

Schools & Professional Organizations

University of Illinois
Illinois Bar Association
Indiana University GLBT Alumni
Chicago School of Professional Psychology
Illinois Psychological Association
Unite Here
Chicago Boyz (University of Chicago)
Harrington College
Hoosier Honeys
Indiana University GLBT Alumni
Columbia College
ROTC
Gay/Straight Alliance-National U. of Health Sciences
Roosevelt University
SEIU Council

Religious Organizations

Soka Gakkai
Holy Convenant UM Church
Unitarian Universalists
Chicago Coalition of Welcoming Churches
Holy Covenant MCC/a church 4 me MCC
Congregation Or Chadash

Misc. 

Technosexual
TransAction
Royal Court
Karie Oakie Court
Mercy for Animals
Magic Hat
Gay McHenry
Chicago Spirit Brigade
Chicago Dragons Rugby
Chicago Gay Mens Chorus
Team Chicago Athletics
Test Positive Aware Network
Pride Youth/Links
Howard Brown Youth Program
Howard Brown Health Center
Yelp.com
Windy City Rainbow Society of the Deaf
Golden Knighs Drill Team
DuPage Peace Through Justice Coalition
Illinois Gay Rodeo Association
Amigas Latinas
South Shore Drill Team
AIDS Care
Asians & Friends Chicago
Windy City Cowboys
Chicago Prime Timers
Puerto Rican Cultural Center/VIDA SIDA
Howard Area Community Center
Chicago Sky (WNBA)
Join the Impact
Chicago Festival Association
Center on Halsted
Chicago Gay Hockey
Jane Addams Hull House