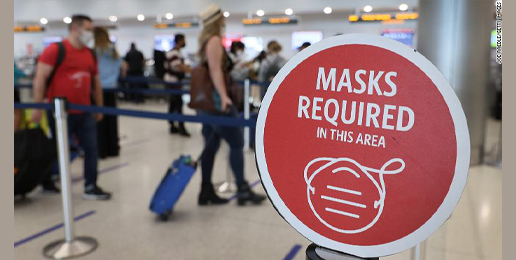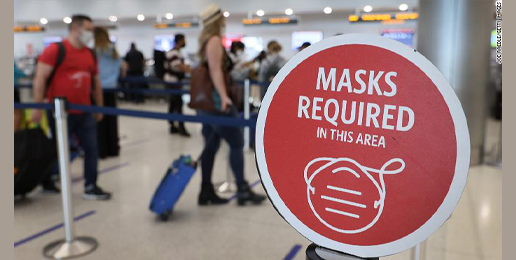 Up, Up, and Away (Without) Masks
Reading Time:
4
minutes
Anyone tired of "masking up" to enter an airport or get on a flight? There may be an end in sight largely thanks to U.S. Senator Rand Paul (R-KY).  Although the air travel mask mandate was set to end on March 18, the Centers for Disease Control (CDC) extended the mandate until April 18. But the extension begs the question, "Will it really end then?" Now Paul and others have taken real action to end the mandates once and for all.
The first promising step is S.J.Res 37. This resolution, introduced by Paul this past February, passed in the U.S. Senate recently by a vote of 57-40. Better yet, it represents bi-partisan support with eight Democrat senators voting in support of the resolution: Michael Bennet (D-CO), Jacky Rosen (D-NV), Catherine Cortez Masto (D-NV), Maggie Hassan (D-NH), Mark Kelly (D-AZ), Joe Manchin (D-WV), Kyrsten Sinema (D-AZ) and Jon Tester (D-MT). In typical fashion, U.S. Senator Mitt Romney (R-UT) was the only Republican to vote against the bill.
Still, this measure, which expresses disapproval of the CDC's mask mandate, faces significant challenges in the days ahead if it is to become law. The amount of votes it received are not enough to override President Biden's veto threat. Moreover, proponents must garner enough support to overcome U.S. House Speaker Nancy Pelosi's reluctance to let the member of the House vote on it. But should the resolution fail to pass through its trip to becoming law, all hope is not lost.
Members of Congress, 17 to be exact, have filed a suit against the CDC which would end the federal mask requirement for passengers both on commercial flights and in airports. First names on the suit are, once again, U.S. Senator Rand Paul as well as U.S. Rep. Thomas Massie (R-KY), both of whom filed the suit in their home state of Kentucky. Other GOP House members: Andy Biggs (R-AZ), Paul Gosar (D-AZ), Dan Bishop (R-NC), Lauren Boebert (R-CO), Andrew Clyde (R-GA), Marjorie Taylor Greene (R-GA), Warren Davidson (R-OH), Bob Good (R-VA), Brian Mast (R-FL), Bill Posey (R-FL) and Matt Rosendale (R-MT).
One of the best implications of this suit is its potential to end the government and, especially, unelected bureaucrats' overreach in making declarations — calling them mandates, but treating them as law. According to Rosendale, those practices are nothing more than part and parcel of
"the fear mongering narrative of COVID-19. The CDC has forced Americans to wear masks on commercial flights for two years without legal standing. A mandate is not law, and Congress never passed legislation codifying the CDC's mask wearing demands."
And there is science to back up the ending of the air-travel mask requirement: COVID-19 transmission on airplanes is unlikely due to the ventilation systems. These systems not only mix outdoor air with recycled air via HEPA filters, but they limit air flow between rows – a key reason behind the lack of connection between outbreaks and commercial air travel. According to an article in The Journal of the American Medical Association,
"The risk of contracting COVID-19 during air travel is low. Despite substantial numbers of travelers, the number of suspected and confirmed cases of in-flight COVID-19 transmission between passengers around the world appears small."
Confirming this view is Sebastian Hoehl, a researcher at the Institute for Medical Virology at Goethe University Frankfurt in Germany. "An airplane cabin is probably one of the most secure conditions you can be in," he noted.
Given the above information, it is clearly time to end the unwarranted and unscientific policy of mandating masks in airports and airplanes especially since the mandates have ended in virtually all other public places. If you'd like to be sure they do. . . .
Take ACTION: Please click HERE to contact your U.S. Representative and let him/her know how you feel about this. Also, please click HERE to let U.S. House Speaker Nancy Pelosi know she should allow a vote on the measure.
U.S. Senator Paul seems to truly be the hero in this fight for "following the science" and for ending government overreach. Early last week, he introduced a pertinent amendment, a "separation of powers" so to speak, that would eliminate Dr. Anthony Fauci's position as the Director of the National Institute of Allergy and Infectious Diseases (NIAID) and replace it with three separate positions effectively limiting its power.
"We've learned a lot over the past two years, but one lesson in particular is that no one person should be deemed "dictator-in-chief." No one person should have unilateral authority to make decisions for millions of Americans," said Dr. Paul, a physician. "To ensure that ineffective, unscientific lockdowns and mandates are never foisted on the American people ever again, I've  introduced this amendment . . .This will create accountability and oversight into a taxpayer-funded position that has largely abused its power, and has been responsible for many failures and misinformation during the COVID-19 pandemic."
For more information, click HERE.
---