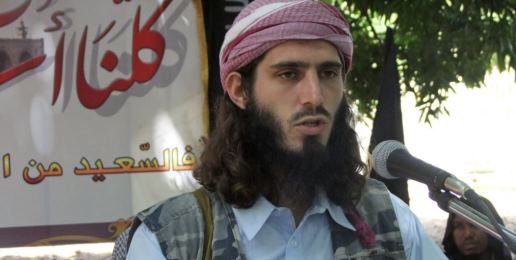 U.S. Senator Ted Cruz Files Bill to Ban U.S.-Based Islamic State Jihadis From Returning to the U.S.
This is simple common sense. By going to Iraq and Syria to join the Islamic State's jihad, these Muslims have joined an entity that has declared war against the United States. They have committed treason. They have forfeited the rights and privileges of citizenship. But it will be interesting to see who opposes this, and on what grounds.
"Cruz Files Bill to Ban American Islamic State Fighters from Returning to U.S.," by Adam Kredo, Washington Free Beacon, January 23, 2015 (thanks to Pamela Geller):
Sen. Ted Cruz (R., Texas) will file legislation on Friday to ban American citizens who fight alongside the Islamic State (IS) and other terror groups from returning to the United States, where they pose a significant terror threat, according to sources in the senator's office.
Cruz, who first proposed the legislation last year, seeks to strip those Americans who travel abroad to fight with IS (also known as ISIL or ISIS) of their U.S. citizenship rights and stop them from coming back stateside.
The bill, known as the Expatriate Terrorist Act (E.T.A.), tightens and updates existing regulations by which a U.S. citizen effectively renounces his or her citizenship.
Cruz said that he is filing the bill partly in response to President Obama's Tuesday State of the Union address, which he described as "detached from reality" on the foreign policy front.
"President Obama's approach to foreign policy refuses to acknowledge the threats our enemies pose to our national security—it is detached from reality and making the world a more dangerous place," said Cruz, who also is releasing a new video that takes aim at Obama for misleading the nation about these threats in his annual address.
Cruz said stripping American IS fighters of their citizenship is a step toward securing the country and restoring the country's image.
"We've seen the grave consequence of the Obama-Clinton-Kerry foreign policy unravel with respect to Iran, Russia, and now Yemen," Cruz said. "These consequences are not confined to faraway lands. They directly threaten America and our allies."
"That is why this week, I am re-filing the Expatriate Terrorist Act, which prevents Americans who have fought abroad for designated terrorist groups from returning to the United States," he said. "I look forward to working with senators on both sides of the aisle on this and additional measures to secure our nation and restore America's leadership in the world."…
Take ACTION: Click HERE to contact Illinois' U.S. Senators Dick Durbin and Mark Kirk to ask them to support S. 247, known as the Expatriate Terrorist Act.  American citizens who take an oath to a foreign terrorist organization should have their citizenship revoked.